Follow
Genre: /
Developer: 8Bitdo
Publisher: 8Bitdo
Platform: PC, iOS, Android, OSX
8Bitdo ZERO Gamepad – Hardware Review
Good: Size, Comfortable
Bad: Perhaps not suited for gamers with big hands
User Score
8.5
(13 votes)
As of late Android (and to a lesser extent iOS) controllers are getting more and more popular, especially thanks to the increase of decent games available on the platform. Nonetheless, it's not that easy to drag around a controller, if you're on the move or lack the necessary storage space in your backpack. Even though 8Bitdo already appeared on the site with their loveable NES30 controller, they released a new wireless controller that is small enough to be part of your keychain, namely the ZERO.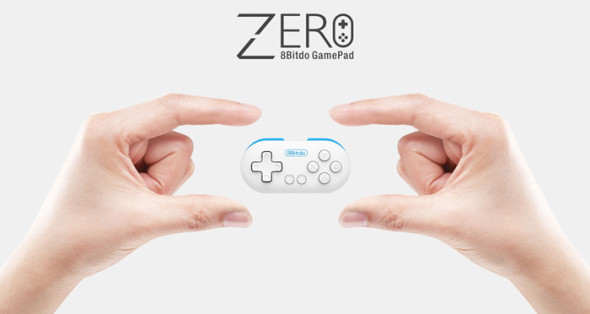 Design
The design of the ZERO is reminiscent of the original Wii Classic controller, with a simple white front plate, white buttons and a white sleek D-Pad. The oval shape is one that isn't used with many controllers anymore, except for retro models, just like this one. The back cover, as well as the two triggers have a light blue color, which gives a nice light touch to the design of this mini controller. Other than that, there is not that much room for frolics on this little design, nonetheless it still looks very appealing.
Comfort
It was uncertain if a controller this small would be comfortable, but it actually is. The controller scales itself as only 1/6 of an Xbox controller, nonetheless, even with its slim size, all buttons are easy to reach and work with, except for the two triggers, which aren't that easy to use. Perhaps it would have been better to actually place them on the backside of the device, especially when you have bigger hands. Even with thicker fingers, the buttons are still spread enough, preventing you from pressing multiple buttons at a time.
The back of the ZERO has been slightly padded due to the rubberized back, making the controller feel rather soft, creating an extra layer of comfort. That being said, due to this, the back shows smudges easier but it remains easy to keep the device clean.
Specs
Multiplatform
73mm x 35mm x 13.7mm
Shutter function
Overview
Just like the NES30 controller it's fun that the small ZERO supports many different platforms, namely Android, iOS, OSX and of course Windows. Nonetheless, it's amusing to see that this tiny device tries to add something extra that is not really gaming related, but 'useful' for those who love to take pictures, mostly of themselves. 8Bitdo's device has a shutter function, with which you can take pictures with your mobile device with the press of a button. Hopefully this isn't the actual reason one would buy this controller, but after trying it out, the shutter function is actually amazingly useful and a very fun gimmick.
Overall the device is easy to work with and you'll be able to start within mere moments. Depending on what platform you wish to use the controller on, you'll have to consult the very short guide that comes with the device. Most platforms will work with a Bluetooth connection, whilst Windows will work by inserting the cable in your USB port. Simple as these things might be, keep in mind that every platform, as well as the shutter function requires a different start up sequence of the ZERO controller.
Even though more and more Android games are starting to support controllers, it's still sad to see that most Android games don't have proper controller support or no support whatsoever. Although the ZERO can't do anything about it, it's still a shame that your controller might not be put to good use, except for a select few titles.
Conclusion
The 8Bitdo ZERO controller is certainly a fun asset to your mobile gaming collection. If you play a lot on the go, and play games that you'd play with a controller on your home consoles or PC, this tiny but powerful controller can increase the amount of fun you have with your smartphone or tablet. Even though people with larger hands will not always have the easiest task at hand, this device is quite comfortable and good-looking, keeping its size in mind. It's easy to say that size does not make the man, the ZERO does not have to compensate for anything.
8Bitdo ZERO Gamepad - Hardware Review

,