Follow
Genre: Adventure, Casual Indie, First-person
Developer: Gone North Games
Publisher: Coffee Stain Studios
Platforms: PC
A Story About My Uncle – Review
Good: Interesting mechanics, great visuals, soothing soundtrack, a narrative that pulls you in
Bad: Voices of the protagonists are clear, those of the villagers are muttering, frustrating trial and error gameplay
User Score
10.0
(1 votes)
Made with the Unreal Engine, A Story About My Uncle is a narrative focused, peaceful adventure platform game in a surreal world developed by Gone North Games. Explore the mystical lands with the means of a grappling hook and rocket boots while discovering an emotional story of a boy that is trying to find his Uncle.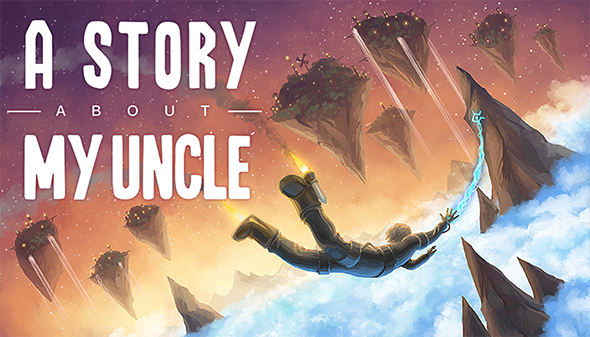 Story
A father puts his beloved daughter to bed. She requests a bedtime story, an adventurous one and he knows just the story to tell. He tells the tale of his uncle Fred, the adventurer and the day that his uncle disappeared. As a small boy, he takes matters into his own hands and follows his uncle into a magical and surreal world. To help him roam these mystical lands, uncle Fred had created several inventions and you will make use of these same creations. Your journey to discover why your uncle had left begins now and it will lead you through underground caves where frog-like creatures will help you unravel this mystery.
Graphics
The graphics may not be the absolute best ones you can find nowadays but they are astonishing. The surreal world you will find yourself in has so much detail in it that it will amaze you over and over again. From dark stone caves to civilizations unknown to the harsh, snowy mountains and into the ice caves. The change of scenery is nicely balanced and the objects you can Grapple on seem to differ accordingly. Even the fauna, flora and other materials change appropriately, depending on the settings you will find yourself in. Even if there was no narrative to the game, you would be able to create one for yourself due to the detailed fantasy lands.
Sound
While the graphics will blow your mind with the marvelous landscapes, the gameplay is maddening. It is thanks to the soundtrack that you will not lose your temper because the music is so soothing. The voices of the protagonist, his daughter, Maddy and the elderly that you will meet later in the game are clear as crystal. None of the voices are high pitched either, so they will not leave you irked. However, the rest of the villages that you will come across on your journey seem to talk indistinctively, more like a muttering and that can be somewhat annoying as they are a small part of the narrative.
Gameplay
As for the gameplay, the controls are dead simple. Both the keyboard as the controller work seamlessly with no lag. The rest of the game is quite peaceful as there is nothing to kill. For the most part, the journey is about exploring the surreal world you've landed in with your grappling hook.  It does feels like there is somewhat puzzle-work to do as you need to figure out how to jump and more specifically, where to jump to. Speeding through mystical caves with your grappling hook, flying even faster in midair with your rocket boots. That is the core gameplay of A Story About My Uncle and the sense of speed is clear. During these flights, you will feel as free as a bird but the landings may not always be successful. In fact, sometimes you will need to try a specific path for five to ten times before succeeding and this forms a repetitive trial and error gameplay. There are some parts where you need use your grappling hook but it won't hook, mostly this happens with windmills made from cloth and it is just maddening.
Replayability in A Story About My Uncle is not truly there. You can replay levels if you want to go after your achievements. These can range from not failing a level, finding all collectibles in said level, completing a level with less than a specific amount of Grapples and more. It is these achievements that will most likely make you replay the game because once you know the narrative, the game feels less interesting.
Conclusion
All-in-all A Story About My Uncle is a lovely game to play, for both young and old. The graphics are outstanding and have a nice balanced change of scenery. The soundtrack only adds more zen to the already relaxing atmosphere. However, because the game relies heavily on trial and error, it is a frustrating game. The narrative makes up for the frustration though and the ending will leave anyone with a lump in their throats. With four to seven hours of gameplay, the value of A Story About My Uncle seems reasonable and I would recommend the game to any casual or hardcore player that loves a narrative-driven game with some interesting mechanics.
A Story About My Uncle - Review

,