Follow
Brand: Antec
Product: TP-650C
Type: Power Supply Unit
Antec TP-650C – Hardware Review
Good: Great efficiency, silent fan, good variety of cables
Bad: Cable sleeving, non-modular
User Score
7.6
(9 votes)
Thanks to Antec, we are proud to show you a first for the website: a Power Supply Unit (PSU) review! We'll be taking a look at the TP-650C, which is non-modular. TP stands for True Power, 650 stands for the amount of Watt and the C stands for Classic. Let's take a look at what that's all about.
Specs
Model: TP-650C
Wattage: 650 Watts
Compliancy: 

ATX12V 2.4 & EPS12V 2.92

Efficiency: 

80 PLUS® GOLD

Dimensions: 

86 mm (H) x 150 mm (W) x 140 mm (D)
Exterior Design
PSU's are often tucked away in the bottom of your computer case. It's one of those components you buy and hope to never have to look at again. Nonetheless most power supply manufacturers these days make sure their products look the part. So does Antec. The housing of the unit is finished in matt black. On each side you'll find a sticker with Antec's branding and the model, appropriately placed so it's readable in both fan-up and fan-down positions. The top (or bottom, depending on the positioning) features an overview of the PSU's specs and the other sides of course show the fan. On top of the fan is a grill, which will keep large objects from being able to get into the unit itself and in the middle, is also a tasteful version of Antec's logo with some sort of gold finish. The front of the TP-650C has the cables coming out and the back has an exhaust grill with a honeycomb mesh to allow for optimal airflow. Also the connection for your wall-power and an on-off switch is featured here. In general, nothing out of the ordinary but a tasteful design
Cables
The TP-650C is a non-modular power supply meaning the cables have been pre-attached internally. You won't be able to detach any of them, what you see is what you get. The cables themselves are nicely sleeved in black. However holding them in bright light, you'll be able to see through the sleeving. That shouldn't be a problem when installed in your case though. Near the connectors, the sleeving ends and a small portion of the wires is visible but Antec has used some subtle colouring so even that won't really stand out. It also adds some flex for those hard to reach connectors on your motherboard. The variety of cables and connectors will allow you to power most CPU and GPU combinations, uncluding ones that require addtional power for overlocking purposes.
Performance
When looking for this product, make sure to look for the Classic version, as the normal TP650 is a different unit. This power supply carries the 80 Plus Gold standard. That means it has an efficiency of atleast 90% at 50% load. The TP-650C does a little better even, reaching 91.07%. Let's assume you'll want to use the unit at its ideal load: you'll get 325 Watts to play with. You'll be able to power any normal system with that amount, including an additional graphics card. You will surely notice the positive difference on your power bill when coming from a lower-efficiency power supply. Internally, you'll find quality components. Together with the 5-year warranty Antec offers, you won't have to worry about power for a long while. The unit is cooled by a 135mm fan which is controlled by Antec's Thermal Manager. Truth be told, I heard no additional noise from the PSU, not even when under load, from within my system.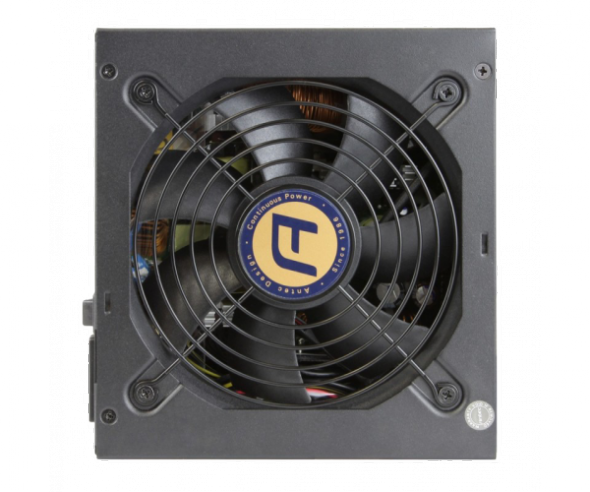 Own opinion
I was pleasantly surprised by this PSU. The fear that cable management would be very hard, with this unit being non-modular, was ungrounded. Installing it was easy enough and the fact all cables were pre-attached actually sped things up. I did end up with some cables which I didn't need but I was able to tuck them away, somewhere in a drive cage.
Conclusion
The TP-650C is a great PSU for most everyday computer users. 650 Watt is more than enough for most normal pc builds. The gold rating means it'll actually save you some money on your electricity bill. With that you get Antec's 5-year warranty as well. Add all that up and you end up with a pretty attractive package.
Antec TP-650C - Hardware Review

,