Anything and everything can happen in ingenious narrative card-based Foretales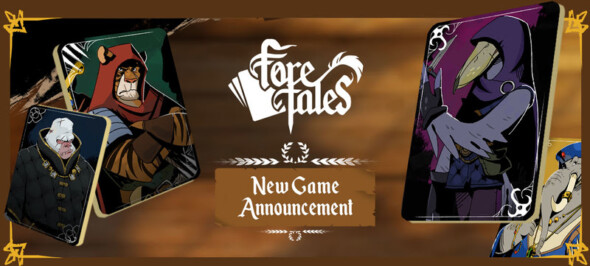 Indie developer Alkemi in partnership with Dear Villagers are proud to reveal their upcoming story-driven card game, Foretales. Due this Summer on PC and Nintendo Switch, Foretales is a new kind of card game where narration and experimentation blend with decksploration mechanics.
Foretales tells the story of a collapsing world doomed by a dark​ prophecy. Assuming the role of the avian small-time thief Volepain, you must assemble your party by choosing from a selection of anthropomorphic characters ranging from the tiger archer Léo, to the gorilla Karst, to the elephant Isabeau, and parrot Pattenbois. Use each character's unique skills along with consumable cards to forge your path through a huge variety of scripted encounters and situations. Choose whether to approach a scenario by using stealth, creating a ruse, making a trade, or engaging in good old-fashioned fisticuffs.
Play through the story multiple times to unlock all narrative branches, find multiple solutions to a single problem and maybe discover a way to achieve what seemed impossible at first. Experiment with different card associations and write your own story with your own moral values.
Anything and everything can happen in ingenious narrative card-based Foretales

,