Follow
Genre: Animation, Action, Adventure
Distributor: Universal Pictures Home Entertainment
Episodes: 61
Duration: 20 minutes (per episode)
Avatar: The Last Airbender Collection (Blu-ray) – Series Review
Good: HD animations, Special content, Still a very good story
Bad: No Dutch subtitles, Low quality of special footage, Steep price
User Score
8.4
(9 votes)
Avatar: The Last Airbender is a series that was aired on Nickelodeon from 2005 up until 2008. The show was a mix of anime-like animations with a more Western plot. The show was a huge success with young and old, and it eventually even spawned a second series, The Legend of Korra, which ran for four seasons. The latter did a new topic each season, while The Last Airbender was one big adventure. The show has been available on Netflix for some time, but the overall video quality is quite low and it shows that this is not a recent show anymore. This time, Universal decided to release the series on Blu-ray with crisp HD animations, albeit under the original aspect ratio. We were curious to see what this nice-looking box had to offer to us.
As always, when discussing a full box set we also like to see what the overall package has to offer. We can immediately say that this Blu-ray collection box looks amazing. The thick cardboard outer sleeve has glossy illustrations and also very classy ones at that. The box features a lot of shades of blue, which certainly fits the overall theme of the show. When opening the somewhat thick book in the box, which also holds all the discs in-between the separate pages, we get treated to impressive-looking illustrations of the main characters of the show, as well as certain quotes of said characters. Overall this is a fantastic looking collection and also adds some value to your (potential) purchase.
The show introduced us to Aang (Zach Tyler), the next Avatar, who is supposed to maintain the balance between the four great elements; Earth, Water, Fire, Air. Aang is the last Airbender in the world, as they were all brutally murdered by the Fire Nation, in order to prevent the next Avatar from rising to power. As Aang was frozen solid in a block of ice, he awakes a 100 years later in a world dominated by the Fire Nation. Once again the Avatar becomes relevant, as he can end the Fire Nation's reign of terror.
As many will already know, the show will guide us through three different seasons, which all revolve around a different element, namely Water, Earth and Fire. Air is not included, as Aang is already an Airbender, who can thus control his respective element. You'll be first introduced to the water tribe and their customs and troubles but also Aang will have to learn how to bend Water. After that, the second season (or aptly named 'book') will give him his second mentor to learn how to bend Earth. Then, last season will be the conclusive battle with the Fire Lord, but also Aang's road to learning how to bend Fire.
Even after all these years, the voice acting also sounds qualitative. Of course, there is a lot of overacting present, but not like in many other so-called 'children's' cartoons, where it's a constant barrage of overacting. The cast has done a formidable job bringing this series alive, and there are actually a few bigger names to be found on the payroll. For example, many will probably not know that Zuko is voiced by Dante Basco, who played Rufio in Hook way back in 1991. Even in the extra footage, he still looked nearly the same as his very teenage self. Other than that, names such as Mae Whitman also grace the cast, who has a massive amount of voice acting experience under her belt. Some others had less experience, but even so, the high quality of the voice acting in this series has always remained constant.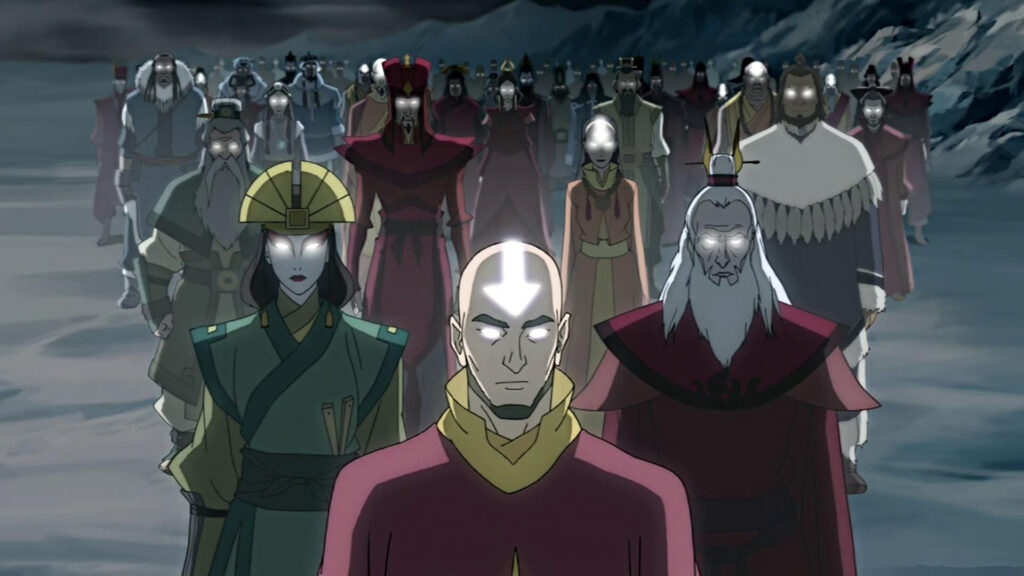 Outside of the otherwise cleaned up footage, we get a lot of special features on the Blu-ray collection. Many discs include audio commentaries, which are always nice to listen to. Other than that, you have many short extras that involve a lot of the 'making-of' process. You'll get to see which kung fu styles certain moves were based on, the voice acting process, behind the scenes footage, how certain real-life actions were translated to the animations of the show, and so on. Other than that, there's an interview with M. Night Shyamalan and a complete episode in which you can actually see the storyboards, instead of the normal animations. We were quite surprised to see this many special features on this box, as this is not that often done with animation series that already have a certain age. Some of the footage here is of very low quality though, so prepare yourself for that. Also, keep in mind that the extras do not come with subtitles. For the Dutch viewers among us, there are no Dutch subtitles available for the main series, only English ones.
Conclusion
Avatar: The Last Airbender is still a very good series after all these years, and this newest edition may come at a rather steep price, it is still pretty much the 'definitive' edition. You'll get a great looking package, proper HD imaging and a fair amount of extras to watch in-between the episodes. If you're looking to watch this series in correspondence with our modern standards, this edition is the way to go. We hope that The Legend of Korra will get a similar treatment in the near future.
Avatar: The Last Airbender Collection (Blu-ray) - Series Review

,