Follow
Genre: RPG, Strategy
Developer: Overhaul Games
Publisher: Atari
Platform: PC, Mac, iPad, Android
Baldur's Gate II: Enhanced Edition – Review
Good: Incredible value, great story, tactical battles
Bad: Fixed camera doesn't alway cooperate, tutorials could have been more helpful, some voice-overs
User Score
10.0
(1 votes)
One of the best RPG's of all time, superb battle system, intense story line,… these are the sort of statements you'll probably hear when you ask a veteran Baldur's Gate player to summarize  the series in a couple of words. Well, not everyone had the chance at the time to enjoy Baldur's Gate I & II when they came out a long while ago. Now is your chance to see for yourself what all the fuss was about with Baldur's Gate II: Enhanced edition, made by Overhaul Games.
Story
Before creating your character, you get a short recap of the events that happened in the previous game. You and Imoen, another orphan, were raised by Gorion, a mage who acted as a guardian and mentor even though he wasn't your father. Unfortunately, Gorion is murdered by a group of bandits when he refused to let them take you away. It turns out that the murderer was no other person then your own (half)brother Sarevok. Apparently, you are both children of Bhaal, the Lord of Murder and Sarevok's goal is to succeed his late father by doing horrible things. Eventually, you manage to slay Sarevok but not long after, some sinister figures capture you and Imoen and this is where the story of Baldur's Gate II commences.
So you are trapped in a cage that's barely big enough for one person. Someone approaches and he's blabbering things like: "You have much untapped power" and "Do you even realise your potential?" Soon all hell breaks loose as intruders enter the complex and Imoen pops up to free you from your cell. Time to escape this wretched place!
As the story is one of the best aspects of the Baldur's Gate series, I won't spoil your fun by telling much more than this. Let us say that the narrative will keep you playing and playing until you really have to quit because of dehydration or a massive lack of sleep.
Graphics
As the original Baldur's Gate II: Shadows of Amn was released in 2000, the graphics are probably not the reason why you'd be playing this Enhanced Edition although they have quite aged well. The environments look very acceptable and you'll be passing through various areas that look very impressive. Overhaul Games has also restyled the looks a bit compared to the original of 2000. Different shades of colour are now more in contrast and this looks a lot better than the previous range of colours.
The Enhanced Edition also has some nice tweaks and improvements, like full widescreen support and the ability to zoom in (but it's not really recommendable to zoom in too much as this will give your game a pixelated look).
Sound
The voice-overs are somewhere between okay-ish and pretty good. The only character that did manage to get on my nerves was Minsc. He's quite a likeable character but when he opens his mouth and produces those one-liners with that weird accent of his, it just doesn't sound too great. Luckily, he has a cute little hamster, called Boo, to make up for every small annoyance. I mean come one, that creature is so darn cute!
Spell effects sound simply awesome. It lets you feel powerful when playing as a mage and casting fire balls all over the place. Of course, when opponents use magic as well, it's not quite as enjoyable for your party, but hey, it does sound good!
The music in the game is composed by the German Michael Hoenig (he also composed the music for the first Baldur's Gate) and there'll probably be a handful of themes you like less, but one thing is certain, they all add a lot to the atmosphere and fit perfectly in.
Gameplay
Baldur's Gate I, II and this Enhanced Edition are based on the Advanced Dungeons & Dragons 2nd edition rule set. Those not familiar with the Dungeon & Dragon board and/or video games will probably have a hard time understanding how the fighting system works. To explain it in a few words, your chances of hitting an opponent is calculated by dice throws. You won't literary be throwing dice in the game as it calculates your chances automatically. It's a whole different way of playing an RPG compared to the role playing games in these modern times, but once you get the hang of it, it's really a genius way of playing.
There are some necessary tutorial videos at your disposal in the menu and as I have never played a Baldur's Gate game before, they were very welcome but maybe still a bit too simplistic. This is the kind of game where you'll have to figure out yourself what the best way to fight is. Some beginner tips: your archers and mages are best positioned in the back as they have fewer hitpoints than front line soldiers and try to use the environment to your advantage (lure the opponents in a small doorway as they'll become on easy shot for your rangers).
Exploring and fighting monsters is what you'll be doing 75% of the game (the other 25% is reading and replying to text fragments) and you'll mainly use the mouse to move/select your characters. Although the environments are designed in the best way possible with all those mazes and rooms, the fixed camera could lead to some problems as I occasionally had some trouble with picking up loot or evading traps that lay about. For the actual fighting, you really must (yes, must!) use the spacebar or push the pause button in the left corner at the bottom of your screen. Like this, you can position your troops in the best way possible and select/cast spells without having to worry about acting as fast as possible. Doing this in real-time will certainly get you killed very fast as enemies can lurk around every corner or when they have a thing for attacking in packs. So use that big, long, easy pressable button at the bottom of your keyboard, you'll probably live longer than 10 minutes!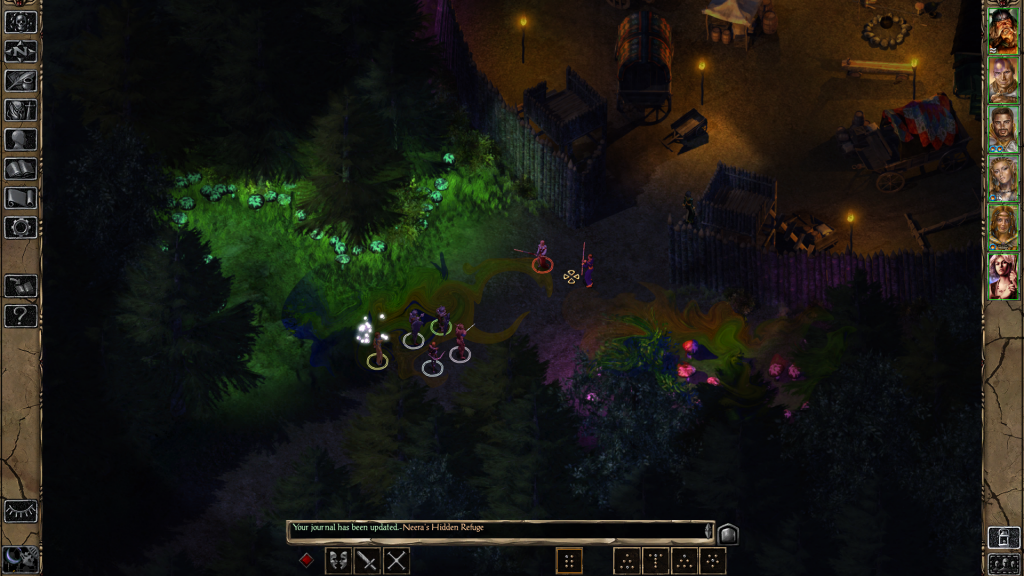 All kinds of new features have been implemented to make your adventure more smoothly and practical. First of all, there's a quicksave option now. You will notice soon enough that you'll have to save very often as there's nothing more irritating to fight the same monsters over and over again when you happen to die right after a battle. Everything with "quick" is good and so is the quick-loot button. It can become a chore to manually select every possible weapon or treasure that's lying around so with this new feature, that's neatly taken care of as well.
This game is huge, and by huge, I mean very long. Completing the Shadow's of Amn plotline alone will take you up to more than seventy hours and the Enhanced Edition comes with the expansion Throne of Bhaal and the separate game mode The Black Pits II where you'll be fighting enemies (which will get stronger and stronger) in an arena. Add up the four new party members with each their own background story and the multiplayer that's a blast to go through with some friends and you have a serious amount of content in one package.
Conclusion
Veteran players of the Baldur's Gate series won't find a reason to buy this game again and can stick to the original, but for the newcomers, this is really a great deal. The amount of content you get with the Enhanced Edition is enormous and it's the perfect way to experience this classic game in 2013. The story is exciting, the fighting mechanics tactical and challenging and then there's Boo,… No seriously, if you're looking for an old school RPG with a lot of value for your money, you won't take any risk with Baldur's Gate II: Enhanced edition.
Baldur's Gate II: Enhanced Edition - Review

,