Follow
Genre: Animation, Action, Adventure
Director: Sam Liu
Distributor: Warner Bros Home Entertainment
Duration: 83 minutes
Batman: Soul of the Dragon (DVD) – Movie Review
Good: Original story, Feels authentic
Bad: Definitely not for everyone
User Score
4.7
(3 votes)
We have reviewed a lot of the animated Batman (or DC) movies over the years. Most of them are standalone adventures that are to be enjoyed by young and old. Some of the films, however, are particularly violent and correspond better with a more adult audience. Nonetheless, these movies are often quite qualitative, and it's just nice to have some classically animated movies to view in our current CGI-orientated movie landscape.
Batman: Soul of the Dragon has a fairly easy-to-follow plot. It involves a group of people who trained at Nanda Parbat, including Bruce Wayne (David Giontoli), eventually becoming the chosen ones to protect 'The Gate' and the Soul Breaker blade, created by Muramasa himself. While things go awry during their training, Soul Breaker is still put into the care of Shiva (Kelly Hu), and that was supposed to be the last of it. Sadly, an organization by the name of Kobra is out to get the blade, as well as the supposed 'Gate' to another dimension, and they are very close to achieving their goal. Even though the students have not seen each other for years, the band will soon be together again.
The flow is basically what you've come to expect from these animated movies. This means that the film has a very short introduction, to then constantly go from one action scene to another, while every character gets a proper introduction. There are a few scenes sprinkled in-between of where the different characters used to train together. Soul of the Dragon is actually a very brutal movie, where hordes of henchmen keep getting murdered, some in a very horrible fashion. We are surprised to see that this movie is a PG12 approved film, given the amount of violence and references to sex. For some reason, at any given time you expect Samuel L. Jackson to jump out of the woodwork and drop F-bombs until the credits start rolling.
As always, the voice cast is quite talented in bringing these feature films alive. Many of these roles are often handled by the same cast members in different movies, but surprisingly, we have a new actor voicing Batman in this story. David Giuntoli voices the legendary Bruce Wayne and does so in a fashion that it's hard to distinguish him from previous actors. This makes the entire experience very authentic. Michael Jai White also has a big role in this film, and many may know him from the 1997 Spawn movie, The Dark Knight or even Mortal Kombat: Legacy. Other roles are given to Kelly Hu, Jamie Chung, Marc Dacascos, etc. These also do a superb job in wading through the cheesily-written script, turning this into a very original Batman story.
The DVD edition of Batman: Soul of the Dragon has a few tiny extras on the disc, all mainly being previews of other feature films. One of these is a small sneak peek at a movie that still has to be released, while the other two are already older releases that we get to see snippets of. While amusing as special features, this alone feels a bit slim. We would have loved to get more insight in this 'Elseworlds' storyline of Batman, rather than have a few elaborate trailers of other movies.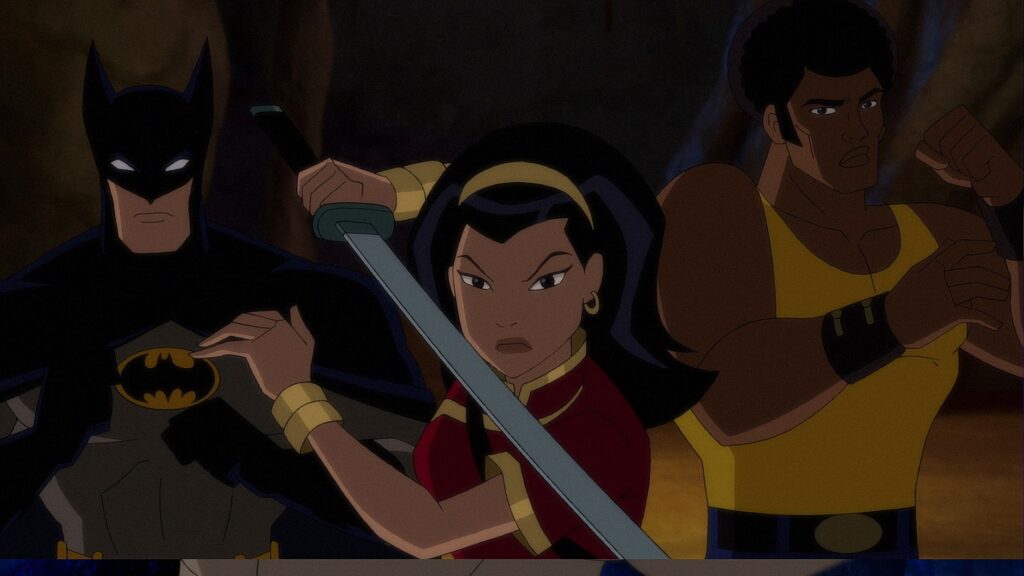 Conclusion
This homage to old school martial arts movies, in particular the Bruce Lee era, is a fun treat for an evening. Is it very good? Absolutely not. Is it entertaining? It sure is. Those who enjoyed the previous animated films will also enjoy this one, because of its buildup and pacing, but the theme might not suit everyone. Even though the movie is rated as PG12, a more adult audience will appreciate the subtle references in the movie a lot more.
Batman: Soul of the Dragon (DVD) - Movie Review

,