Follow
Genre: Action, Animation
Director: Butch Lukic
Distributor: Warner Bros Home Entertainment
Duration: 77 minutes
Batman Unlimited: Monster Mayhem (DVD) – Movie Review
Good: The Joker, Potential
Bad: Lacks depth
User Score
5.0
(1 votes)
Last time we concluded that the previous Batman Unlimited seems to be a subtle wink to Batman Beyond (Batman of the Future) and clearly more for children, compared to the many other DC titles that have been hitting the stores as of late. This time we're back with another movie in the Unlimited series, which doesn't step too far away from its predecessor when it comes to style, plot and animations. Nonetheless, we were stoked to see Batman in action once again.
It's Halloween in Gotham and whilst everyone seems to be having a good time, a new crime spree is going on. Many foes of old, have combined forces and it seems they are planning something rather peculiar. Solomon Grundy (Fred Tatasciore), Silver Banshee (Kari Wuhrer) and the fearsome Scarecrow (Brian T. Delaney) have escaped from the Arkham Asylum again and they have inexplicably bundled forces, whilst going on a random crime spree. When Clayface (Dave B. Mitchell) enters the stage and kidnaps a famous game developer, Gogo Shoto (Noel Fisher), it feels like the bandits have that much more up their sleeves than initially thought. Last but not least, an important new AI gets stolen. When the vigilantes of Gotham find out The Joker (Troy Baker) is behind all the mischief, they are certain this does not bode well for all of Gotham's citizens, or even the rest of the world. All of this happens right before the exposition of an ancient Inca power source. A sentient AI, one of the best programmers in the world and a massive power source can do a lot of damage to our technological progress.
Of course Batman (Roger Craig Smith), Red Robin (Yuri Lowenthal) and Nightwing (Will Friedle) are frantically trying to stop the criminals in order to learn more about their plans before it is too late.  Luck has it that the outnumbered heroes can count on the help of the Green Arrow (Chris Diamantopoulos) and Cyborg (Khary Payton), also members of the Justice League, in order to get the upper hand. That being said, things prove to be very tricky.
The flow of the movie is quite rapid, as the movie consists out of action scenes for the most part, shoving the plot a bit to the background. Whilst the action scenes are decent, they are often rather predictable, even more so compared to other Batman movies. Also, for some reason, it feels like Batman isn't really doing that much throughout the course of this movie.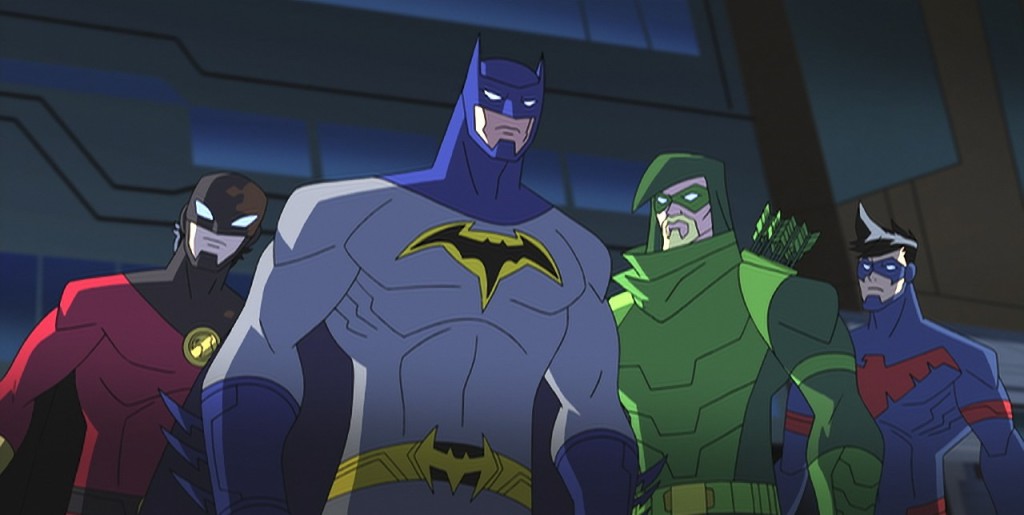 Just like in Animal Instincts, Monster Mayhem will feature a big cast of different villains and superheroes and it feels like DC is reintroducing many characters, in order to keep the younger fans up to date, or simply please fans of certain villains or heroes. That being said, it's fun to see many veterans appear on the screen once again, although some have lost their former glory. Also, it's clear that the Justice League is getting more and more relevant, as many animated movies have been implementing characters from DC's superhero team.
The Joker resembles the Joker from the old animated series quite a bit, but he lacks that certain je ne sais quoi to make him truly as witty as he once was. Whilst the voice acting and appearance may resemble his former self, his flagrant behavior leaves a lot to be desired for. There are a few scenes however where he truly steps up his game. We would love to see this character come back to life properly in future renditions, even in the Unlimited universe.
Batman Unlimited distances itself from many of the other Batman movies, as this series aims for a very futuristic look. This has a certain appeal, but sadly it's not always as detailed as one would expect. The colors remain quite bland, the animations are rather wooden and at certain times there is a lack of detail and even inconsistencies happen. It's weird to see something get damaged and see it perfectly fine in the next frame, or when things shift in size, it ruins the moment. Nonetheless, as this franchise is directed more towards a younger audience, they will have less problems with 'details' such as these ones.
What has remained constant for all of the latest Batman movies is the voice acting. Once again a superb job has been done, where the characters are truly portrayed in the right fashion, thanks to the great actor behind the mic.
This DVD release also brings some interesting and amusing special features. You'll be able to enjoy a short explanation of how the futuristic look came to be, but we reckon the DC Nation Shorts will tickly your funny bone the most. Those who still want a bit more of Batman's shenanigans can enjoy and extra episode of Batman: The Brave and the Bold.
Conclusion
Batman Unlimited: Monster Mayhem follows its predecessor when it comes to style, plot and overall likeability. Whilst the plot may not be that thick, the action makes up for quite a bit, as well as the fun extra features. If you love the more adult movies from the DC universe, this one might not be the perfect choice to spend your evening with. If you're a Batman fan, no matter what, you'll certainly find this one amusing enough.
Batman Unlimited: Monster Mayhem (DVD) - Movie Review

,