Follow
Genre: Simulator
Developer: Cyanide Studio
Publisher: Nacon
Platform: PC, PS4, PS5, Xbox One, Xbox Series X/S, Switch
Tested on: PC
Chef Life: A Restaurant Simulator – Review
Good: Free reign over your restaurant, Decent graphics, Good sounds
Bad: Can become stale quite quickly, Bland music
User Score
10.0
(2 votes)
Not so long ago we embarked on our first adventure cooking out the back of a food truck in Food Truck Simulator. Now, after all these months of hard work, we have finally saved enough money to open up our own restaurant. This time our friends over at Nacon bestowed upon us Chef Life: A Restaurant Simulator, where we will be running our very own restaurant.
Story
In Chef Life: A Restaurant Simulator you are in full control of making your own story. It all begins when our character has finally saved up enough money to re-open an old, abandoned restaurant and give it a second life. Together with the help of some old friends from culinary school, you decide to listen to others and improve the whole foodie scene together. Throughout your career, you will meet characters who give you tasks to increase your standing with clients but that's as far as the story goes.
Graphics
Visually the game looks very decent for a simulation game while not being as intricate as some other simulators. In some titles, you get to freely manipulate the foods, yet this is not present in this game. You'll prepare some food and it will always come out the same, but when designing a dish there are many food styles to choose from. There is also the option to customize your character, and the way that the characters and their clothes are presented gives off The Sims vibes. Furthermore, you'll find all the information needed in your interface without obscuring any important interactions.
Sound
It feels like there has been some effort invested in making the sound design of the game. Almost every character is voiced and the restaurant feels lively with the many customers sitting there, chatting and enjoying their food. The sounds that come from the kitchen are exactly as you'd expect from a restaurant with the various small sound effects and the food being prepared. Only a small letdown is that the music isn't that enjoyable so you might want to put on your own music if you want to have a better musical experience.
Gameplay
Chef Life: A Restaurant Simulator is, as the title implies, a simulation game where you manage your own restaurant and cook for the clients. It all begins a few days before the grand opening. Your old friend gives you a refresher on how to create new dishes and you are tasked with making these before you can add them to the menu. Luckily, the delivery person just brought some extra produce over that was otherwise destined for the bin so you decide to put these leftovers to good use. To add a dish to your daily menu you need to make it at least once, so go ahead and start cooking. Initially, the game holds your hand tightly throughout the tutorial and there are various difficulty options to keep the game simple and pleasant to enjoy, like dishes not failing or food not going bad.
As the game is a simulator, it simulates quite a lot. Your working day is quite long and you get to experience it from the early morning until late in the evening. To start the day you'll have to set the daily menu. As some dishes gain popularity, they might get ordered more, so it can be interesting to invest in better products for these dishes. Once you've locked in your decision, you can finally start ordering the ingredients. There are different shops where you can get your ingredients. Some shops are located farther from the city, and as they prefer quantity over quality, they will generally be cheaper. However, if you care more about your image as a chef, then you can always opt for high-quality locally sourced foods which will in turn increase your standing with the more ecological and economically aware clients. Naturally, one could save a good penny buying produce in bulk but be aware that every item has an expiry date and the longer they stay in the freezer the worse the quality will get.
Once the food is delivered, you get to stocking your shelves. Once this is done, you can start prepping for the day. Various foods can be kept in the refrigerator for quicker access during busy evenings. During the day, you have some coworkers joining in, who help clean or prepare the kitchen for the evening. Sometimes random people will drop by to give you new quests, and you can take this time to redecorate the kitchen and dining area. When you are done with the prep work, then you can just skip the time to the opening hours.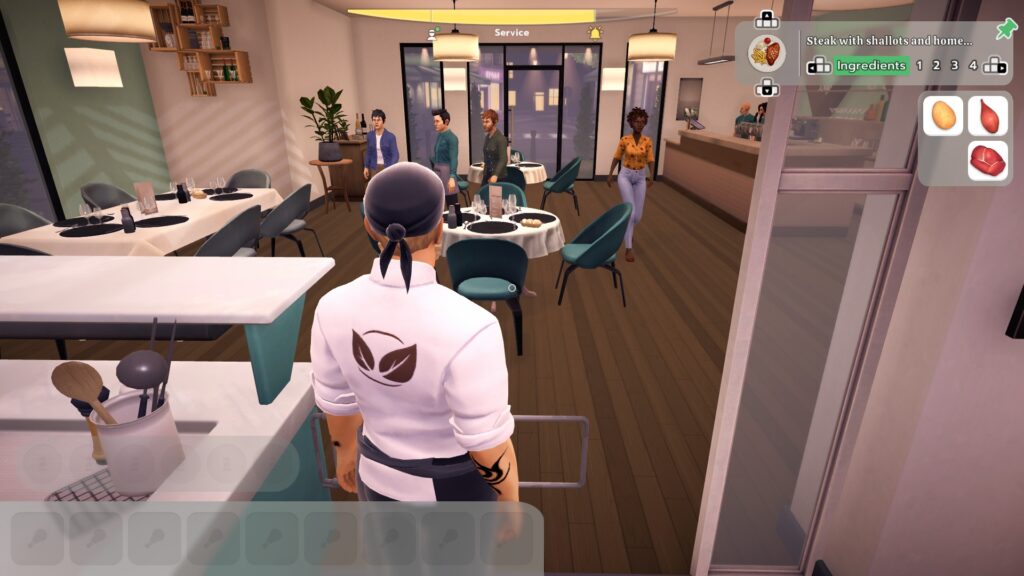 Once the restaurant is open, you are restrained to the kitchen. Your waiters will greet the clients and get their orders. This is all done in real-time, so you can take the time to prepare some more dishes or play along and grab the order when the waiter comes in. Now you start making the food following the wishes of the client. Some dishes, like steak, have different levels of doneness, and the fresher you make the dish, the better score you'll get. It is important to find the right balance between prepping your food and making it fresh. Initially, you will only have a few clients that visit you, and as your restaurant gets more traction and you unlock more dishes, the more clients you'll have coming in on a night.
The game has you casually managing every aspect of making the dishes, from cutting the food to making sauce, combining the ingredients, and cooking it until finally setting the plate. With so much going on, you would think the controls would be complicated, but the developers have solved this issue amazingly. You control the game both with a keyboard and mouse, meaning that you can quickly use the buttons while cooking or click on the action that you want to do.
When everyone eventually leaves, you can either stay behind and clean up or let your coworkers do the rest and go home. Each day will essentially be the same, so it can take a while to unlock new menus. Now it is time to reflect on the gained experience, learn a new recipe, or clean up the mess you made during the evening.
Conclusion
Chef Life: A Restaurant Simulator encapsulates the complete inner workings of a restaurant. You get a carte blanche to run your own restaurant down to the smallest details. You decide on how the interior is styled, what items will be on the menu, and how your meals are going to look. You manage the practical side of things as you make sure that you keep your groceries stocked so you are able to serve your customers fresh and qualitative meals. You get to build up your own restaurant and make the story as you decide for yourself. Everything in the game is colorful and presented with nice animations which make for a beautiful visual experience. The only not-so-great part is that the game can become somewhat stale as it is repetitive and the music isn't that great. If you like cooking games with a bit of freedom and one that has enough difficulty settings to be fun for everyone, then why not give it a spin?
Chef Life: A Restaurant Simulator – Review

,