Follow
Genre: Adventure, Visual Novel
Developer: Spike Chunsoft
Publisher: NIS America
Platform: PS Vita, PS4, PC
Tested on: PS4
Danganronpa V3: Killing Harmony – Review
Good: Story, Mechanics, Original
Bad: Very complex at times
User Score
10.0
(3 votes)
In our books the Danganronpa games, at least those in the main series, are somewhat the lugubrious versions of the Phoenix Wright titles. You'll find yourself in a situation where one must kill his fellow students in order to graduate from the enclosed academy controlled by a mechanical bear, but of course you'll always play as the goodie-two-shoes that doesn't want to be included in the killing game. This time you'll once again find yourself in the claws of Monokuma, and his children, for a new killing game between 'ultimate' students.
Story
In Danganronpa V3: Killing Harmony, you'll be playing as Kaede Akamatsu, who is considered to be the 'ultimate' pianist. You'll wake up in a strange environment, in a school-like setting, together with a young boy Shuichi, who is later revealed to be the ultimate detective. Before long, you'll find out there are a total of sixteen students present, all considered to be the ultimate in something and you're brought here by a mechanical bear by the name of Monokuma, and his mechanic children, the Monokubs. Not that much time passes before you learn in what predicament you and your fellow students find yourselves in, as you can only leave the enclosed school by killing someone else, unnoticed. If you manage to do so, the rest of the class will get executed and you can walk away scot-free. Of course, you don't want to partake in such a sick and twisted game, and you try to convince the rest to do the same. But when Monokuma suggests that if no killing takes place within 48 hours, that he will kill every single one of them, all bets seem to be off. Nonetheless, the first killing takes place only minutes before the deadline, and now it's up to you to find who did it, if you don't want to die with the rest of your class, while the killer walks away.
This game is filled to the brim with story content, as it's partly a visual novel in which you'll get to know your fellow prisoners/class mates and try to make the best of the situation. Of course, murders will start to occur and it'll be up to you to find out who did it, as you're clearly the best investigator of the bunch of students. If you're into murder mysteries, you'll certainly get your dose by the time the end screen pops up on your screen.
Graphics
Danganronpa V3: Killing Harmony follows the same style of the previous games from the main series, where every character is projected in a 2D fashion, in a somewhat 3D environment. Nonetheless, the minimalistic style works perfectly for this game and it actually makes it that much darker, as the cartoon-like characters have a certain dark aura surrounding them, making everyone a potential killer. While the items in your environment still look like cardboard cutouts, they received a bit more depth than the characters, showing some sign of progress or at least difference between the new title and the older ones.
In some ways the game looks a bit psychotic, not only thanks to the very varied cast of characters, but mainly due to the usage of very bright colors, in sometimes all the wrong places. The overall style will grip you perfectly, and it has something very grim that we can't precisely place our finger on. Especially the weathered look of this new school and the surrounding environment makes this installment feel very original. You won't be spending your time in a clean and tidy school, but you'll see plants and grass grow in the middle of the corridors and other places of the buildings, making it seem like this abandoned building wasn't properly prepared for its new, somewhat permanent, guests. Nonetheless, the overall visual style of the series is superb, even when things are kept in a low key fashion.
Sound
Just like the graphical design of the game, the music choice pushes all the right buttons, to make this somewhat lighthearted looking game, very dark and brooding. You'll be treated to fairly upbeat music, that can turn as easily as the wind when the situation desires for it. Other than that, the voice acting, which is mostly limited to key scenes and the trials, is also superbly done. Every character has the proper voice and it all adds up to the overall atmosphere.
Gameplay
Just like the first two installments of the series, Danganronpa V3: Killing Harmony is somewhat of a mix between a murder mystery and a visual novel, with some exploration possibilities. This means you'll be wading through a lot of conversations, spend time with the other students, and tackle murder cases by uncovering clues and hints on who might've done it. The concept of the game is fairly simple, just like in the previous games, but effectively tackling the class trials in which you'll have to uncover the murderer is not only tricky, somewhat difficult, but also fairly lengthy, making this game one where you'll have to keep your wits about.
For the most part you'll be drowning in conversations with your peers, but you can also roam around the school, get to know everyone, uncover clues, see sights that end up giving you coins and other valuable information. When no murder has taken place you can spend your free time with the rest, bonding with them, raising your friendship levels, at least if you give them presents that are bought with your hard earned coins. This gives the game some replay value, as you can try to bond with different characters, to learn more about them. Of course, you can skip these sequences altogether if you'd like to move on with the story, but we feel that this isn't a title for you if you start skipping potential story material. If a murder has transpired, you'll have to use your time to investigate the murder and find clues you can use in the forthcoming class trial. If you fail in said trial, you, and the rest of the class will get executed, if not, only the murderer will have to face his own demise.
When the time of your investigation has run out, you'll be forced to partake in the class trial, which serves to either punish the entire class, or the murderer. These class trials may sound simple on paper, but the many different phases and truckload of options make these class trials very tricky, exhausting for  your brain and a real challenge to find all the right arguments for you to tackle it in one go. Nonetheless, while this may have sounded negative, it adds a great mechanic to the game, and it allows you to properly work before you uncover the murderer. Making mistakes will cost you energy and thus making too many mistakes will result in a game over screen. Luckily the game asks you to save beforehand, thus you can easily retry portions you already know the answers to, and score better in some segments, avoiding further failure.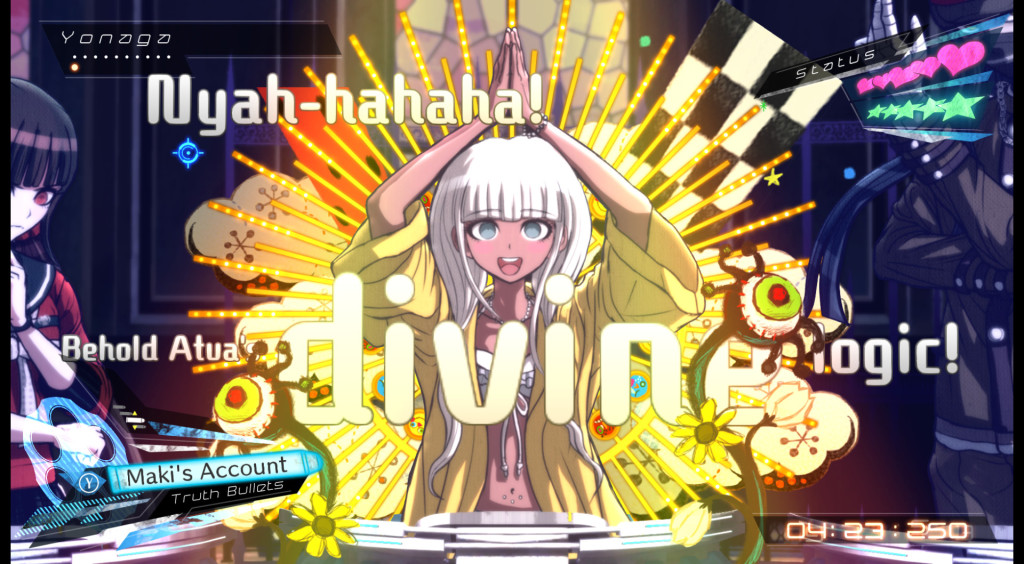 Conclusion
Danganronpa V3: Killing Harmony is a great continuation of the Danganronpa series and it shows that this series is still going strong with enough inspiration and new mechanics to keep things interesting and fresh. If you're into games such as Phoenix Wright, and you don't shy away from a bit of absurdity, violence and a somewhat psychedelic setting, then the Danganronpa series will certainly float your boat. This is one of those games that should be on every digital detective's wish-list.
Danganronpa V3: Killing Harmony - Review

,