Follow
Genre: Action RPG
Developer: FromSoftware Inc.
Publisher: Bandai Namco Entertainment
Platforms: PS4, PS5, Xbox Series X, Xbox One, PC
Tested on: PS5
Elden Ring – Review
Good: Massive open world, Solid gameplay mechanics
Bad: Not very accessible because of its high difficulty
User Score
10.0
(3 votes)
The moment we've all been waiting for is finally here: Elden Ring, the latest open-world souls-like action RPG, by FromSoftware, has finally released. Unlike the regular Dark Souls game series, this game has a massive open world, where you can roam freely. This gives you a lot more freedom than in any FromSoftware game we've seen before. Get ready for a new punishing souls-like experience with huge powerful bosses and a massive world to explore, in a new adventure that tasks you with becoming the Elden Lord.
Story
Elden Ring takes place in the Lands Between, after the destruction of the Elden Ring, with the shards of said ring being scattered as the Great Runes. This realm is now ruled over by the offspring of Queen Marika the Eternal, and each of them possesses one of these Great Runes, which corrupts them and taints them with power. You play as a Tarnished who has lost the Ring's grace, who has also been exiled from the Lands Between. After the shattering of the Elden Ring, you are summoned back. It's your task to roam the Lands Between and obtain all Great Runes to restore the Elden Ring and become the Elden Lord. With each major encounter, an amazing cinematic will play, introducing the new massive enemy that will start trying to kill you as soon as their introduction scene is over.
Graphics
The world of Elden Ring looks absolutely stunning. Within its big open world, there are many different environments, each one featuring a beautiful and unique design.  Every time we ventured into a new region, we stopped to take a good look before we continued our journey. For instance, the underground Siofra River has an amazing star-filled sky (yes, an underground sky). The character creation is also very expansive in this game, with a ton of options available to fully customize your appearance as you see fit. You can easily spend an hour or more creating your perfect character, which is certainly a plus if you want to have a unique character.
Sound
The soundscape in Elden Ring is amazing. From the moment the game boots up, a thrilling soundtrack starts playing that instantly sets the mood. Further into the game, it keeps up its level of quality, with amazing background music that constantly changes whenever you get into battle. The music will get even more intense while in boss battles, which makes every boss fight very exciting. While you won't be having conversations with NPCs constantly, every interaction is fully voiced and the voice acting performances are of top-notch quality.
Gameplay
Elden Ring is an action RPG made by the well-known developers from the Dark Souls game series.  Several elements from those games have returned in this one, but naturally, a lot of new additions are introduced in this game as well. This is the first time that a souls-like game by FromSoftware has an open world, which really changes the whole experience. Normally, In the Dark Souls games, there was a set path that you had to follow, with not much to do outside of this. These games would set you up against huge and strong enemies, often before you got the hang of how your character plays. Now, you can just roam around the world freely and learn to fight and get stronger, and eventually go back to the main path whenever you think you're strong enough.
As you create your character, you have a wide variety of starting classes to choose from with preset attributes and a starting equipment suitable to the class. Depending on your playstyle, you can choose to fight with many different melee and ranged weapons, but also use magic if you'd like to.  Like in the Dark Souls series, you can invest in a lot of attributes like strength, vitality, dexterity, and more, depending on your playstyle.
For the first time, FromSoftware also added a tutorial that aids you with your first steps into the game, as well as a lot of tooltips to teach you more about the in-game mechanics. Each time you encounter a new item with a specific use, a tooltip shows up that perfectly explains what you can do with it, while in the Dark Souls games, you'd have to figure this out for yourself or look it up online. Even so, Elden Ring stays true to the nature of the Souls games, with no quest markers or anything helping you on the map. The only thing guiding you is the Lost Grace's guidance that points you in a direction, which is all you'll have to make do with.
In Elden Ring, you gather Runes instead of Souls for each kill, which you can use for leveling your character by investing in the aforementioned attributes. You can also spend these Runes at merchants to buy new gear, materials and more. You can find merchants all over the world and each one has its own inventory, with most of them having something useful in stock. After playing for a while, and having found a few sites of Lost Grace, you'll be sent to the Roundtable Hold, which serves as a hub where you can find a blacksmith that can enhance your weapons, a merchant that can also feature stores of store owners you've killed (accidentally or on purpose), and a lot more will be unlocked as you progress in the game. This is one of the few safe places where you don't have to worry about being attacked from every possible direction.
As we mentioned above, Elden Ring also introduces several new features never seen before in the Dark Souls games. There's dynamic weather, and a day and night cycle that influences which enemies you'll encounter in certain areas. The newly added mount Torrent, your Spirit Steed, lets you ride and fight in the open world. Stealth has also been added, which enables you to hide from enemies in bushes and sneak past them, or even allow you to perform a sneak attack to deal lots of damage. For combat, a lot of things have changed as well. You can also jump in this game, which not only offers more maneuverability, but this also adds a jump attack, which can stagger opponents. Spirit Ashes are a whole new addition that let you summon creatures to aid you in battle. Lastly, a new guard counter has been added which lets you retaliate right after blocking an attack and deal serious damage.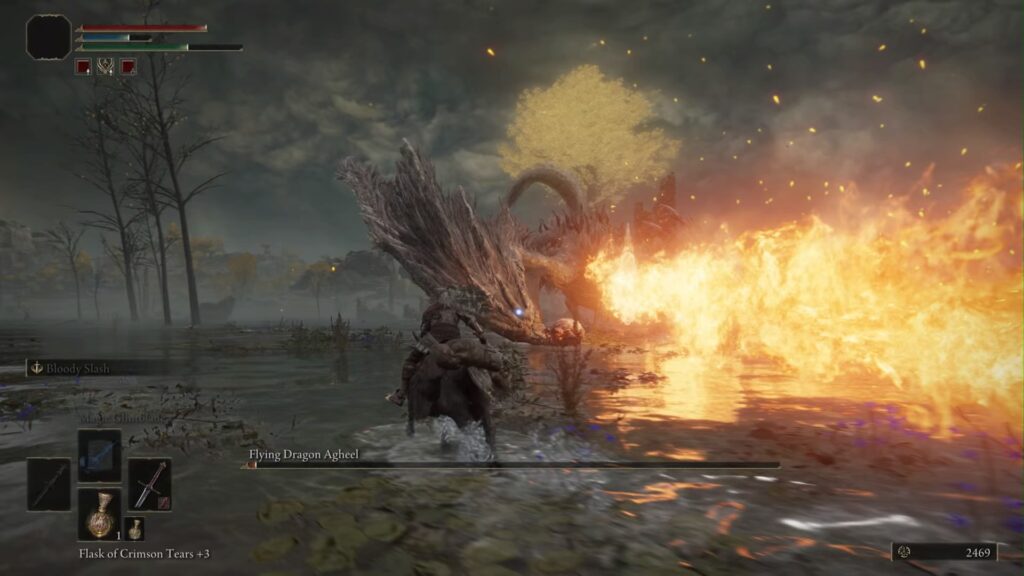 Elden Ring also features a more expansive multiplayer experience than any Dark Souls game before. You can't constantly play the game in multiplayer, unlike other games such as Dying Light 2 for instance, but you have the option to summon other players for help or aid others in battle by using specific summon items, which are easily craftable with the materials found throughout the world. Defeating bosses with the help of other players can make these fights a lot easier. While another player has the boss's attention, you're able to deal damage from behind. Also, when you help other players, dying won't cause you to lose your Runes, but each kill you make while in someone else's game will earn you Runes, so it's a great way to earn Runes for leveling your own character. On the other hand, you can also invade other people's world to try to kill them while they're just playing their game, which also adds a PvP aspect to the game. Luckily, this is something you can turn off if you're not interested in being hunted by other players. Elden Ring even features cross-play, which lets PlayStation 4 and 5 players play together and Xbox One players with Xbox Series X|S players.
Conclusion
The world of Elden Ring is beautiful, the gameplay is amazing and you've got lots of things to do, but it still is a souls-like game by FromSoftware, which means it's not an easy game. We died countless times to defeat that one enemy we couldn't get past, which led to a lot of frustration and anger, but the satisfaction of finally defeating that enemy and being able to progress is totally worth it! The open world is amazing for a game in the genre, as this gave us the chance to stray from the main road to discover the environment around us, and at the same time grow stronger and find new equipment. Elden Ring is an amazing action RPG that will keep you going for a very long time, as there is so much to explore in its big world and we would definitely recommend this game to every enthusiast of souls-like games. As we have mentioned Dark Souls countless times in this review, we can easily state that if you're not a fan of FromSoftware's other games such as Dark Souls or Bloodborne, you won't fancy playing through this one either. Those looking for a challenge, the Lands Between are waiting for you.
Elden Ring - Review

,