Follow
Genre: action strategy RPG rogue-lite
Developer: BetaDwarf
Publisher: BetaDwarf
Platform: PC, Mac, Linux
Tested on: PC
FORCED SHOWDOWN: Drone Invasion DLC – Review
Good: Great graphics, fun addition to base game
Bad: New cards are hard to get, no multiplayer or subtitles
User Score
9.3
(4 votes)
Everyone's favourite action/strategy rogue-lite FORCED SHOWDOWN is back, this time with more cards- and even a new campaign to add to its already extensive hours of gameplay. So how exactly does this 'Drone Invasion' DLC expand on an already successful title? We had to check it out, of course!
Story
It seems as if the Galactic Game Show will stop at nothing in finding new ways to inventively kill off its failing contestants! Having forced your way through the tricky Crucible, and battled the crazy Ruby von Wouthingtonne IV in Frontline, the sadistic gameshow hosts have created another way to die- the Mentor's Maze. Can you battle through to become the ultimate superstar?
The DLC doesn't add much more to the original story, as all the new content is focused on the gameplay itself; but as we said when we first worked on this title, the narrative that has been given is more than enjoyable as it fits with the whole idea of battling lots of different enemies in an arena of death. Wouldn't it be interesting, though, to find out why the hell such a bloodbath exists as a spectator sport in this universe?
Graphics
As expected, the graphics in 'Drone Invasion' are as gorgeous as the originals. With the addition of a new world, the Drone World, BetaDwarf have really outdone themselves in making everything look totally amazing and enticing. Trust us, the levels are so attractive that you'd probably even consider partaking in this crazy gameshow in real life just for the sightseeing (this is totally not recommended, as you'd probably die, and we wouldn't want that). Just be aware that the amazing graphics come with a price for less powerful PCs- you might not even be able to start it up!
Sound
Again, just like the base game, the music in 'Drone Invasion' deserves a nice, fat tick in the box that says epic. For the new campaign and levels, there are some great tunes that you might even want to listen to separately if, like some people, you listen to game soundtracks in your own time (not pointing any fingers, of course).
The issue that remains is the lack of subtitles, which although for some might seem trivial, actually might be important to those who can't understand what's going on too well. When you want to rock along to the music, you don't particularly want to stop enjoying what you're listening to to find out what the characters are saying, do you? So please, BetaDwarf, add those poor old subtitles in someday!
Gameplay
'Drone Invasion' is an expansion to the base game of the action/strategy rogue-lite FORCED SHOWDOWN. The controls still remain the same as the original, with WSAD for movement, left mouse button for attack, mouse movement for aim, and other buttons to use special abilities that are indicated in-game.
Of course, you still have the original four heroes that we saw in the base game. But lo, what is this? A new playable contestant? Sweet! Settsu, the newbie, is described as a veritable 'badass'- especially since she wears a mech suit, uses a pulse rifle and has a jetpack. Think of her as FORCED SHOWDOWN's version of D.Va from Overwatch– only with more bite than bark, and certainly more aggressive looking. Along with her comes a number of new cards (22, in fact), including those that have 'Drone Invasion's keyword Dismantle on them, where this card can burn another card to give off a powerful effect that is subsequently multiplied by the dismantled card's cost. Never has burning your own deck been more fun! To get these, you'll need to roll the Wheel of Fortune, but do be aware that getting the cards from the expansion may be difficult if you have collected a lot of the cards from the base game. You'll also need to remember that the bosses have 10 new cards of their own, so don't expect an easy fight.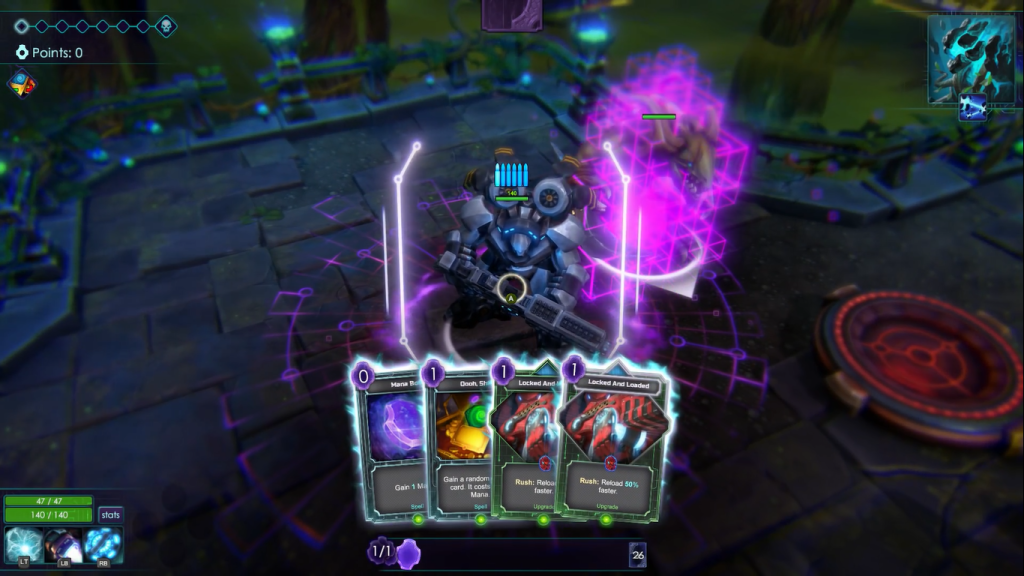 Speaking of bosses, 'Drone Invasion' features a new one to go with its new campaign mode, Mentor's Maze. Not much is known about R3-KT, but BetaDwarf promises a fight that will challenge even the most skilled contestants. Sounds exciting! Mentor's Maze itself features a number of levels, bosses and quests that you need to defeat and complete in order to get to the end boss, along with 10 modifiers that are hidden along the way- so you might be surprised by them at any time. There are also 10 Drone enemies with unique attacks for you to learn how to combat, so you can't say that there's a shortage of content here.
Conclusion
'Drone Invasion' is a great expansion to an already very enjoyable strategy game, and adds a fair bit of content to what exists currently. After all, what games these days give you a whole new level, plenty of new cards and a new character for little money? Not many, that's for sure! Although we still might want elements such as multiplayer (as mentioned in our review of the base game), or the addition of subtitles, what the game offers so far will keep you playing on and on for hours because of how fun it is. Definitely a game to pick up if you haven't already!
FORCED SHOWDOWN: Drone Invasion DLC - Review

,