Follow
Genre: Drama, Romance
Distributor: Just Entertainment
Episodes: 14
Duration: 45 min (per episode)
Grand Hotel: Season 2 Box 1 (DVD) – Series Review
Good: Strong acting performances
Bad: Many questions left unanswered
User Score
0
(0 votes)
Great intrigues, some nice detective work, interesting relationships, forbidden loves, an overwhelming setting and beautiful costumes, Grand Hotel really has it all. The series is set in a luxury hotel in northern Spain in the early nineteen hundreds. In those days, difference in class was still very noticeable and oh, what the rich would do to get richer, while trying to prevent a scandal! Prepare yourself for a rollercoaster of intrigue that will blow your mind.
In season one, the plot revolved around the disappearance, and later the murder of the maid Cristina. This mystery got solved by her brother Julio (Yon González), who went undercover as a butler in the Grand Hotel. Meanwhile he fell in love with daughter of the house Alicia Alarcón (Amaia Salamanca), but she was forced to marry Don Diego Marquia (Pedro Alonso). At the end of season one, Andrés (Llorenç González), one of the butlers, got electrocuted.
In the second season, Alicia and Don Diego come back from their honeymoon. Although she's hardly even back yet, Alicia immediately wants to help Julio find the man (or woman) who tried to kill Andrés by electrocution. Andrés luckily recovers, be it with a limping leg. Meanwhile, the rest of the family has its fair share of intrigue as well. Sofia (Luz Valdenebro) pretends to still be pregnant after she lost her baby when falling off the stairs. Her husband Alfredo (Fele Martínez) is in jail for the murder on Cristina, which she committed. Don Diego made housemaid Belén (Marta Larralde) pregnant, but she is forced to give up her baby, who will now serve as Doña Sofia's baby. The mother of the house, Doña Theresa (Adriana Ozores) arranged for it all. She paid the midwife to let Belén bleed to death after delivering the baby, but her cunning plan is deranged when Belén survives. The intrigue becomes even greater when, after they have taken the baby away from his mother, it turns out that there is another one coming. This baby is safely hidden by Belén and Andrés, her husband, for fear the family will take him away too.
While investigating the attempted murder of Andrés, Alicia and Julio find out something suspicious about the death of Alicia's father. It seems like her mother has been holding things back. Alicia is willing to go very far to find out the truth concerning her father, even though this may not be as nice as she would hope it to be.
The story of this second season moves at quite a rapid pace. Certainly at the beginning it seems like the series will be one big whole of intrigue, which might be a bit much. Luckily these intrigues are developed further, rather than new plans being plotted. This makes the series very addictive to watch, as it will take a long time before knowing how all this will end, while it keeps being interesting at the same time. The story has some detective work, lots of intrigue, love and deceit, while also being a costume drama. That is quite a lot to be cramming into one series. Nonetheless all of this comes together beautifully and makes one fascinating whole.
There are a lot of characters in the series: there is not only the family who own the Grand Hotel, as well as the personnel, but there are of course also many guests who often prove to be doing more than just passing by. If you have not seen season one, this might make things rather difficult to follow at first, although luckily, inside the DVD box there is a sort of family tree to make things clearer.
The costumes and decors depict the aristocratic life in early twentieth century Spain beautifully. The hotel is literally 'grand' and will strike you with astonishment when seeing it for the first time. The music only adds to this feeling of grandness. All of this makes the series a joy to watch.
There are certain parallels to be seen with the British series Downton Abbey. Both are set at the beginning of the twentieth century and concern aristocratic families and their staff. Nonetheless, Grand Hotel shows many differences as well, and stands out very much on its own.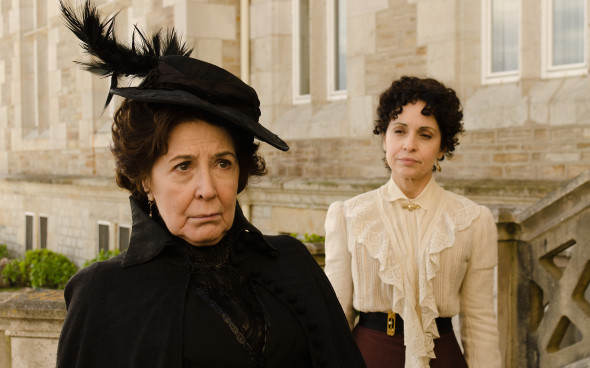 It is a fun approach to insert some references to existing people. Agatha Christie, for example, stays in the hotel for a while, and finds her inspiration there for her famous inspector Poirot after seeing agent Ayala (Pep Anton Muñoz)and his rather stupid sidekick.
Acting performances are top notch. Amaia Salamanca and Yon González are very convincing as lead characters, and Adriana Ozores almost makes you believe that she as cunning in reality as her character is in the series.
One minor flaw about this DVD box is that it only contains box one of season two. This means that after watching the final episode, there are many questions left unanswered.
Conclusion
Grand Hotel is a beautiful series to watch, certainly if you are already a fan of Downton Abbey. The intrigues are much greater though and the pace is rather quick, making this series enthralling from beginning to end. The beautiful costumes and scenery, as well as the outstanding acting performances only add to this feeling.