Follow
Genre: Otome
Developer: Idea Factory, Design Factory
Publisher: Idea Factory International
Platforms: PC, PS TV, PS Vita
Tested on: PS TV
Hakuoki: Edo Blossoms – Review
Good: You can choose your route, stories will make you melt
Bad: Some conversations might seem a bit basic
User Score
9.0
(2 votes)
There are more and more otome games to choose from, both on smartphones as mobile consoles. Hakuoki is such a franchise and after Kyoto Winds, it's time to get to know the successor. In Edo Blossoms, you're continuing your story with one of the bachelor samurai. Of course, there are some more juicy parts here and there which probably didn't happen (I'm looking at you, Furies), but are you ready for this historic but romantic love tale?
Story
If you like Japanese history, this is something for you. You'll be catapulted to the Bakumatsu era, or at least the end of it. This game is the follow-up on Kyoto Winds and you're actually on the doorstep of a new beginning. After the Battle of Toba-Fushimi, the Shinsengumi knew a defeat and had to retreat back to Edo. Of course, there was a new wind going through the city and the organization had only a few options. Or they could fight back and get killed or go into hiding as they had quite a secret to cover. The army of Furies certainly isn't something they wanted to be known, as they're not always reliable and dining on blood.
You'll be able to select one of the candidates and continue the story as where you ended in the predecessor. Depending on the answers you provide during the story, you'll get a different path and one of the several endings. Of course, some of them are heart-wrecking while others will make you melt. In the end, you decide how the story proceeds and there is more than enough content for you to explore.
Graphics
There isn't much difference between the previous instalment, so you'll be greeted by the same samurai and surroundings. The colors are rather soothing and in the same hue, giving you that feeling that you're teleported back to that specific era. Of course, there are different locations as you're working area shifted from Kyoto to Edo. The mouths from the characters move while conversing with you, but this isn't in sync with what is said as it's just some random movements. It does give some extra feeling to the game though.
Sound
Be prepared to be swept away to a more historical time thanks to the great music that fits the setting. Your story is guided by some more classical tracks during the fun and more relaxed conversations, while some more dramatical tunes will blast from your speakers when in trouble. Some scenes are topped off with some extra sound effects, for example when katanas clash together or when blood splatters on the screen.
Of course, there are also voices added to the scene and they fit their character perfectly. Although you yourself are muted, both during conversations as well while thinking, the soothing voices of your bachelors make up for it.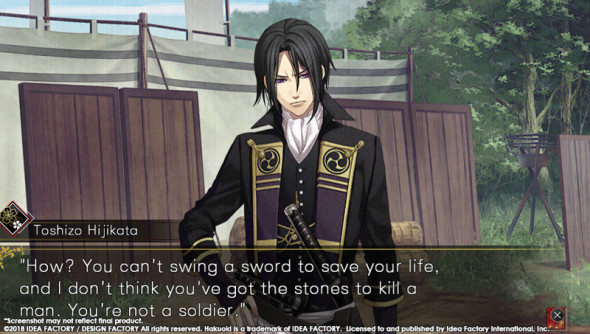 Gameplay
Hakuoki: Edo Blossoms is the second instalment of this otome franchise. In this title, you'll continue your journey with one of the samurai bachelors you've encountered. Some novels tend to have a bit of different gameplay elements but this isn't the case for this game. You progress through the Edo Blossoms by reading the conversations and by replying on certain questions. Depending on the answer you give, your relationship with your chosen samurai develops in a different way. If you've given the right answers, you will get to the most favourable ending you can obtain. This also implies that there are worse endings to get as well.
The game provides a quicksave and the possibility to save the game at all times, even before answering a question. This means that you can go through several options and see which one is the right one, shown visually by golden flowers and a butterfly fluttering on your screen. If you notice that you've picked a wrong route, you can just load the saved game and start anew, which is really nice if you want to get the best possible outcome (and who doesn't?).
After getting the ending of your desire, you can start over and pick a new bachelor. If you want to reminisce about your past stories, you can always check the gallery and view some of the unlocked images or cutscenes. During your story, you'll be able to check certain words or expressions you encountered in the Encyclopedia so you're up to speed when you forgot certain elements. Also, you can keep track of your relationship with the samurai, especially the Corruption level. Some answers will influence the Fury side-effects and your response will increase this threshold, so keep this in mind.
Conclusion
If you like otome games, especially when they take you back to the Japanese Bakumatsu era, you might be interested in this game. Edo Blossoms is the successor of Kyoto Winds and although it would be interesting to have the background of the first game, there is a prologue at the start of every route that gets you up to speed. The graphical and musical style is still the same, so you'll be greeted by soothing music and colors. Gameplay wise there isn't too much to do, except relaxing and enjoying the story.
Hakuoki: Edo Blossoms - Review

,