Follow
Genre: Adventure, Comedy, Crime
Director: Etan Cohen
Distributor: Sony Pictures Home Entertainment
Duration: 90 minutes
Holmes & Watson (Blu-ray) – Movie Review
Good: Overall decent execution
Bad: Clearly not for those who expect a serious Sherlock Holmes story
User Score
8.0
(1 votes)
The tale of Sherlock Holmes and his partner Dr. Watson is one that withstood the test of time, and it still inspires new filmmakers into forging their own detective story. There is the very popular show Elementary, which is still airing as we speak, but we also had the famous movies starring Robert Downey Jr. who became an iconic face for the famous detective. While most stories revolving around the detective are of a serious nature, this time Will Ferrell and John C. Reilly make it something more casual and witty, forming a rather original take on the famous characters. While we dived in with very low expectations, we couldn't help ourselves smiling through the silly escapades of Holmes & Watson.
The formidable duo of Holmes (Will Ferrell) and Watson (John C. Reilly) is formed when Watson is tired of his life and wants to commit suicide. He ends up in Holmes' garden, crushing Holmes' prized vegetables, and the rest is history.
Holmes is tasked by testifying at the trial of professor James Moriarty (Ralph Fiennes), but he concludes that the man on the bench is an imposter, forced to take the blame for Moriarty. This is not a favored conclusion for those in the law enforcement as they believe Holmes has it wrong. Nonetheless, soon after the release of the imposter, it seems that Moriarty is striking again, making it seems as if Holmes really isn't all that good at solving mysteries as one would think. That being said, he is still celebrated by the nation, and even gets treated to a surprise birthday party by Queen Victoria (Pam Ferris) herself. Sadly, the party goes awry when they discover a body in Holmes' birthday cake. He then will find himself in a race against the clock to find the murderer, especially since the killer also vowed to kill the queen.
The flow is what you'd expect from a typical comedy movie, where it's all shits and giggles until the problem presents itself. There's the middle portion where the case develops, and then of course a very predictable scene where both leading characters have a disagreement, all coming back together for the grand finale. If this sounds like a spoiler, then you haven't watched a comedy movie during the last two decades. Overall the spread of information and action is nicely handled and we were entertained for the biggest part of the movie. It does take some time warming up for the silly humor, but once you're in it, it's easy to crack a smile now and then.
Those who know Will Ferrell will probably know what they can expect from his performance(s). You either like him, or you hate him, it seems there is no middle ground on this particular actor. Ferrell is accompanied by John C. Reilly and together they form a formidable comedic duo. It has to be said, when watching the outtakes, that it's clear that these two actors are attuned to each other quite nicely, as a lot of improv is going on at all times. There are tons of different outtakes from how they handled particular scenes. There will also be small cameos by other bigger Hollywood names in the movie, but the accompanying roles are played by Rebecca Hall, Kelly Macdonald, Lauren Lapkus, Rob Brydon, Ralph Fiennes and Pam Ferris, making it clear that this isn't a small production.
The Blu-ray edition of Holmes & Watson comes with a few special features, such as deleted and extended scenes, outtakes and a few making of sequences. Other than that, there's a tiny feature of all the men Mrs. Hudson brings home for her love escapades. The content that's there is not that lengthy, but for a movie such as this, it are the outtakes that will make you laugh the most.
Conclusion
This parody of the famous detective duo does take some time getting used to, but the moment you get into the slapstick humor and the overacting, you're in for a rather witty and amusing ride. The movie itself won't be one that will make the top charts, but you'll get a giggle or two out of this one, and it shows that there are still somewhat original stories to be told in the movie industry, even if the source material is somewhat overused. If you're into comedies that don't make things overly complicated, then this movie might just provide you with a fun evening.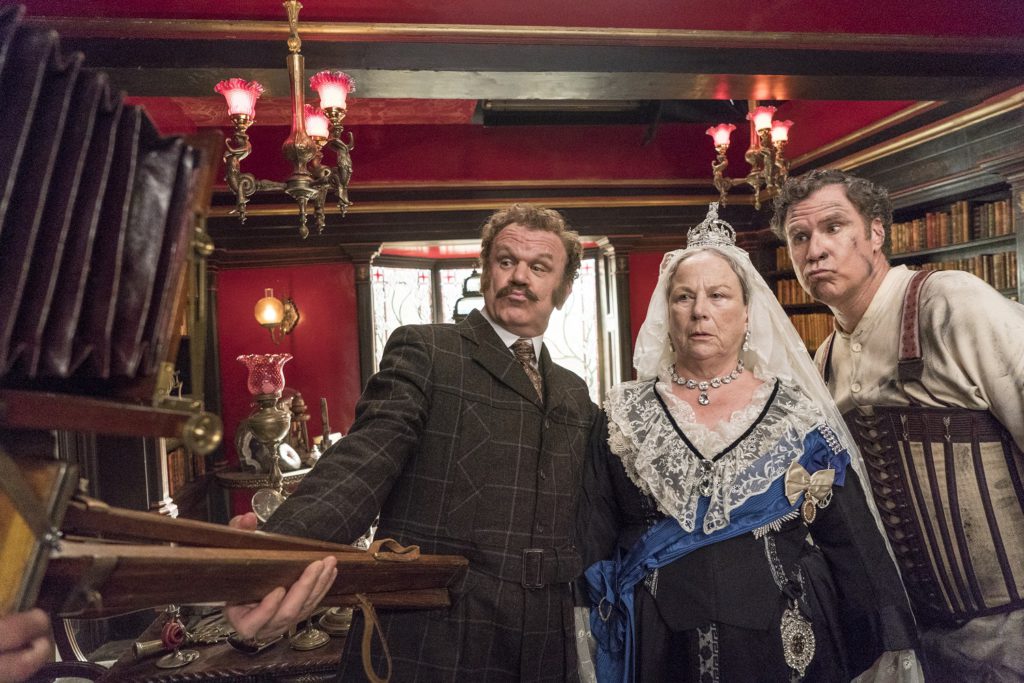 Holmes & Watson (Blu-ray) - Movie Review

,