Follow
Genre: 16bit action adventure/indie
Developer: q-bit Games
Publisher: Nkidu Games Inc.
Platforms: PC(Steam), Mac
Tested on: PC
Holobunnies: Pause Cafe – Review
Good: ideal as an timefiller, adorable artstyle, great soundtrack
Bad: useless brawler mode, lack of story content, price isn't justified for the amount of content
User Score
4.7
(3 votes)
Most games that release over time are preceded by a demo version that allows players to try out the early gameplay mechanics of the game. This way, players can get a decent understanding of what the game is about and if it's worth their time and money. On the other hand, demos are also the perfect way for developers to get feedback from their audience and improve existing gameplay mechanics. When games or franchises are appealing, they often receive sequels or spinoffs. So that's why it's not often you get to play a spinoff/demo before the main game releases but with Holobunnies: Pause Cafe, Q-bit Games offer us an appetizer of what is to come early 2018 with Holobunnies: The Bittersweet Adventure.
Story
After a catastrophe left their home destroyed, the Holobunnies are on a search for a new habitable planet they can call home. As their undertaking is quite tough, the crew of unlikely adventurers has decided to take a rest at Qaantar's Cafe to take a breather and enjoy some soothing drinks or some friendly competitions and challenges.
Holobunnies Pause Cafe doesn't offer any form of storyline and uses Qaantar's Cafe as the games' hub. Except for a limited number of dialogues with the other bunnies in the cafe, that's all you get. As Pause Cafe is an appetizer for what's to come in the future installment, a glimpse of the upcoming story would've made this game a lot more interesting or appealing and attract possible fans.
Graphics
Let's be clear, Holobunnies look incredibly adorable. The anime-like artstyle and overall aesthetics are truly gorgeous as graphically it invokes fond memories of the old-school 2D sidescrollers. Alas, the colour palette is a bit on the limited side for the maps and backgrounds, aside for the decent coloring of the Holobunnies and their menacing foes. The 16-bit sprites fit this game perfectly and make it appealing for all those who can't resist adorable bunnies.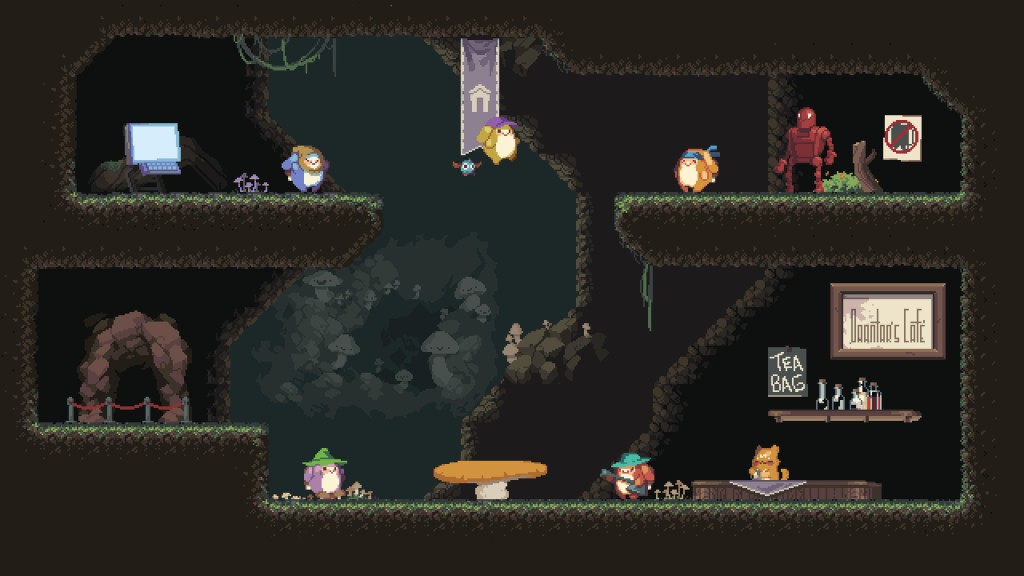 Sound
Although this is rather a small game, it's still accompanied by a great soundtrack. The funky tunes are really captivating and nicely accompany the experience during your playing sessions. In Boss Rush, heavy metal is booming out of your boxes and its music has a decent punch to it, giving these boss battles a much-needed sense of thrill and excitement. Meanwhile, while residing in the Cafe, some relaxing lounge tunes sooth your senses and fit the setting perfectly, especially as the game offers mostly short playing sessions and doesn't require an extensive soundtrack. The game doesn't offer any kind of voice work except for the bunnies producing some incomprehensible gibbering accompanied with some limited speech bubbles.
Gameplay
Holobunnies: Pause Cafe is a small collection of 3 2D minigames that are accessible through the game's mini hub that is presented like a Cafe where the Holobunnies take a breather from their adventures. These 3 minigames are quite diverse in their genres and focus mainly on short playing sessions. The minigames available are 2 Player Local Brawler Mode, Kitcat Adventures and Boss Rush.
The main problem occurring with the brawler mode Is that it really doesn't offer anyone to play against, except if you can find a victim among your friends or family that is willing enough to grab another controller and squirm next to you on your office chair. It's a human vs. human only brawler and offers no possibility to duke it out against the computer or someone from your Steam friends list. On the other hand, when you've finally found someone to play with, it's actually fun to play as it offers some crazy battles. Unfortunately, the lack of a single-player option here is a major downside as at least they should've added the option to challenge progressively harder opponents. In the end, the brawler mode feels like a waste of effort.
Kitcat Adventure is by far the best minigame among those in Pause Cafe. It's a typical speedrunning game as you can often find them on the mobile platforms of iOS or Android. Here you control a cat called Kitcat and the controls are limited to jumping. By using the power-ups scattered around the level you can go faster, slower, multi-jump or turn around. By combining these powerups and using well-timed jumps, you collect souls and beat these levels. While it's a well-built game, it isn't the easiest among them. The levels have a good balance between easy to the annoyingly difficult and at certain times it's really a trial and error. Luckily, death isn't final, as you respawn at the beginning of the level or at a certain point of the level. This way, it doesn't get too hard too fast and the later levels even urge you to have one more go at them. Kitcat Adventure must be completed at the fastest time possible and if you collect enough souls, they will be deducted from your total time at the end of each level. The minigame can also be played ranked so that you can compare the scores with other players.

The third and last minigame is Boss Rush. Here you can play as one of the four Holobunnies and take down bosses which might appear in the future installment of Holobunnies: The Bittersweet Adventure. As soon as you've beaten one of the bosses, you're transported to the next. Alas, you don't get to pick which character you play as the choice of Holobunnies is fixed.  On the one hand, it's a shame you can't choose your favorite Holobunny to fight with but on the other hand, you'll get used to using them. Unfortunately, there are only four bosses which doesn't make for a lengthy minigame and aren't overly difficult to beat. Once you've found out how to beat them, they aren't a real challenge anymore. Luckily, you can also play Boss Rush ranked, as you can try to get the fastest score and compare it with other players.
Holobunnies: Pause Cafe is best played with a controller as playing with a keyboard is a real struggle. Controls are all over the place and even if you customize them at the options menu, it still doesn't feel like a natural way to play. Overall, Holobunnies is a bit-sized collection of minigames that are fun to play and ideal for short playthrough, but once you've played through the minigames a few times, it will probably get forgotten among the list of games in your Steam library.
Conclusion
Holobunnies: Pause Cafe is an adorable and fun collection of minigames but is burdened by its flaws. There isn't a clear connection between the minigames or what the developer wants to make clear to his audience. This makes it incredibly hard to put a decisive score on what might be a spinoff or demo of a game that is yet to be released early 2018. For what Holobunnies: Pause Cafe has to offer, the price is a bit too steep as there are other titles with more content for a lower price. Still, what the developers at q-bit Games have created with Holobunnies might really appeal to certain audiences and makes us at 3rd-Strike curious about what kind of game Holobunnies: The Bittersweet Adventure might eventually become.
Holobunnies: Pause Cafe - Review

,