Follow
Genre: Action, Adventure, Drama
Distributor: eOne
Episodes: 6
Duration: 40 min. (per episode)
Into the Badlands: Season 1 (DVD) – Series Review
Good: Great fighting choreographies, Story
Bad: A few cheap special effects, Hopefully they won't milk the cow dry
User Score
8.0
(1 votes)
Doomsday scenarios aren't a scarce commodity when talking about movies, comic books or games, and more than often all of said end of the world stories are very much alike. We are no stranger to stories where the world has been destroyed by war, ravaged by disasters or even overrun with the living dead. This time we explore the war torn world scenario a bit more, albeit in a future where guns have been outlawed, and the law of the rulers of the land(s) is enforced by badass martial artists. An interesting concept for this first season that only lasts six episodes.
The world as we know it has changed a lot, mainly due to the many wars that were fought in what we now call the present. Nonetheless, the world seems to have pulled through, and even certain portions of society has been rebuilt. With outlawing guns, martial artists, who are called Clippers, are trained, to keep the general populace in tow, as the lands are now controlled by barons, who pretty much only need strong forces and slaves to do their bidding. This brings us to Sunny (Daniel Wu), baron Quinn's (Marton Csokas) best clipper and regent, thus granting him a lot of power for a 'slave'. When during his last mission he encountered nomads who stole from Quinn, he killed them all to retrieve the stolen goods. Apparently the stolen object is actually a teenager by the name M.K. (Aramis Knight). Later it becomes clear that the nomads had no interest in the boy, but 'the Widow' (Emily Beecham) has. She recruited the thugs, as she wants the boy as her own. Before long it's clear that this specific young man has a special ability that makes him a very desired, moldable warrior.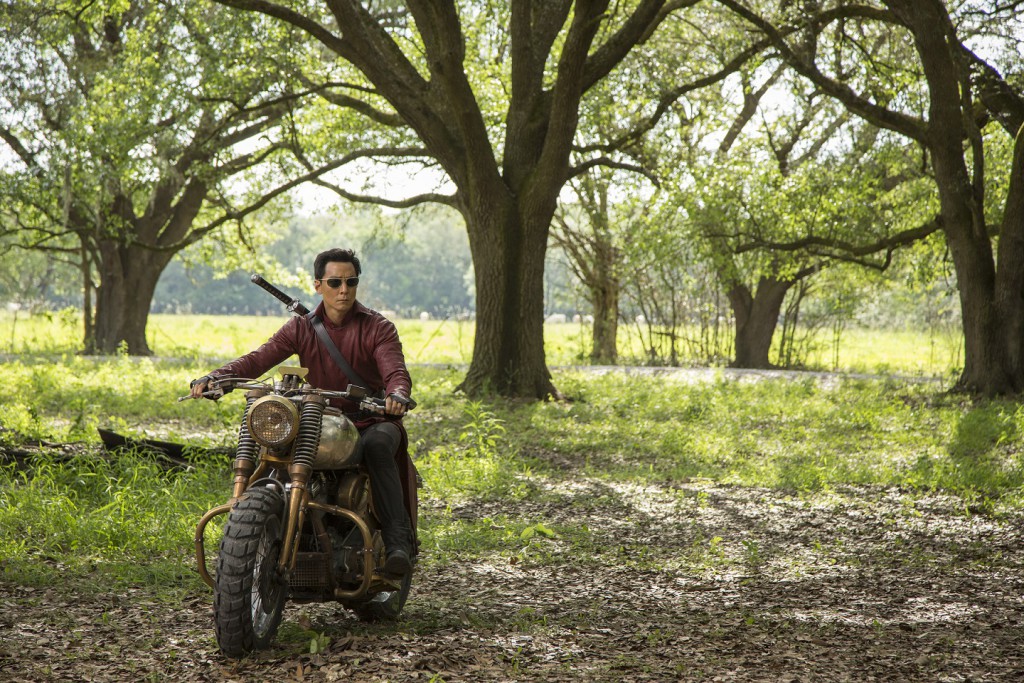 While Sunny takes the boy under his wing, something he would normally never do, which makes it clear he is starting to doubt Quinn's ways, he also has bigger fish to fry. He has a rather serious relationship with Veil (Madeleine Mantock) and even gets her pregnant. While Sunny advises to remove the baby, as a Clipper isn't allowed to have a family, by the penalty of death, Veil still wants to keep the child. This makes Sunny look for a way out, as they'll have to escape and see if there's still a 'world out there'. To make matters even worse, the tumult of an approaching war between the barons, and internal struggles in Quinn's family, don't make it easier for Sunny to find a way out.
Even though the developers have to wrap up the key events that define the series in the course of six episodes, this first season never feels rushed, and it even feels as if the story is being told at a fairly relaxed pace. Of course, the action portion of Into the Badlands is superb, which was to be expected for an AMC series that revolves around martial artists. Nonetheless, the overall plot is rather interesting, but sometimes a tad on the vague side, and some scenes feel a bit redundant, thus hopefully, the lengthier second season can keep up the proper pacing and fighting choreographies. Perhaps the only thing that sometimes breaks the otherwise realistic mood are the fairly cheap 'blood' special effects. Nonetheless, they add something cheesy to the equation.
Acting performances are actually quite good, but sometimes the gap between certain cast members is very clear. Nonetheless, the protagonists, Daniel Wu and Aramis Knight are an interesting duo, even though Aramis still lacks experience. That being said, the rest of the cast also does a great job in filling this 'rebooted' version of Earth.
This DVD release of the first season of Into the Badlands comes with four special features, with a total length of about thirty minutes. Mainly these small featurettes revolve around the making of the series, the characters that roam around the badlands, and certain key events throughout the six episodes. Truth be told, these extras don't add that much value to your overall viewing experience, but they might serve as a good recap when season two finally starts rolling.
Conclusion
Into the Badlands: Season 1 is an interesting start to a captivating series. The world that is being shaped in this story feels original, and the cast supporting this doomsday scenario does a great job in presenting us with an intense action packed plot. Nonetheless, as good as the first season may be, we hope this series gets wrapped up in another season or two, as this seems like a story better kept short. If you're into martial arts, the end of the world and a fairly interesting hierarchy system, this series will give you a few hours of entertainment.
Into the Badlands: Season 1 (DVD) - Series Review

,