Follow
Genre: Dance
Developer: Ubisoft Paris, Ubisoft Pune
Publisher: Ubisoft
Platform: PC, Xbox 360, Xbox One, PS3, PS4, Wii U, Switch
Tested on: Switch
Just Dance 2017 – Review
Good: Simple fun for young and old, Diverse soundtrack
Bad: Still pretty much the same game as it was years ago
User Score
7.3
(3 votes)
After getting used to being a couch potato when gaming, we knew it was once again time to get fit and mobile with the release of Nintendo's Switch. To help us get rid of some excess laziness, Ubisoft decided to give us a hand by allowing us to test Just Dance 2017 on the Switch. We realize this is no new title, but we were quite curious on how precise the Switch's controllers registered our movements, and if there were some extra gimmicks to be found in this release. Make some room, as we're going to bust some moves on our own personal dance floor.
Story
As expected Just Dance 2017 doesn't really have a narrative to work with, which means you'll never find yourself surrounded by cannibals, having to dance your way to safety, or you'll never find yourself in a heated 'so you think you can dance' battle. That being said, this title is clearly intended to be an arcade experience where you simply jump into the gameplay and dance to your heart's content. If you need a narrative for a game such as this, make up your own as you go or simply set your own challenges.
Graphics
Just Dance 2017 looks a lot like its predecessors, and thus you'll be looking at a flashy hyped out workout video for the most part, where a lot of different people pass the revue and where the colors and backdrops were carefully chosen to supplement the song that's blasting through your speakers. There aren't too many whistles and bells, safe for a few very colorful and intense effects during specific parts of songs. Less is more, and for a game such as this, we can't agree more.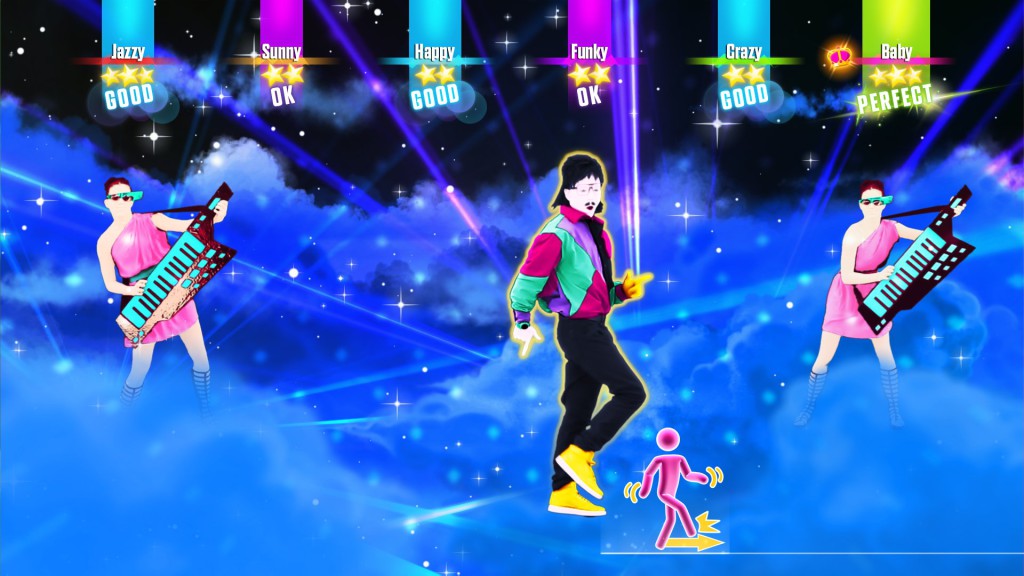 Sound
The game has a variety of different songs to dance to, and it seems like Ubisoft tried to offer a rather diverse soundtrack for their 2017 edition. The music ranges from popular songs that we've heard over and over on the radio, be it very recent ones to older tracks, for example by Queen. A fun new touch are the additions of Psy and Hatsune Miku to this otherwise very 'Western' game. Other than the music, you'll not be bothered by any real voice acting, and the sound effects remain rather simple throughout the game as well, making sure nothing interferes with the music.
Gameplay
Just Dance 2017 is a dancing/rhythm game in which you'll have to dance, all while following the movements of the character on your television set. It's pretty much a game that only offers a variety of different choreographies to perform on your own, or with a bunch of friends, for some of the group choreographies. Don't fret though, even the group songs can be played solo, and you can simply pick which of the dancers you'd like to follow. The latter makes sure that some songs can be replayed quite often, as the different dancers often perform different moves, which keeps the experience fresh if you already know one role by heart.
Truth be told, the many different modes this game has to offer are in essence pretty much the same. You'll have to dance, while following the choreography onscreen, and you can do it with friends in a cooperative fashion, or by competing with one another. Timing is the key factor which will allow you to rake in the much needed points, to unlock new avatars and other small gimmicks. The points you are rewarded can also be used to unlock new tracks. Nonetheless, while timing is the most important factor in the game, it's clear that the game allows a delay to what is happening onscreen vs. in real life. Often when you move in sync with the character that is showing you the moves, you'll only get an 'okay' or 'good' quotation, while moving a tiny bit slower might land you those perfect scores.
Not that much has changed compared to the earlier Just Dance games on the Wii and Wii U, as you can simply wave your Joy-Con around like a baton, without having to move your body like your digital instructor. Of course, standing still and hardly diving into the Just Dance experience will simply ruin your own fun, but in a way, they could have incorporated both Joy-Con controllers, for a more precise experience. That being said, you can also use your smartphone  to use as a controller for the dancing experience, but it feels a tad safer when using the Joy-Con with the wrist strap.
Conclusion
There truly isn't that much to say about the Just Dance series, except for the fact that it's actually a very fun concept, and it inspires people to move, instead of always sitting down during their gaming experiences. While this game is often seen as something girlish, male gamers can certainly have a lot of fun as well, if they open up to looking silly when they start busting their inexperienced moves. If you're looking for something fun to play after Breath of the Wild, this one might offer a fun intermezzo between releases.
Just Dance 2017 - Review

,