Follow
Genre: Animation, Action, Adventure
Director: Takeshi Nozue
Distributor: Sony Pictures Home Entertainment
Duration: 115 minutes
Kingsglaive: Final Fantasy XV (Blu-ray) – Movie Review
Good: Lifelike, Beautiful world, Great for the fans of the franchise
Bad: Foreknowledge is required to fully enjoy the movie
User Score
8.3
(3 votes)
It's no big secret that many Final Fantasy fans are eagerly awaiting the release of the fifteenth installment (not counting the heaps of remakes and spin-offs), some of them might have actually missed the release of Kingsglaive: Final Fantasy XV. This fully CGI animated movie already lifts the veil of what is to be the setting and world of Final Fantasy XV, and while it's clear that no expense was spared in making this movie, it hardly saw the light of day in many different countries when it came to its theatrical release. Luckily, the physical release ensued quite swiftly, allowing us to present you with our finds of this lifelike adventure.
In a world that looks very much like ours, when it comes to its giant cities, but something right out of a fairytale when you look at other locations, there are two factions, which initially had no quarrel with one another. Lucis is the one that is in control of Insomnia, a crystal that holds magical properties and lends these abilities to the current king, Regis Lucis Caelum CXIII (Sean Bean). Even though all was good, the Niflheim empire started invading Lucis' lands in order to gain control over Insomnia. Despite the fact that Niflheim is technologically more advanced than Lucis when it comes to warfare and robotic soldiers, they did not count on Lucis' magical powers. The king is able to keep their last city safe be it by a magical wall. While this wall is impressive, it's not enough, thus it needs to be defended. Here is where the Kingsglaive come into play, as they are the only ones capable of this task. These noble warriors are actually refugees from Galahd, a city controlled by Niflheim beyond the wall, as they are the only ones capable of using magic, which is lent to them by the king, slowly nibbling away his strength.
This takes us to a trio of glaives defending the wall, namely Nyx Ulric (Aaron Paul), Libertus Ostium (Liam Mulvey) and Crowe Altius (Andrea Tivadar), who barely escape with their lives intact when Niflheim deploys daemons to attack the wall. While the battle ends with the evil empire retreating, it's clear they could have pressed on and won the battle without breaking a sweat. When later on an envoy arrives at Lucis' king's doorstep, with the proposal of leaving Lucis alone, if they signed over their territories to Niflheim AND wed Noctis (Ray Chase), the king's son, to lady Lunafreya Nox Fleuret (Lena Headey), with the latter being an odd suggestion. Knowing when they are beat, Lucis agrees to the terms, but sends one of its glaives, Crowe, on a secret mission to retrieve Lunafreya beforehand, as she has been a prisoner of Niflheim for twelve years now. Sadly, there is no word from Crowe, and after Niflheim brought her themselves they show they have something up their sleeves. While all of this sounds fairly complex and a bit vague, this story will revolve mostly around Nyx and Lunafreya and the treaty that might come in order soon.
Overall the flow of this movie is quite pleasant, never too fast, never too slow. There's a healthy balance between information and action, which make sure the movie never gets dull, even with its duration that is approximately two hours. Nonetheless, it's best to look up some facts of Final Fantasy XV beforehand, if you truly want to squeeze every ounce of information out of this title, as without proper foreknowledge some facts and trivia items might get lost in translation. Nonetheless, even for those who have no knowledge of the franchise will be able to tag along for this emotional action packed ride.
Acting performances are always a tad trickier to judge when you're working with a movie that is completely animated by motion capture techniques, thus often the movement of the characters is done by someone else than who actually voices them. For a movie such as this, it takes tremendous effort from both sides to come up with something coherent and properly done. Of course, the graphical team behind all of this surely had their work carved out for them as well. Simply put, everyone did a tremendous job in creating one of the most technical advanced pieces of cinema currently released onto this planet, even if it received only a portion of the attention the next 200 Fast and Furious movies will get. It's fun to hear many familiar voices such as Sean Bean and Lena Headey, who respectively play(ed) Ned Stark and Cersei Lannister on Game of Thrones. Also, it's quite interesting to see Aaron Paul take up a fairly badass role for this feature, and he does nail the part that is laid out for him.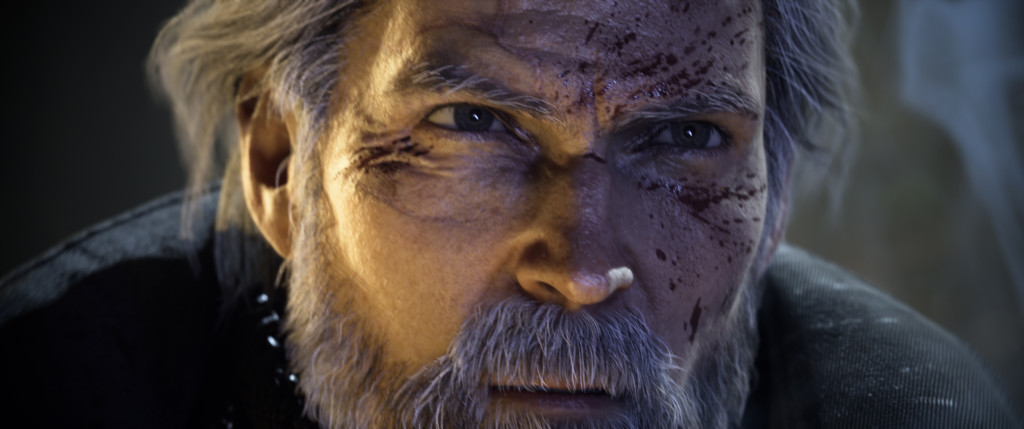 It's clear that this movie is linked to the Final Fantasy franchise as there is a heavy emphasis on atmosphere by the use of a great (digital) environment and a very impressive musical score. Even if you're not fond of the series, the almost lifelike scenes in this movie are still a sight to behold.
The special features on this Blu-ray releases are limited in duration, yet they are interesting nonetheless. You'll be treated to four short segments, which combined, could be part of a more elaborate making of sequence. We get to learn more about the voice acting, the motion capture techniques used, the musical score and of course the universe of Final Fantasy XV, which combined our modern society with something akin to a fantasy story. Short as these featurettes may be, they are great additional content.
Conclusion
Even though some foreknowledge makes this movie easier to understand, the overall picture in Kingsglaive: Final Fantasy XV is an entertaining one, be it for fans of the franchise, or those who just want an action packed fantasy adventure. You'll be treated to a CGI movie which makes it clear that the line between computer animation and live action movies is becoming thinner and thinner, all combined with a decent plot and great acting performances. If you're one of those people waiting for Final Fantasy XV, this movie will get you pumped up even more.
Kingsglaive: Final Fantasy XV (Blu-ray) - Movie Review

,