Follow
Genre: Racing
Developer: Visual Concepts
Publisher: 2K Games
Platform: PC, PS4, PS5, Switch, Xbox One, Xbox Series X/S
Tested on: PS5
LEGO 2K Drive – Review
Good: Fun concept, Decent co-op, Amusing to build your own card
Bad: Feels a bit basic and bland at times, Extreme rubberbanding
User Score
8.0
(2 votes)
Some gamers might remember LEGO Racers, a LEGO kart racing game that came out in 1999 for several major platforms. It offered fast-paced gameplay and in terms of quality, it gave Mario Kart 64 a run for its money. Even though the game proved to be a moderate success and two sequels were released, the series died nearly two decades ago, and it seemed as if no new LEGO racing games would be released any time soon. We were rather surprised when LEGO 2K Drive was announced, which seemingly had the right building bricks to become a decent new LEGO racing game. LEGO 2K Drive would not only focus on fast-paced kart racing but also on an open-world experience. For the most part, we were quite entertained.
Story
Even though there is a story present in LEGO 2K Drive, it will not really impress most gamers. You're a new racer on the block in Bricklandia, and you're aiming for that coveted first place. You'll encounter several rivals along the way, and in-between certain goals you'll get small story segments. The dialogues are humorous and contain that typical LEGO-game atmosphere.
Graphics
Graphically LEGO 2K Drive is a very good-looking title. The game mixes some more realistic textures and elements with LEGO structures, vehicles, and characters. We were amazed by the very fluid animations, especially when your vehicle transforms into another vehicle from your loadout. These transitions happen when you go from land to water or also when you go to rough terrain. The game has a lot of fun structures and many destructible items. The latter is quite entertaining when you're plowing through a parking lot filled with cool LEGO cars. We didn't really encounter any frame drops on PS5, even when things got very hectic. The game does suffer from fairly long loading times, however.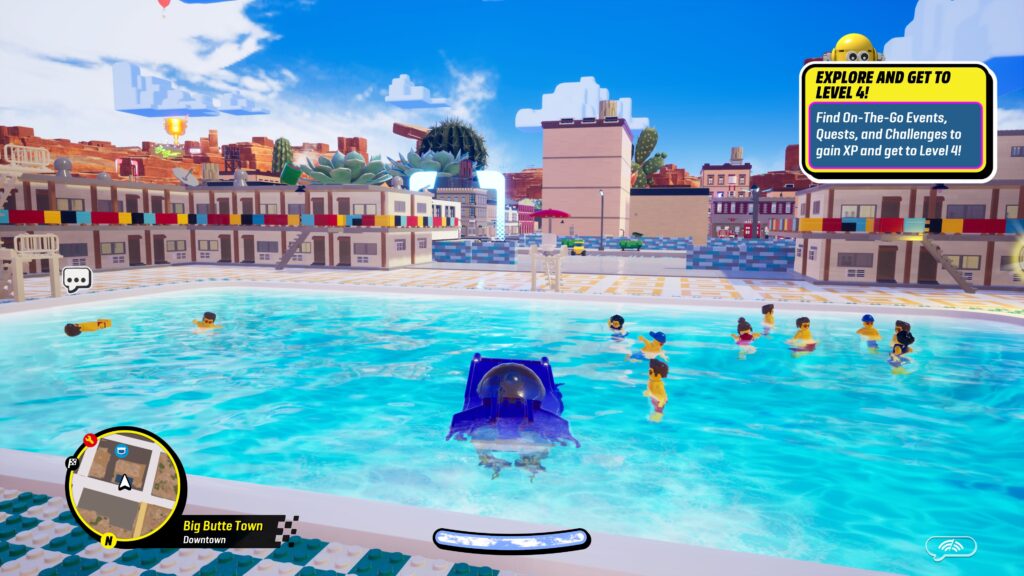 Sound
The sound design is fairly good. The game has reasonably upbeat music that doesn't overstay its welcome during more hectic sequences. You'll also have quite a few voiced lines during the storyline, which is also a plus. The characters all have their own cheesy '90s persona, which again does wonders for the game's general atmosphere. You'll also recognize a lot of the iconic clicking sounds of LEGO bricks and studs, making the entire experience rather authentic. Most of the vehicles sound fairly realistic, thus combining the best of playing with LEGOs and driving fast vehicles.
Gameplay
LEGO 2K Drive is an arcade racing game with open-world elements. While the game offers several standard racing and mini-game options, you'll find the bulk of the game's content in its story mode. In said mode, you'll explore different regions while completing races, small quests, and challenges. The offset is quite simple, as you'll need to collect flags by winning races to progress, while also completing quests and challenges in order to gain more experience. The overall gameplay loop is quite enjoyable, even if things feel a bit basic. We felt as if the game was a mix between Forza Horizon and Mario Kart. The fun part is that you can tackle the game with a friend or family member via local co-op.
The controls aren't too bad, and you'll quickly get the hang of how things work. On normal roads, you'll notice that the handling is a bit tighter. When going off-road or when traversing water, things are a bit more reminiscent of an actual arcade game. We did find the drifting to be rather lousy in this game, making us use the quick-turn function a lot more than the actual drifting. During races, you'll also be able to pick up power-ups, ranging from boost refills and rockets to shields and spiderwebs. The races themselves were perhaps too simple, in terms of track design. This title, however, suffers severely from rubber-banding, and due to this, some races even felt extremely unfair.
The game does have a fair amount of content to explore, but the open world sometimes feels like you're just going around doing small challenges to keep yourself occupied in between the more important racing events. LEGO 2K Drive has a solid foundation, but it plays things too safe. The game would be a lot more fun with more bombastic track designs and a bit more variety when it comes to other events.
Luckily, there was one aspect that allowed us to sink even more time into the game, namely the garage. In the garage you can, of course, create your own vehicles, and you can do so for the normal cars, the off-road vehicles, and the boats. While having to place a lot of LEGO bricks with a controller isn't always the easiest task, we did enjoy building our very own LEGO vehicles. At the start of the game, you'll have a limited selection of bricks, but it's still varied enough to create interesting designs. As you progress through the game, you'll unlock some new cool upgrades or so-called 'flairs', which are basically special items for your builds. To play online with your custom creations you'll first need to have it approved, meaning you can't just create something and immediately use it for online play.
For us, the addition of loads of microtransactions in a game such as this is a massive faux pas. Sadly, 2K seemingly takes things to the next level and crams the game full of microtransactions, to the point that the actual in-game rewards start to feel disappointing. We would be more understanding when it comes to actual meaty DLC, but LEGO 2K Drive is full of very expensive content that feels very out of place in a game that will also attract a very young audience.
Conclusion
LEGO 2K Drive is a fun LEGO racing game, but it does feel a bit limited in scope and it plays things too safe. We enjoyed the overall gameplay loop and we loved the fact that we were able to create our own LEGO vehicles. Sadly, the game tries to be a jack-of-all-trades which eventually means that it doesn't excel in anything it does. That being said, the game is still very amusing, especially when you can play it locally with a friend. We absolutely hate the inclusion of microtransactions in a game such as this, but those sentiments aside, this game is still worth checking out.
LEGO 2K Drive - Review

,