Follow
Genre: Animation, Action
Director: Rick Morales
Distributor: Warner Home Video
Duration: 74 minutes
LEGO DC Super Heroes: Justice League: Attack of the Legion of Doom (DVD) – Movie Review
Good: Witty, Authentic, For all ages
Bad: Could use a few extra finishing touches
User Score
7.0
(1 votes)
As the DC universe has already been used on several occasions in different LEGO themed games and movies, it was only a matter of time before another feature film was to be released. Coincidence has it that this DVD release is very close to the release of LEGO Dimensions, but nonetheless, seeing this LEGO flick also revolves around the Justice League, we were quite eager to see how these toy versions of the superhero group would perform in their second film. We're not only hoping for a clash of good and evil, but also a fun mix of great superheroes and the typical LEGO humor they are well known for.
Since the Justice League was formed, crime numbers have dropped drastically. Even though there are many fearsome villains, they stand no chance against a united front of superheroes. The Justice League consists out of Batman (Troy Baker), Superman (Nolan North), Wonder Woman (Grey Griffin), Green Lantern (Josh Keaton), The Flash (James Arnold Taylor) and the freshly joined Cyborg (Khary Payton). It seems all is well and even though crime still occurs, the heroes don't worry too much, except for the coming election of who gets to run the Justice League for the next selected term. As one would suspect, the choice gets narrowed down to Batman and Superman and this time Superman will have to pass on his title of leader to Batman. Even though the many superheroes already know their place in the world, as well as in the band of vigilantes, Cyborg still struggles with finding his purpose, as well as impressing his colleagues. Seeing he gets the troupe in a smelly pickle during one of their busts, his confidence drops even lower.
On the evil side of business, Lex Luthor (John DiMaggio), Black Manta (Kevin Michael Richardson) and Sinestro (Mark Hamill) come to the conclusion that their solo days are over, if they wish to reign chaos upon this mortal world. They decide to form their own group, namely the Legion of Doom. Even though Luthor proposed the idea of working together, little did his future allies know that behind the scenes the evil Darkseid (Tony Todd) is actually pulling the strings. Of course, seeing Darkseid wishes to stay on the background and the Justice League has six members, the trio of bandits decide it's time for an audition round of who can join the Legion of Doom. Even though seven possible candidates show up, there is only parking space for three extra villains, thus some will have to head home empty handed. It seems evil masterminds have limited resources too. When the evil team is finally forged, Luthor insists on raiding a base that is known for alien technology, namely the successor of Area 51, Area 52. An evil ploy is only a few steps away.
Even though the movie consists out of many actions scenes, linked to one another, the movie also makes room for Cyborg's problems of finding his place, or the forming of the Legion of Doom. As this is a LEGO interpretation of the DC universe, the typical, loveable LEGO slapstick humor is present in pretty much every important scene of the movie, making it very accessible for young and old and simply amusing.
It's interesting to see how characters were transformed into their LEGO counterparts and it's very 'cute' to see these loveable renditions stay true to their original personas, albeit in a slightly 'over the top' fashion. Batman is clearly the lone ranger, whilst Superman is annoyingly just in everything he does, and so on.
Although the characters took up slightly more childlike proportions, the team behind the movie did not decide to cut back on the voice acting quality. Just like the other DC animated movies, this one has amazing voice acting from start to finish. There are many famous names, such as Mark Hamill, who is known for voicing The Joker in the past. Nonetheless, this time he takes up the role of Sinestro and The Trickster, a Joker lookalike, and does so superbly. Others are equally capable, pleasant and qualitative.
Special features are quite slim on this release but the one that is present is actually quite interesting, if you wish to know how the sound effects and such are done for an animated movie. With a 20 minute lasting documentary about it, you'll have a fun extra feature to explore, if you're into making off videos.
Conclusion
LEGO DC Super Heroes: Justice League: Attack of the Legion of Doom is a fun, simple animation movie where famous DC characters get dragged into the LEGO universe. This movie is the second of the sort and this time they aimed to make it lengthier, which was a reasonable success. Whilst not everyone is charmed by the LEGO transformations, this movie stays true to the source material and makes things a tad airier and thus in a certain sense more humoristic. A fun watch if you wish to explore the DC universe even further.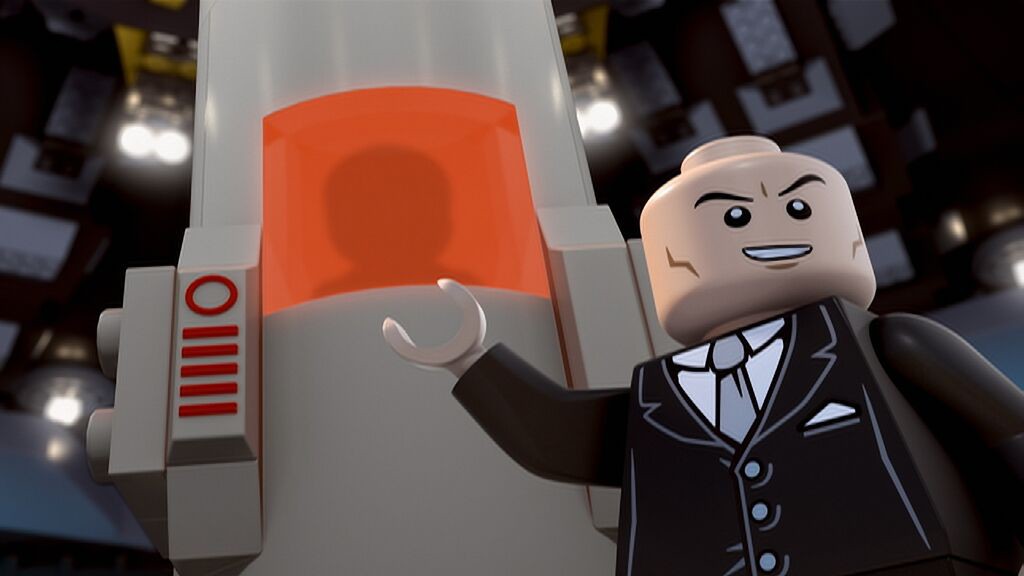 LEGO DC Super Heroes: Justice League: Attack of the Legion of Doom (DVD) - Movie Review

,