Follow
Genre: Drama
Director: Anton Corbijn
Distributor: eOne
Duration: 107 minutes
Life (DVD) – Movie Review
Good: Dane DeHaan's acting
Bad: The film moves at a rather slow pace
User Score
0
(0 votes)
Up to this day, James Dean is a legend. We're not sure why or how it came to be, but fact is that this actor, who only starred in three films in the nineteen-fifties is long but forgotten. Anton Corbijn must have thought the same thing when he decided to direct a film about his life, be it somewhat more interesting than that, as it's not Dean himself who takes the lead, but a photographer who tries to build a career from photographing him in the most authentic way possible.
At a party of one of his contacts, Dennis Stock (Robert Pattinson), a photographer who works for Life magazine, meets a young man called James Dean (Dane DeHaan), as he is hanging around outside at the pool bar. The two start talking and Dennis immediately gets intrigued by Jimmie. Jimmie grew up on a farm near a small town in Indiana and only just got noticed as an actor, so now he is in Los Angeles to do some lobbying and hopefully land another job even though he hates all the fuss that comes with it. His seemingly careless attitude appeals to Dennis, and he decides he wants to make a photo series about him, hopefully getting it published in Life Magazine. This proves to be more difficult than he imagined, as his publisher doesn't think people will be that interested in a beginning actor who nobody really knows. Nonetheless, Dennis gets what he wants, be it on a strict deadline.
As he is in the running for the lead in Rebel Without a Cause, Warner expects Jimmy to go to many formal events, since he needs to do some more publicity for his first film, East of Eden, as well as get his face out. All of this circus is not Jimmie's cup of tea, and he doesn't really see what could interest a photographer, thus he decides to tell Dennis the deal is off. But Dennis doesn't give up, as he really believes in his idea and hopes it will get him recognized as a real photographer.  He wants to capture Jimmy in real life, instead of on screen or on the red carpet. Eventually Jimmie agrees anyway and even lets Dennis come with him to his home town where he wants to get away from all the fuss for a while. It's the ideal opportunity for Dennis, and the two get to know each other in a completely different way.
Life moves at a rather slow pace, taking the time to tell the story very calmly. The storyline solely revolves around Jimmy and Dennis, showing them mostly together, but also apart, which gives you more insight into the character as a viewer. There are never really ups and downs when it comes to excitement, but given that the characters themselves are both rather calm as well, this is not a bother at all. Even though the film clearly revolves around James Dean's life, it is Dennis Stock who takes the actual lead as we follow him, and thus Jimmy around trying to shoot photos that will either make or break his career. It's certainly an interesting point of view.
The time span that is handled in the film is only very short. It covers about a year in Dean's life, namely from the moment that he only just became a little bit famous, to the moment right before he really becomes a star. This approach is quite original, as it gives the opportunity to be a bit more elaborate on this stage in his life. Thus the film doesn't cover the things we all know about James Dean's life and death, but rather gives you something fresh to enjoy.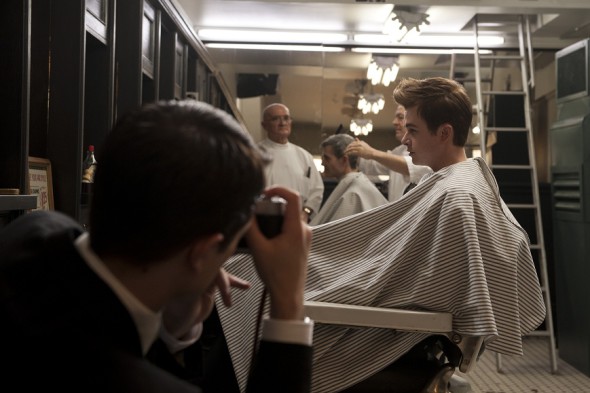 Dane DeHaan does a marvelous job at portraying James Dean. He constantly looks like he doesn't care and always speaks without too much intonation, making it sometimes a little bothersome to listen to, but otherwise he is very enjoyable to watch and really resembles the real James Dean. Robert Pattinson proves to be capable of more than what we've seen in the Twilight saga, even though he could have been more convincing.
There are no extras on this DVD release, which some might see as a shame, yet doesn't feel really necessary either. Of course some interviews or a little footage of the real James Dean in action would have been nice, but we can do just fine without.
Conclusion
Life is another biographical film, yet only covering a very short time span in the life of James Dean. This, together with the calm with which the story is told, makes the film very enjoyable to watch. The acting is quite good, which is a must since the film almost solely revolves around the two characters Dennis and Jimmy, but Robert Pattinson and especially Dane DeHaan are well capable of telling an interesting story. This one is certainly worth checking out.