Follow
Genre: action-adventure
Developer: Stage 2 Studios
Publisher: Stage 2 Studios
Platform: PC, OS X, Xbox One (in development)
Lifeless Planet – Review
Good: great atmosphere, good story
Bad: huge fps fluctuations
User Score
10.0
(1 votes)
Lifeless planet is a new game by Stage 2 Studios, developed by a very small team, it received huge kudos! First presented on PAX Prime and E3 in 2012, they made another announcement on E3 this year: the game is coming to Xbox One! We've had the privilege to play this game from the beginning and now we bring you our review of the finished product! Always wanted to explore distant planets? Then keep on reading!
Story
It was supposed to be a simple one-way mission. 15 years of travelling to a remote planet filled with plants. Nothing was less true however as you arrived into a barren wasteland without a single plant. What killed the life? Where has your crew gone?
The game's story unravels in the form of logs you find. Some are recordings from the Russian colony that was supposed to be there, others are simple letters. After a while, you find out that the Russians found a one way portal that could transport them to the planet. But after some … mistakes it was never used again. You also uncover the secret why the planet died out, the Russians brought a virus that killed all of the plants. All life on the planet started to deteriorate and eventually mutate some of the plants still inhabiting the planet.
All of the sudden, you come across a woman wearing a Russian shirt. Why is she alive? What happened? Well, she used to have a garden with her home on the planet. While all life was being destroyed, her garden flourished just by touching it. The Russians took the woman and performed genetic experiments in the hope that she could restore all life on the planet. Can you help her?
Graphics
The graphics in the game aren't the greatest, but keeping in mind the game is made by a very small studio makes it forgivable. There are however huge fps fluctuations, where the game would suddenly drop from 120 fps to 25. Apart from that, the game has an awesome atmosphere and at night time it almost transforms into a horror game!
Sound
Because the game is about the Russian colony, there are of course Russian voice logs! Don't worry if you're not Russian though, you have an auto translator to English. There aren't much more sound effects apart from your jetpack, breathing and the environment. The music however is what makes this game so awesome. It goes from adventure music to almost scary and sinister. Sometimes you feel as a great adventurer, but when the night comes and murderous plants are scattered on the ground, you might even get a little bit scared!
Gameplay
Your mission was pretty simple at first, go to the planet and help out the Russian colony. It didn't seem to be that easy though, you lost your crew and life is nowhere to be found. At first you try to find your missing crew, but you soon find out they were killed. You then redirect all your attention to getting to know the mysterious Russian woman and getting off the planet.
You are equipped with your spacesuit and a simple jetpack. The jetpack can give your jumps a little boost, like a double jump. However, sometimes you find a fuel canister which fuels up your jetpack and allowing you to jump higher and further. Later in the game you even find a robotic arm, helping you to solve some puzzles and get to spots you normally can't reach. Occasionally, you run out of air. Then it's a simple matter of finding an oxygen supply, which is conveniently never far away when you run out.
The puzzles are relatively simple, sometimes they consist of pushing a barrel against a wall so you can jump over it. Other puzzles involve lining up portals or powering up generators with your robotic arm. Sometimes they can leave you guessing but after a while you'll be face palming because you overlooked little things like levers.
The world itself seems big but it's actually quite limited. Your adventure is limited to where the game wants you to go. Mostly, there are only 2 paths you can follow and one of them is a dead end or it simply allows you to progress through the second path. At first, there is no danger or action at all, but soon enough, the plants and environment will try to kill you. Plants will grab you and pull you into the ground or pierce you with a hidden spike. There's also the occasional tornado, which will suddenly appear and try to fling you into orbit. Luckily, the Russian woman helps you out here and there.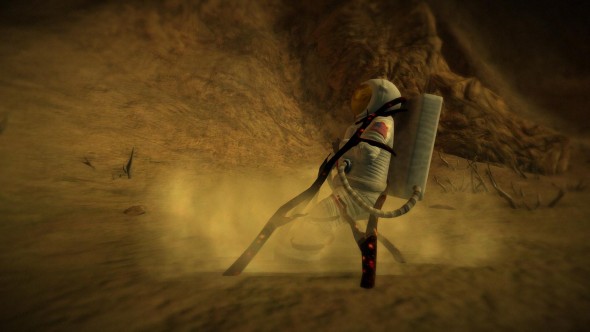 Conclusion
All in all this is a very fun game to keep you busy for a while. Its story will have you clinging at your screen and you'll be looking around for every story log there is. Apart from the occasional fps drops, the environment and atmosphere are great. The game is mainly about exploring, but the occasional puzzles and constantly being scared about getting killed gives it a nice balance of adventure and action.
Lifeless Planet - Review

,