Follow
Genre: Platformer, Family game
Developer: Sketchbook Games, Fourth State
Publisher: Modus Games
Platform: Switch, PC, PS4, Xbox One, Google Stadia
Tested on: PC
Lost Words: Beyond the Page – Review
Good: Great look and feel, made with loads of passion
Bad: Don't play this if you are looking for a challenge
User Score
10.0
(2 votes)
Who still remembers the games of their childhood? There's a good chance that if you started around the GameCube era, or before, you remember the games that impressed you very clearly. After these generations, the market started to get flooded with games and all seemed to blend into each other with microtransactions and other tools of greed implemented. Every now and then though, projects with a lot of effort and passion are released. These are the projects that might be memorable for the current generations of kids.
Story
In Lost Words: Beyond the Page, you follow a little girl named Izzy. Izzy has a passion to become a writer someday, and she received a journal from her grandmother for this exact purpose. Lost Words is a story about passion, about story writing, about fantasy, but also about the struggles of life we all get to deal with sooner or later. Death and loss, tragedy and anxiety, are of course all part of this circle of life. Partially, you play in Izzy's journal, jumping on sentences and words, following the story she has to tell. The other part is in Izzy's written fantasy world. The two also affect each other in a way, meaning that if something happens in her real life, it also affects the story Izzy is writing. The total story is completely linear, aside from some aesthetic choices, such as the color or name of Izzy's fantasy character, which is a nice touch. Sometimes it's also a bit slow, but nevertheless, there is always something to look at or listen to that compensates for the easy-moving story.
Graphics
Visually, Lost Words truly is a gem. The soft visuals with water-colored pieces and the astounding number of "extra" graphics that only show up for a few seconds are amazing. It greatly enhances the game, as the gameplay might be lacking for some people since this is a very narrative-driven game with simple gameplay. The great thing about Lost Words is that it poetically enhances little parts of the game. Is there a sentence about losing your sense of belonging in this world? When your character jumps on it, the sentence will break. It's little stuff like this that shows passion and heightens the sense of immersion.
Sound
Like the graphics, the sound is superbly handled. There are a great number of voice-overs present in the game, and they all make you feel like somebody is reading the story for you or with you. The people talking sound professional, the music present sounds like it could be from a full-blown (animated) movie, all going hand in hand. It's all very engaging, immersive, and it fits the game extremely well. You really notice that with all these elements you are dealing with a video game veteran (Rhianna Pratchett), who also wrote for i.e. the Tomb Raider series.
Gameplay
Lost Words: Beyond the Page is a simple platformer. You can run left and right, or jump when you want to. With your mouse, you can also open a spellbook and drag and drop available words that might interact with the environment. Is a bridge broken and do you have the word repair? Simply drag the word repair to that area and watch the game do the rest. While the game switches between following a journal and following a written fantasy story, the gameplay does not really change. It does, however, sometimes slightly mix things up by giving you a little bit more to choose from. These choices often represent Izzy's thoughts, or better said, the duality of her thoughts.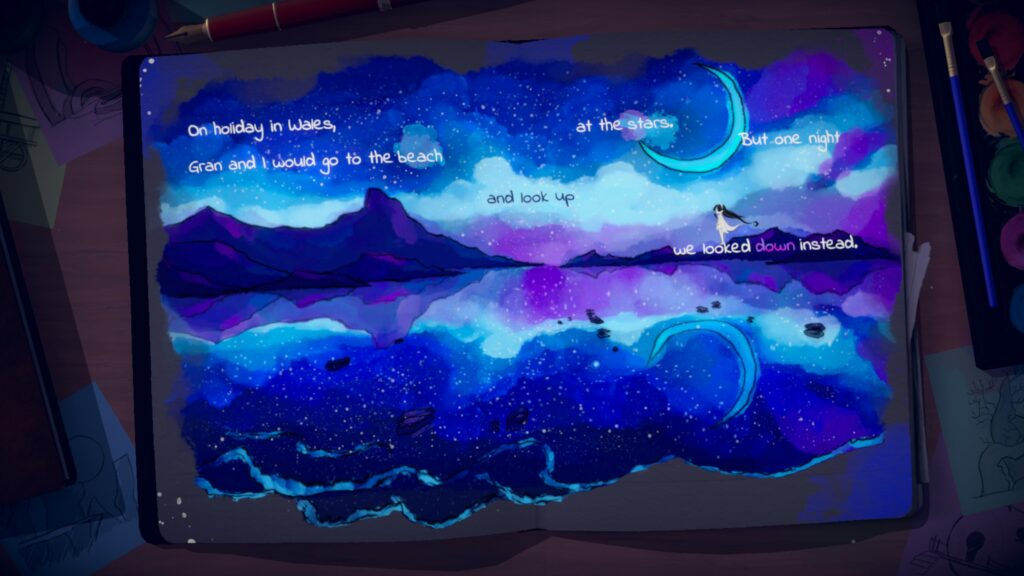 Being as simple as the game is, there is not much else to say about the gameplay. This is a game best seen as an interactive children's book, presumably understandable for the age of around six and older. Everybody can participate though, and you could even see this as a family story activity to enjoy with your child or those who normally don't really play games. In that sense, Lost Words is really accessible and enjoyable for many. The other side of this is that if you are looking for a challenging game or something that really has a focus on platforming, you won't find what you are looking for in this title. For once we can say: This is not like Dark Souls at all.
Conclusion
Lost Words: Beyond the Page feels like a great achievement. While it perhaps lacks in gameplay a bit, it's a great family-friendly experience with amazing visuals and sounds. It's like a children's book that's interactive and put together incredibly well. Looking for something to do with the kids on those special evenings? This might be it.
Lost Words: Beyond the Page - Review

,