Follow
Genre: Road Movie
Director: Eddy Terstall
Distributor: Periscoop Film
Duration: 90 minutes
Meet Me In Venice (DVD) – Movie Review
Good: The story gives you enough to ponder on, without laying it all out already
Bad: The nudity wasn't necessary
User Score
6.6
(13 votes)
Meet Me In Venice might well be the title of a cheeky romantic comedy, yet it's anything but that. In this film by Eddy Terstall you'll join Liza and her father Mauro on a trip to Istanbul, and a journey to find each other and themselves. After twenty-eight years of not seeing her father, it's sure to be a bumpy ride.
When Liza (Roberta Petzoldt) was only three years old, her father left to never come back. Three years later, her mom died, causing Liza to grow op in a foster family. Now, at age 31, she lives with her boyfriend and son in Holland when suddenly her father gets back in touch with her. He asks her to come to Venice and meet up for a week. While she's been umming and ahing for a long time, she decides to go, in the hopes of finding an answer to some questions she always wanted to ask her father. Once arrived in Venice, Mauro (Beppe Costa), her father, immediately takes her on a tour around the city. Liza feels a bit awkward about it at first, as it feels more like a guided tour than an opportunity to get to know each other. Nonetheless, she decides to roll with it, but when her father asks her to come with him to Ljubljana the following day to deliver a package to a friend, things get even more strange. Liza lets him guide the way though. He tells her that he is a musician and travelled the world in his younger years playing music.
Once arrived in Ljubljana, the friend her father talked about turns out not to be there, and thus the journey continues to Croatia and even further. Mauro is taking her to Istanbul over the route of the Orient Express. While traveling, he is still much a tour guide, but every now and then, Liza does get to know him better, and he even explains why he took her on this extraordinary journey. She meets friends of his, hears him making music, and slowly he starts to grow on her. But while she thought she'd come to Venice just to get to know her father, she actually gets to know herself as well.
An unexpected twist accompanies the story right from the start. You will see Liza talking to a camera as if she were filming a diary, which turns out to be some kind of video message to her son. In it, she tells the whole story of her going on this crazy trip, and from then on the film keeps shifting between the actual things happening and Liza talking about them afterwards. This alteration allows you to get more of an insight into what Liza was really thinking and feeling, and also makes you see that she is struggling with herself,  and with the fact that she never had a proper childhood and consequently never really grew up.
The journey on which the two embark makes sure that the film has a constant flow, but next to that, there is also some decent character development. Liza and Mauro get to know each other and themselves, making the journey not only a trip to Istanbul, but also a road to inner rest for both of them. What's particularly nice about this, is that a lot is left for you to ponder on, instead of laying it all out as can be the case sometimes in more commercial films. What they didn't leave to the imagination is Liza's body. Roberta Petzoldt is naked in quite a lot of the scenes which isn't a bad thing, but does feel a bit unnecessary.
Roberta Petzoldt and Beppe Costa both do a superb job in this film. Apart from their characters, there are hardly any to be mentioned, yet just the two of them are really able to carry the story. Petzoldt is very convincing and certainly at the beginning in her video message, she almost makes you believe that you put on a documentary instead of a movie. Costa is the ideal person to play a character such as Mauro, as he speaks both Italian and English quite fluently, and he plays his own music. It's always a big plus to see that an actor can actually play the music his character plays, rather than playback, even though it takes a very talented person to do so.
Extras are nowhere to be found on this release, but for a film such as this one, it's not really a big issue. The movie stands very well on its own and while it is always fun to have some kind of bonus feature, we didn't miss it at all.
Conclusion
Meet Me In Venice is quite an intriguing film due to the alteration between the actual story and Liza's video message, but also because the story is quite simple, yet unusual. The main actors' brilliant performances really lift this film up to a higher level. It's something completely different than your average 'woman-meets-her-biological-father-for-the-first-time' story, yet certainly worth the watch.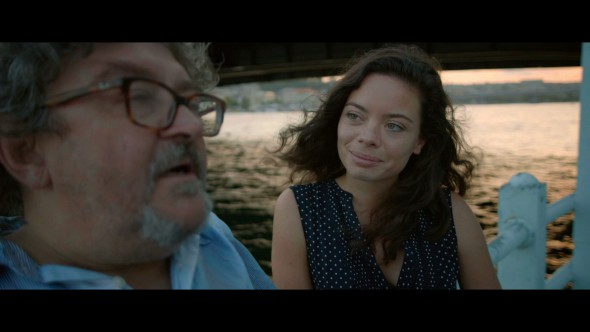 Meet Me In Venice (DVD) - Movie Review

,