Follow
Genre: Action Adventure Platformer
Developer: Too Kind Studio
Publisher: Playdius and Plug In Digital
Platform: PC, PS4, Xbox One, Switch
Tested on: PC, Xbox One
Pankapu – Review
Good: Beautiful graphics, touching story
Bad: Sometimes frustrating or too difficult
User Score
8.5
(2 votes)
The first platform games date back to the early 1980s and thousands of different platformers have been created since. On 21 September 2016 a new platform game was made named Pankapu, a narrative action-platformer which takes place in the dreams of a child, Djaha'rell. In this neo-retro adventure, the player has to get rid of the nightmare's invasion. A year later, the last part of the game got released: the Last Aegis. Although the game is made by a relatively small team, the game shows high quality and production value. Pankapu is developed by Too Kind Studio and published by Playdius and Plug In Digital.
Story
Pankapu takes place in Omnia, a dreamworld full of colors and happiness. That is, until one day the dreamworld is attacked by the prince of nightmares, Gangreyn. As a last resort, Iketomi, the dreamkeeper, concentrated all the remaining dream-powers in Omnia to give birth to a guardian named Pankapu. The story of Omnia is told to a child, Djaha'rell, who is troubled by nightmares. His father tells him the story about Omnia to help him sleep better. Although the main focus is on Pankapu himself, which has a straightforward, almost naïve storyline, we also get to see little bits and hints of Djaha'rell's darker and more sinister story. The player has to reconstruct his story piece by piece, in order to fully understand what happened to him, sometimes even by finding little pieces of lost memory in the dreamworld of Omnia. This dynamic between the parallel narratives makes it a genuine touching story.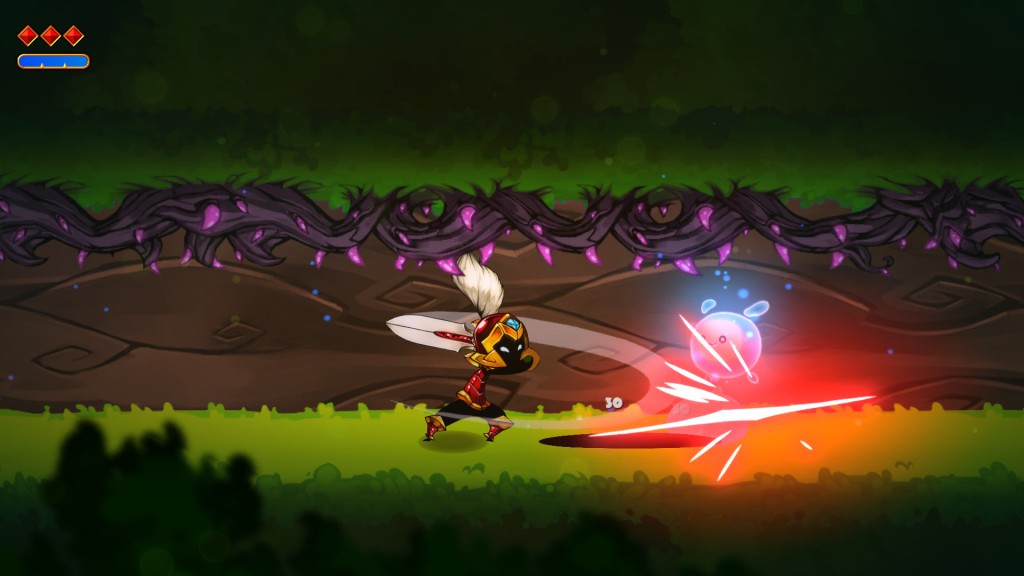 The beginning of the story of Omnia gets a little confusing, as the game throws a lot of characters and names at the player without explaining fully whom they are and what they do, before disappearing. It also doesn't help that most of the names aren't so straightforward. Luckily the game has spent much time expanding their lore, so if you might have forgotten who a certain character was, you can always look them up in your storybook. Eventually, when the story progresses and the characters develop, you actually get invested in the story and feel for them.
Graphics
The digital painted environments of Pankapu are just a treat to look at, the stunning graphics are definitely one of the stronger elements of the game. The style looks heavily inspired by games like Rayman, in which they share the same hand painted drawing style, vibrant color scheme and cartoonish look. But as easily as we can point out the similarities, we can see the uniqueness of the world that Too Kind Studio has created visually. The game has a wonderful cartoonish style that merges beautifully with the narrative cutscenes, shown like a digital comic book. And although the game is 2D, the world has a beautiful simulation of depth, placing layers on the foreground and background out of focus.
Pankapu manages to merge this hand drawn environment with clever level design, for instance when they hide collectables behind foreground elements. But too much detail, on the other hand, will leave you confused whether that specific branch or leaf is an actual platform to stand on, or just part of the background. This leads to some unnecessary frustration.
Sound
Too Kind Studio had clearly spend some time developing their sound design. The musical score is relaxing and has a great depth and feel. Each segment has their own sound design and atmosphere, which separates the different areas nicely. For example, you get a relaxing and light feeling when playing in an airy and light level, but the music and atmosphere gets more sinister and dark in an underground level.
The sound design of the characters has a really strong feel to them, although the only voice you hear is from the narrator, the little sound effects of the characters makes them come alive. At moments, the little squeaks even sound emotional and heartfelt.
Gameplay
Pankapu looks like a narrative action-platformer, which it is, but it's much more than that. The game sets itself aside from other platformers with the addition of some RPG-inspired elements. The player fights through hordes of enemies while using different weapons and different skills and even upgrading those in a skill-tree called Nebula. The game starts out with a guardian with only a sword and shield, but as the story goes forward, Pankapu picks up different skills and even different weapons. The combat mechanics get gradually more interesting the further the story develops. This helps keep the gameplay fresh and interesting. New skills feel each time like a newfound superpower to use against new enemies, because they as well keep evolving. While starting out as little bouncing blobs with cute eyes, they will soon turn into your biggest nightmare. So if you felt strong towards the end of a chapter, cherish the moment, because the next chapter you will feel just as weak. There is never a dull moment, because they keep changing your playstyle by constantly throwing new things at you. This is the real appeal of the game, because the first time you get to shoot with a bow is literally a blast!
Apart from all the fighting, Pankapu is still a platformer, and a pretty good one at that. Before you start playing, you are recommended to play with a controller, seeing as the game is virtually impossible to complete without. This is not a problem if you're playing on a PS4, Xbox One or even Switch. The beginning is not too hard, especially when you get your health back at each checkpoint. But just when you get comfortable, this game strikes hard, leaving you frustrated and stuck at the same place for an eternity. The animations are smooth, the controls not so much. They feel stiff or rough only to promote difficulty. Although if you want to rush, it's easy to make mistakes, patience is key if you want to reach the end.
Conclusion
You will be yelling and dying a lot. But you will also be marveling at this charming piece of art. Even if the game may have its ups and downs, it certainly makes up for a touching story in a beautiful, oneiric world. The quality that Too Kind Studio delivers is surely to be noted. If you like platformers, Pankapu is sure one to give you a good time!
Pankapu - Review

,