Follow
Genre: 16-bit roguelike RPG
Developer: Agent Mega
Publisher: Agent Mega
Platform: PC
Tested On: PC
Paper Dungeons Crawler – Preview
Good: Specialization system, good looking, fun
Bad: Boring music
User Score
8.5
(2 votes)
Four years after the release of Paper Dungeons, Agent Mega released its sequel Paper Dungeons Crawler in Early Access. Keeping some of the known features and introducing some new ones, the developers surely improved their game. Save the kingdom of Cyndaria and protect the tree of life once again!
The story is set in the kingdom of the once peaceful Cyndaria. Four sacred trees used to bring prosperity. They're said to be a link to Yggdrasil, the tree of life, on Earth. However, without their protection war will rise, crops will die and plagues will spread amongst the people. Unfortunately, the sacred trees are now dying and nobody knows why. The sage council is convinced there is still hope and the ancient powers can be restored. Four sacred seeds that have the power to grow into four new sacred trees are hidden inside the most dangerous dungeons of Cyndaria. Many have tried to retrieve the seeds but every single one has failed until now. Now it's up to you to defeat dragon bosses, gaining runes and retrieving the seeds in order to restore the divine trees!
It's quite a simple but interesting story. As with most roguelikes, the game thrives on fantasy. Paper Dungeons Crawler uses the tree of life, which is familiar to most and loved by many, making this a smart choice.
Paper Dungeons Crawler has some amazing graphics. Cyndaria has four biomes; temperate, tropical, desert and volcanic. Each biome has a dungeon and cave with a slightly different environment. Even though the differences aren't huge, each of one them stands out and is highly enjoyable, introducing new enemies along the way. It definitely all looks better than its predecessor.
The music provided by the game is peaceful but nothing special, it might even be coming close to boring. You sometimes forget it's playing in the background because you are busy playing the game so it's definitely not standing out. You get fitting sounds when walking, attacking enemies, running into stuff, etc. but those don't add to the quality of the game.
Paper Dungeons Crawler is a classic fantasy 16-bit roguelike RPG. It's the sequel to the 2014 Paper Dungeons and played mainly by using your keyboard (WASD) and your mouse to attack. Characterizing this game is its unique specialization system.
You get six slots giving you the ability to play with six different characters. Each character can be customized in a few ways. Like in a lot of games you can choose your gender. Next you can choose between five professions; warrior, archer, priest, mage and thief. Each class can master four class-related rune types and cast spells by drawing them on the runic compass on the bottom of your screen. This is a rather special introduction of the spell casting system since you have to draw lines on a weird compass instead of just clicking on a rune. You can find the drawing pattern you need to use in your inventory but you'll have to memorize it if you want to use it.
Before starting the game you get to pick one of six talents, which are natural gifts that help your specializations level twice as fast. The specializations include one-handed weapons, ranged weapons and the rune types. For example when you're an archer and you want your bow to level faster, you pick 'hunter' as a talent. It all depends on how often you use a skill since the game levels skills based on how often they are used.
You can adjust difficulty according to your wishes, turn permanent death on or off and activate a hunger system. At the beginning of the game, you'll see two signs. Make sure you read them since they give you information on how to play the game. For example without this, you won't know that you need to use your space bar to pick stuff up. Not knowing this will make the game a lot harder and will save you a lot of time trying to figure it out. Dungeons you face during the game are created randomly and filled with various monsters and challenges. Each dungeon and each cave provides you with new enemies to fight. The world around you is just a black screen at first. You see more of the map as you move, giving you enemies that surprise you along the way. Sometimes you'll enter a room all of the sudden and bats will come flying out, so be sure to be ready to fight at any time.
You'll find magical items. Some you'll have to identify first. This can easily be done by going to your inventory and dragging the item to the eye icon. It'll take some time before the item is identified though. On the screen it'll say 'appraising item' with a percentage next to it, indicating how much longer you have to walk around before it's finished identifying. But even then, trouble might find you. Objects can also be cursed and you'll have to find places to uncurse them.
Goal of the game is to finish each biome. This can be done by facing the dragon boss which gives you the ability to unleash hidden runes. Find all four sacred seeds to restore the four sacred trees!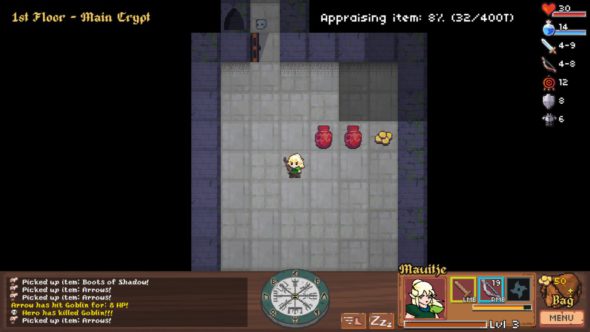 Conclusion
Roguelike games are very popular lately, which makes it harder to stand out. However, Paper Dungeons Crawler might just succeed. Not only is it a good looking and fun game to play, the specialization system, the options to turn permanent death and the hunger system off/on and the special spell casting system add to the value of the game. Seeing as the game is still in Early Access on Steam, it definitely has great potential.
Paper Dungeons Crawler - Preview

,