Follow
Genre: Animation
Director: Roberts Gannaway
Distributor: Disney
Duration: 80 min.
Planes: Fire & Rescue (Blu-ray) – Movie Review
Good: Panoramic views, voice acting is decent, a lot of extras
Bad: Superficial story, not a lot of tension
User Score
4.0
(1 votes)
In Planes we saw how Dusty Crophopper overcame his fear of heights and started a promising racing career. In Planes: Fire & Rescue we meet up with Dusty and his crew again and this time around, it's not all about racing. I'm a bit of an animation movie fan myself so I would lie if I'd say that I wasn't excited to see how this movie turned out. Although the movie isn't about to win awards for the Movie of the Year, it's still an enjoyable animation movie to watch without a lot of expectations.
At the start of Fire & Rescue, we see how Dusty Crophopper is enjoying his life as a racer. He's winning the one race of the other and lives in a world of fame and continuous praising. Unfortunately, fate strikes and Dusty ends up with a broken gearbox, meaning he can't reach the fast speed he needs to wins races as this would make him crash for sure. With a heavy heart, as his further race career is very uncertain (his gearbox is extremely rare because it's not in production anymore), Dusty offers his services to the forest fire and rescue unit of the Piston Peak National Park. Right of the bat, it's clear that the rescue team consists of unique individuals. We've got Lil' Dipper, a huge fan of Dusty's racing skills and a mixture between a stalker and an overly attached girlfriend. She provides a lot of humor in Planes: Fire & Rescue. Furthermore, we've got Blade Ranger, the leader of the team and a TV show star in a previous life. A lot of these characters have their own specific role in the movie. The one is bound to make the audience laugh while the other is the not so likeable guy which we all like to see fail. After meeting everyone, Dusty needs to fulfill a hard training to get an official fire extinguisher certificate. Throughout the movie, we see how the main character struggles with leaving behind his old life and adjusting to the new one.
In the end, the story is pretty okay, but could've used some immediate threats. Of course, the whole movie revolves around forest fires and such, but there's no real villain in the movie other than Cad Spinner (the arrogant superintendent of the National Park) but his intentions are not per se evil, just selfish. The fires are pretty cool to witness and it creates a certain tension, but apart from one specific scene, there weren't a lot of "oh no" – scenes.
The movie features some incredible panoramic views as the camera follows the planes in the air. When a huge forest fire is about to eat up every single object and living thing in its way, the overview provided from the air is just great to witness and brings an immediate wow-feeling. The music is pretty great as well, especially the song "Still I fly" song by Spencer Lee knows how to turn an otherwise boring journey into a nice and relaxing scene.
Voice acting wise, there's not much to complain. Dane Cook takes care of Dusty Crophopper's voice and he sounds pretty good. The same can be said for Ed Harris (Blade Ranger), Julie Bowen (Lil' Dipper), John Michael Higgins (Cad Spinner) and the rest of the cast.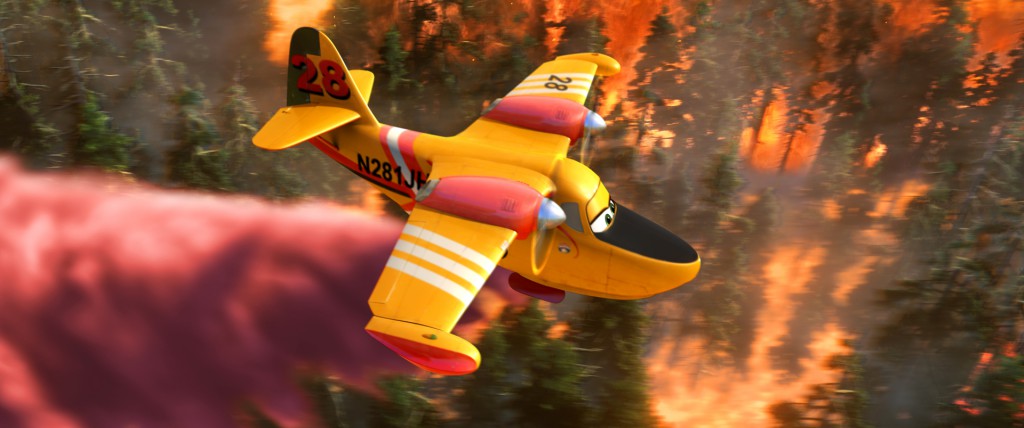 If you're into watching every single extra on a DVD, you're in for a treat. Planes: Fire & Rescue offers no less than 8 features to watch after the movie. I'll give a quick summary of every single item.
First of all, there's a short movie called Vitaminamulch: Air Spectacular. It's about Dusty and his friends doing an air show to promote some kind of quality manure. Of course, a movie like this wouldn't be as funny if everything went perfect. So yes, here, things get crazy quite fast and although the short movie is only about 6 minutes long (hence the 'short' in short movie, right?), you can get some laughs out of it.
Welcome to Piston Peak! gives the viewer a professional tour of Piston Peak. Every spot of importance is visited, accompanied with appropriate commentary.
As I mentioned above, "Still I fly" is a pretty good song and the makers of the movie must've thought the same as the whole video clip of the song is included for those who'd like to hear it again.
The most interesting extra to watch is certainly the mini documentary where you'll get to meet a real team of firefighters from which the creators of the movie gained a lot of inspiration.
Blade used to be a star in the Planes version of Cops, called CHoPs. The commercial for the show is included as an extra although it doesn't really offer a lot of extra value compared to what's already in the movie.
Next up, there are some short movies which give the viewer some more insight on the fire and rescue team and of course, there's a bunch of deleted scenes ready to be watched.
Lastly, something completely else: a short movie about Mickey and Minnie Mouse. It's called "O, Sole Minnie" and it shows us how Mickey struggles with getting Minnie's attention as he wants to prove his love to her. Although this has absolutely nothing to do with the Planes universe, it's still worth a watch.
Conclusion
Planes tries to deliver an exciting and moving tale but fails in doing so. The story is just not a nail biter which can make it a bit boring at times. The absence of an evil party only enhances this feeling. The camera wizardry in Planes: Fire & Rescue however, is very pleasant to witness as it makes room for incredible panoramic views. Basically, you could say that visually, Planes 2 is a treat but story wise, it could've been better.
Planes: Fire & Rescue (Blu-ray) - Movie Review

,