Follow
Genre: Horror
Director: Lisa Ovies
Distributor: Central City Media
Duration: 83 minutes
Puppet Killer (VOD) – Movie Review
Good: Fairly original concept, Meta humor
Bad: Trying to create a running gag with casting 'older' people as teenager does backfire at a certain point
User Score
8.7
(3 votes)
Even though Halloween might have already passed us this year, with the weather getting cold outside, we can certainly appreciate a good horror movie on a rainy evening. This brought us to the recent VOD release of the 2019 horror movie Puppet Killer. This film puts a murderous muppet-like puppet in the lead, making us think back to the good old days when Chucky was still taking his very first steps. Even though this debut title by director Lisa Ovies had a few interesting components, we are still mainly baffled by the casting behind this film.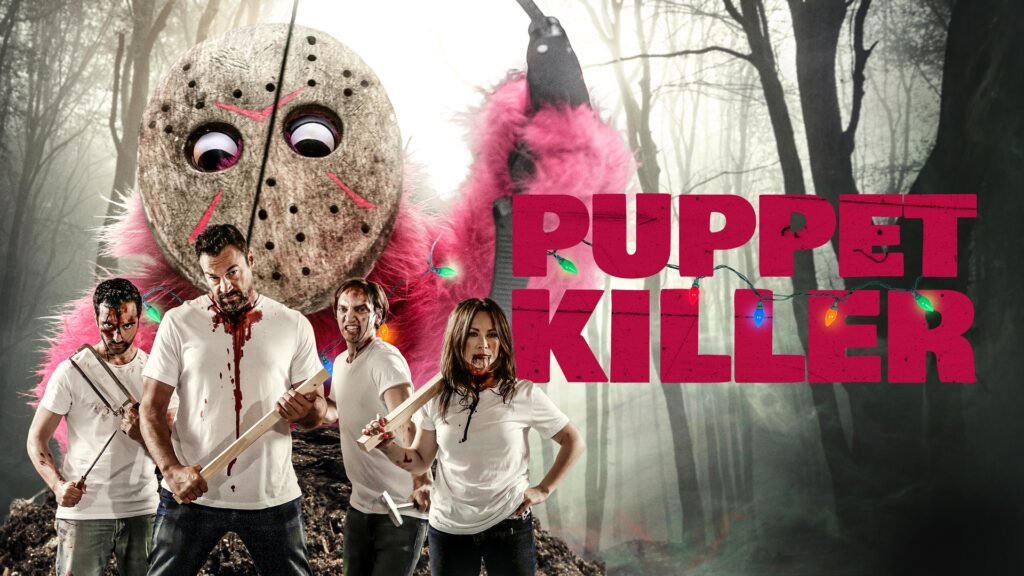 Puppet Killer has a fairly basic plot. We get to know a happy family, who have a holiday tradition of watching horror movies. Jamie (Aleks Paunovic) has fond memories of his youth watching horror movies with his mom (Lisa Ovies), but sadly she passed away when he was just a small child. The only thing Jamie still had were the movies they watched together and the puppet he was gifted. When his father (Geoff Gustafson) got together with Janet (Johannah Newmarch), she did not approve of how Jamie watched horror movies, as well as his unnatural bond with the muppet-like puppet. When one night she tries to get rid of Jamie's VHS tapes, as well as the puppet, she is brutally murdered by what seems to be Jamie's puppet, Simon (Lee Majdoub). That being said, soon after this event, it is made clear that Janet's body was never found and that both Jamie and his father never returned to this cabin since the 'disappearance' of Janet. Now, Jamie is going to return to the old cabin, with his friends, to have a nice weekend there before they graduate. Little do they know they are walking into a homicidal puppet's lair.
As this movie is fairly short, the flow is pretty much on point. There are no real dull moments to be found in the film, and the story trots along at a nice pace. Even so, most of the content presented here is quite predictable, safe for a few minor twists along the way. We did quite enjoy the setup and even most of the effects were actually decently handled. It's fun to see a movie that deals with practical effects, rather than opting to cover everything up with CGI. Some story choices were perhaps a bit silly and there were also a few items that didn't make that much sense.
Even though the film is not classified as a horror-comedy, it felt like that right after the introduction. After the first scene(s), we fast-forward to when Jamie is seventeen years old. The fact that a 52-year-old is supposed to pass off as a 17-year-old is absolutely ludicrous. This is then further enhanced by the fact that all his friends are also actors that are pushing forty. Once again, a bigger contrast is made in the initial high school scenes, where actual teenagers are running around. We understand that this was of course done on purpose, but driving it too far does take away a bit of the initial charm of using this as the movie's shtick. Nonetheless, the acting wasn't too bad, the 'teen slang' was at times witty coming from the mouths of people who are probably living through a midlife crisis, and we do appreciate the silliness behind it all. After a while, it feels like you're watching the scene where Steve Buscemi pretends to be a teenager being dragged out into a full movie.
As we watched a VOD version of the movie, we are unaware of any extras or special features that may come with a physical edition or a specific download version. We would have loved to have a bit more 'inside information' on the casting for this movie. Other than that, a few behind-the-scenes items would have been nice, but for the most part, the movie is self-explanatory.
Conclusion
Puppet Killer, even though it's classified as solely a horror movie on IMDB, could easily be considered a lighthearted horror comedy that is actually quite amusing. It's clear that the casting was done to present the viewers with a parody of authentic horror movies, and this worked to a certain degree. At times, however, we felt like this shtick was pushed a bit too far, making it so that ridiculous characters became the focal point of the film. Other than that, this one provides a fun story and might entertain those looking for a somewhat niche horror experience.
Puppet Killer (VOD) - Movie Review

,