Follow
Genre: Arcade game
Developer: All In! Games
Publisher: Ironbird Creations
Platform: Switch, PC
Tested on: Switch
Red Wings: American Aces – Review
Good: Accessible and enjoyable gameplay
Bad: Not a true sequel, should have been DLC instead
User Score
8.3
(3 votes)
Back in 2020, we took a look at the demo version of Red Wings: Aces of the Sky, an arcade title centred on the biplane battles in World War I. Two years later, we're revisiting the bullet-filled skies of the Red Wings universe with Red Wings: American Aces. Rather than a demo, we're looking at the full experience this time however. Does American Aces live up to its predecessor?
Story
Although Red Wings: American Aces does feature a story mode, which gives historical context as well as a backstory to the pilot representing the player, it is largely inconsequential. The game's focus is on gameplay first and foremost rather than delivering a narrative-driven experience. Whatever story there is focuses on a pilot that joined Lafayette, a division of the French army consisting mainly of American volunteers. This squadron joins the fight against the German forces during World War I. The story is delivered through comic book-style panels, narrated by the main character, and while this works visually, the same can't be said about the narration, unfortunately.
Graphics
There is a lot to love here visually, from the story scenes, which look like they were ripped straight out of pulp comic books all the way to the in-game graphics, which reminded us of Borderlands' aesthetics somewhat thanks to the thick outlines and bright colors. Various weather effects don't just affect the way the game looks but they also influence the gameplay as well. Despite the fast-paced nature of the game, we were happy to say that the frame rate felt buttery smooth.
Sound
The OST sounds suitably epic and bombastic, and the sound effects are great as well, but the voice acting for Red Wings: American Aces is awful. It's clear that the actor that voices the pilot isn't a native speaker, but he tries to narrate the game with an over-the-top American accent. It doesn't work and ends up sounding ridiculous, to the point of being distracting. On the upside, the audio quality is crisp and we highly recommend wearing headphones while you're playing the game as the action is taking place all around you. Thanks to excellent sound design, you'll hear enemies that are behind you as well, creating a layer of immersion that elevates the overall experience.
Gameplay
When it comes to games about aerial dogfights set during World War I, there is plenty of choice already, whether it's historically accurate sim games like Warplanes or cartoonish interpretations like Baron. Yet, out of all of the games with this setting that we've played so far, Red Wings: American Aces is by far the most accessible one, and in turn, perhaps the most fun to get stuck in. What you're getting here is a mission-based arcade title where you'll need to take down wave after wave of enemies as you soar through aerial battlefields. As you progress through the game, the difficulty level ramps up through the introduction of new enemy types, including not just a plethora of aeroplanes, but also blimps that are able to call in reinforcements. This means you'll need to focus on bringing these down first to prevent the enemy from overwhelming you through sheer numerical advantage.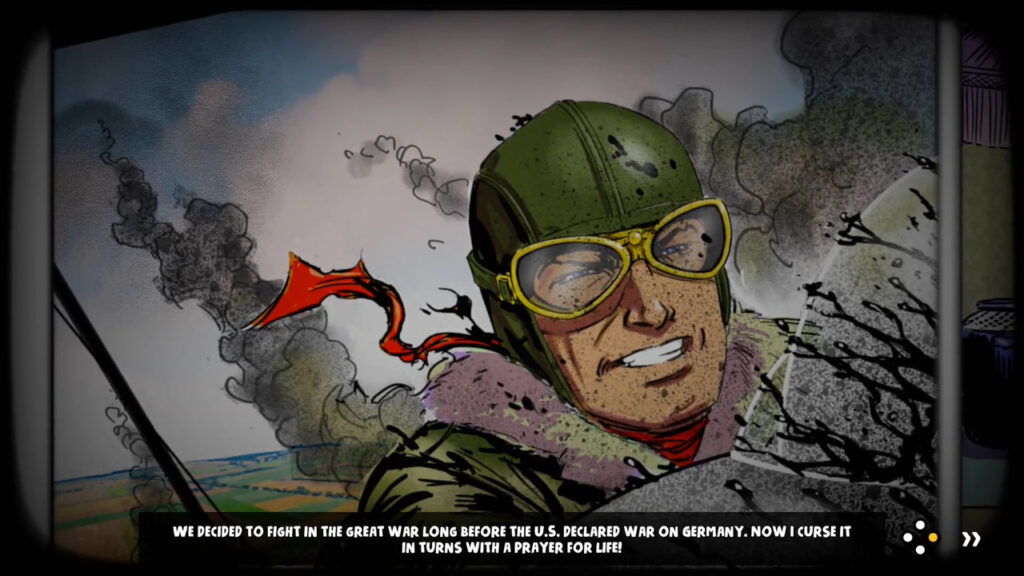 The core gameplay loop is polished yet simplistic, and even if you're absolutely terrible at other arcade games, you'll likely find your footing quickly and easily here. Controlling your plane is a breeze and thanks to the excellent lock-on system, you can focus on your objective rather than having to worry about mastering mechanics. There isn't a tremendous amount of gameplay depth here, but Red Wings: American Aces avoids feeling repetitive through mission variety. The majority of the missions involves simply shooting down whatever comes your way and avoid becoming overwhelmed, but you'll also find yourself having to fly through rings or even dropping bombs. With 30 missions available, each of which rewards you with stars based on your performance, as well as a plethora of unlockable new planes and upgrades. On top of that, there is a lot of replayability here as well. You're getting a good amount of content here, and this is amplified by the fact that the game features couch co-op and online play.
It all sounds fantastic but there is a catch: unless you absolutely feel the need to play the game online, there is no reason to pick this one up if you already own the previous title Red Wings: Aces of the Sky as American Aces is essentially a repackaged version of the same title, with a couple of extra features, including the addition of online multiplayer. Granted, if you haven't played the original -and in all honesty, yours truly hadn't- then picking up Red Wings: American Aces seems like a no-brainer compared to purchasing Aces of the Sky, but don't be tricked into thinking that this is a true sequel. In fact, publisher All In! Games refers to American Aces as a spin-off, rather than a full fledged sequel. This could've simply been a DLC instead, however.
Conclusion
There is a lot to love about Red Wings: American Aces, although the gameplay may feel a little too casual for die hard fans of these kinds of games. If you're looking for a more realistic or mechanically challenging depiction of biplane battles, there are plenty of other options to choose from, thankfully. As an entry point into arcade games centred around aerial dogfights, though, we can't think of a better option. If you picked up the previous Red Wings release you can easily skip American Aces unless you absolutely want to play online multiplayer, but for anyone else, this is a great game to add to your library.
Red Wings: American Aces - Review

,