Follow
Genre: Drama, Crime, Action
Distributor: Warner Bros. Entertainment
Episodes: 16
Duration: 40 min (per episode) + extras
Rizzoli & Isles: Season 4 (DVD) – Series Review
Good: Solid acting, good overall storyline, well-plotted realistic murders
Bad: Less action than normal
User Score
0
(0 votes)
Drag racers, smugglers, serial killers, mob bosses and conspiracies. Nothing is too much for detective Jane Rizzoli and medical examiner Maura Isles as they return for a fourth season of Rizzoli & Isles. The two stubborn women, each with their own quirks and ideals, face the various homicides committed in Boston while struggling with their personal lives.
Let's recap how the third season of Rizzoli & Isles ended. Dr. Hope Martin (Sharon Lawrence) gathered all of her courage and talked to her biological daughter Maura Isles (Sasha Alexander) about a much needed kidney-transplant for her second daughter Cailin (Emilee Wallace). Maura agreed that she is a suitable donor and this carries on in season four as we see Maura struggling with the 'minimal invasive procedure' she's had.
The season starts off with a much bigger bang however as the detectives need to solve a high profile murder that they witnessed firsthand. In the mean time, Frankie Rizzoli Jr. (Jordan Bridges) has some good news for his family – he's getting promoted. However, good news is often followed up by bad news. Frankie's new boss is no one else than lieutenant detective Rafael Martinez (Amaury Nolasco), who has a history with Jane Rizzoli (Angie Harmon). This brings some bad blood between the two departments as well as the two siblings. While the bickering between Jane and Rafael continues throughout the entire season, we quickly learn the reason behind this friction.
There seems to be even more friendly bickering between Jane and Maura as these two headstrong women struggle with their personal lives. Jane is dealing with the long distance relationship she has with Lt. Col. Casey Jones (Chris Vance) – a relationship that is constantly surprising her. At the same time, Maura is struggling to come to terms with the fact that her birthparents have been – or are still – involved in organized crimes. The stubborn friends support each other through thick and thin while they deal with their family situations, all while solving some fairly well-cooked crimes.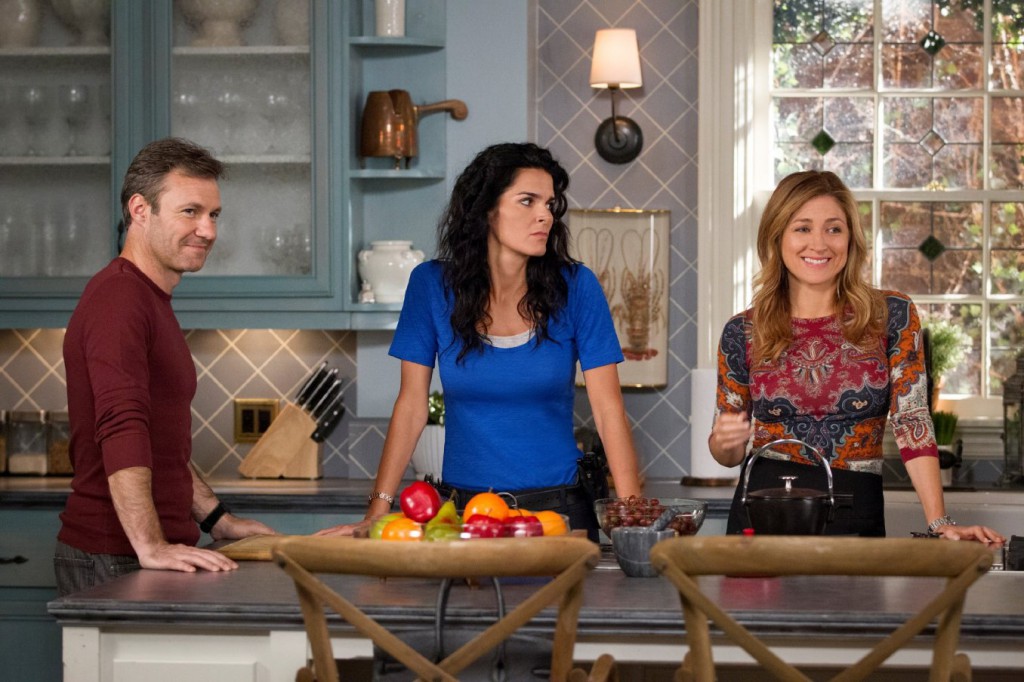 There are some side-stories to the main ones that concerns Jane's family members besides Frankie. We see Tommy Rizzoli (Colin Egglesfield) struggling as he tries his best to be a good father but with that comes some bad choices. Although his choices weigh through, he also manages to do some good by helping out his mother, Angela Rizzoli (Lorraine Bracco) with her financial issues. The drama continues in the Rizzoli family as they've been hit hard with some terrible news concerning Frank Rizzoli Sr. (Chazz Palminteri).
Overall, the story is filled with drama and tough life choices, several ones that hit fairly close to home for many viewers. The extraordinary friendship between Jane and Maura has always been refreshing to watch and the fourth season is not different. Their quirks make them unique in their own way and the sarcastic bickering between them is simply amusing to watch. As for the murders the detectives need to solve, there are some well-plotted ones where you'll end up pointing the finger to the wrong person. Others plots are far more predictable but the quality of story and cast remains steady.
In several of the episodes, the murders that occurred also have a certain connection to the dramatic main storylines one way or another, which makes it quite easy to follow. Another reason for it to be easy to start fairly late in the series is the fact that the characters get reintroduced in such a short time and fast manner without it becoming a drag to any hardcore viewer of the series. Even if you've never heard of Maura's father Patrick 'Paddy' Doyle (John Doman) or the serial killer Charles Hoyt (Michael Massee), you'll be able to tell their roles in the story without having to rewatch the series.
Of course we also get to see the rest of the main cast, detective Vince Korsak (Bruce McGill), detective Barry Frost (Lee Thompson Young) and Lieutenant Sean Cavanaugh (Brian Goodman) ,as it wouldn't be the same without them.
The DVD-box of the fourth season of Rizzoli & Isles also features a few extras, good for about 30 minutes of extra 'goodies' to watch. While this seems fairly short, the extras are interesting to watch as it explains how they come up with the interesting plots in the story. The second featurette is slightly less interesting but as it is fairly short, it is still worth seeing how they 'build Boston' in the middle of LA.
Conclusion
The fourth season contains less action compared to the previous seasons but this doesn't mean the series is any less good as it still provides the viewer with plenty of drama and well-plotted murders the detectives need to solve. The casting is as solid as it has been from the start. While the season started with a high profile murder, it also ends with a high profile murder which allows the season to end without the much-hated cliffhanger.