Follow
Genre: Comedy
Director: Lucia Aniello
Distributor: Sony Pictures Home Entertainment
Duration: 101 minutes
Rough Night (Girls' Night Out) (Blu-ray) – Movie Review
Good: The beginning of the story
Bad: All the rest
User Score
1.3
(3 votes)
On our review copy, the title of the film we're about to review was 'Girls' Night Out', yet once we put it on, 'Rough Night' is what it said. It happens often that one film gets different names in different countries, but we must say, after having watched the film, that 'Rough Night' probably suits the film better than 'Girls' Night Out'. The story certainly begins as a fun night out, but it very soon turns very rough for the girls…
Jess (Scarlett Johansson), Frankie (Ilana Glazer), Alice (Jillian Bell) and Blair (Zoë Kravitz) are four girls who became friends in college. Their college days long over, they each have their own busy life. Jess is trying to run for senator and is in the middle of her campaign, Alice is a teacher, Frankie an activist, and Blair became a real estate agent. Despite their busy lives, the four try to see each other as much as possible, and this weekend is the perfect opportunity, as it's Jess' bachelorette party. Alice arranged for them all to go to Miami, for a weekend of partying and fun.
Alice rented a villa for the weekend, and once there, the four friends are joined by Pippa (Kate McKinnon), Jess' Australian friend. On their first night, they go out for drinks, and before they know it, are taking drugs. Frankie hires a male stripper, but while everyone is in on the fun, Jess isn't too sure about it all. After all, she has her campaign to run, and can't afford any mistakes. The stripper makes her quite uncomfortable, so Alice tries to turn things around. She jumps onto the stripper's lap, but in doing so, they lose balance and he falls with his head on the edge of the fireplace, instantly dead. The girls panic and Jess tries to call her fiancé Peter (Paul W. Downs), but Alice grabs her phone and destroys it. This makes Peter believe that Jess wants to break up with him, and he embarks on a crazy ride to Miami, to try and convince her in taking him back. Meanwhile, the ladies are desperately trying to figure out what to do, but stupid mistakes and silly coincidences occur, getting them only deeper into this mess.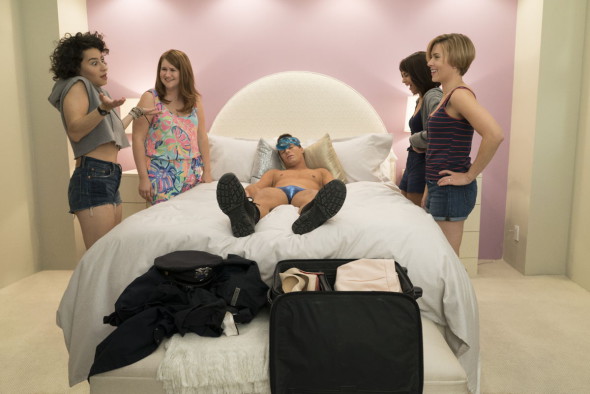 At the beginning of this movie, we were honestly thinking that it was going to be one of those typical 'girls going wild' films, full of partying, men and silly jokes. The story completely turned though, when suddenly the girls have a death to cover up. It seemed a bit random, and the way they handled things from there on seemed even more random. The fun is definitely over for the characters from that moment on. In the course of the film, quite a few jokes and funny scenes occur, making everything still have a lighter feel, but truth be told, we weren't that much of a fan of the jokes. Maybe if the story was a bit more consistent, it would have been a nice comedy, but as it is now, we found it to be just a mix of complete randomness, without cohesion whatsoever.
Scarlett Johansson is the name that drew our attention when we heard about this movie. She's a fine actress, and really did well in this movie, but we've seen her in more interesting roles. Jillian Bell, Ilana Glazer and others are well known comedians, but while they were funny enough at times, the plot itself was just too thin to make everything seem a bit believable.
You'll find plenty of special features on the Blu-ray edition of this film, and while many of them are certainly appreciated, we're unsure if you truly wish to prolong your Rough Night experience, as the movie itself isn't all that great. Nonetheless, you can enjoy bloopers, improvs, snippets about the odd couple next door, and many more. Truth be told, some of the extras are actually wittier and more amusing than the actual movie.
Conclusion
Girls' Night Out, or Rough Night, is a film that might be quite enjoyable to some, but it just didn't meet up to our expectations. What could have been a funny film about girls doing crazy things, partying all night, out of the blue turned into a film about a murder, and what happens after that keeps being so random that it's just confusing to watch. Maybe the film would have been better if they just stayed with one or the other, comedy or drama, but the combination of the two, in this case, just didn't work out.
Rough Night (Girls' Night Out) (Blu-ray) - Movie Review

,