Follow
Genre: Action, Adventure, Casual, Indie, RPG, Strategy
Developer: Black Shell Games
Publisher: Plug In Digital
Tested on: PC
Sanctuary RPG: Black Edition – Review
Good: The retro feel of the game, the soundtrack, combat system.
Bad: The inventory management.
User Score
9.4
(5 votes)
You can feel the nostalgia in every fiber of your body by only starting up the game. This dashing looking adventure game, made with text-based graphics you explore the digital world in order to stop the matron.  With a detailed character customization, over 1400 weapons and armors and a soundtrack that brings you straight back to the good old days, this might be the indie game of 2014. If you are used to other games like Diablo 3 or Skyrim it takes a while to get used to a text based game but once you dig deeper in the game it will make it worth your while.
Story
In the world of Sanctuary there was once someone called the Matron whose sole purpose was to find a sword that harnesses the power to destroy mankind. After a long war, a mage: "Cyrus the magnificent" managed to trap the Matron in an ice crystal. After many years, the Matron managed to escape the crystal and now it is your turn to prevent the destruction of the world. This is the setting you start in, the sole purpose is for you to stop the matron, how you do it or what means you use to do it, is fully up to you. Be a hero, villain or vigilante, but at the end of the day, be the person who saves the world!
Graphics
This little graphic beauty is the first ASCII-game (where graphics are made from letters, numbers,…) available on Steam, but instantly reminds you of the famous "Shoot'em" or "Dwarf Fortress". With that nostalgic vibe you start wandering in a well-created world, where you can clearly see the amount of time and effort was put in to create everything in as much detail as possible only using the ASCII-art. Seeing all of this only encourages you to dig deep in the attic and get those retro games back up and running. Needless to say this game isn't all that demanding for your computer.
Sound
Here, yet again you take a trip down memory lane only by hearing the 8-bit chip tune (electric old-school music type) soundtrack that keeps on repeating itself in your head even hours after closing the game. There is not a soundtrack, music genre or tune more fitting then this piece of ear-candy. Every attack or action you perform has that its own little sound that just makes it fit in and only makes you want to play more.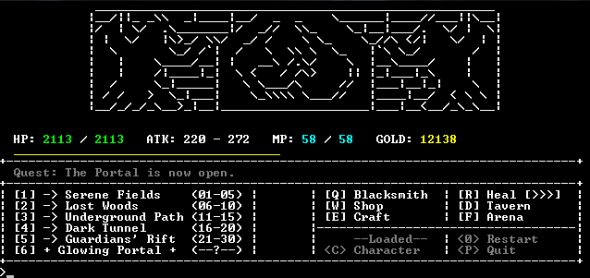 Gameplay
In this old-school RPG action-adventure game, you wander around a harsh and dangerous world full of challenges with the ultimate goal to defeat the matron.
In the early stages of playing this game you get served a lot on your plate, especially if you are not used of playing this type of text games. In the first 30 minutes you will see and maybe even be  a little annoyed by the amount of texts and figures you see. There is so much to deal with, so much to read and do much to consider. Play past that stage and you are in for a treat, because when you get the hang of this game it makes for an intense adventure and although there is some serious reading to be done in this game, it is brought in a light, fun and humouristic way. At the end of a game all you can think about is how you will build your next character and that's why SanctuaryRPG is so amazing and all we can hope for is some sort of mobile version of this game.
This game is fully played by keyboard commands and works mostly with the numbers so a keyboard with keypad is recommended. Starting of the game you can begin with creating your character choosing from the 6 classes (Barbarian, Paladin, Assassin, wizard, druid or ranger).  Afterwards you can pick gender, origin, name, augments and your look (!!!). This is quite the hard process and there are over 450 combinations possible so choose wisely.
Another very important part of a new start is the difficulty you play on Classic, Softcore or Lunatic, and this is not just selecting classic and done because dying on classic or lunatic means that the game is so kind to delete your progress and character. Thread lightly!
Unfortunately there are some minor points worth mentioning before the next great adventure, sometimes the text gets a little clogged up on screen and makes it feel like a little bit too much on the plate. The inventory management could use some work and the game-modes don't offer you a lot of choice when dying,  the dying part is only a matter of time and when it happens the joyful music isn't that joyful after all.
Although the game feels nostalgic there are certain aspects that bring a newer vibe to the genre, like the turn-based battle mechanic that blows a fresh and intense  wind into the action. The game itself can be hard at certain moments due to the high amount of things you need to take into account when exploring or in the middle of a battle and not having a visual representation of things like health or inventory doesn't really help, this is why the learning curve is pretty high.
Conclusion
There is no doubt that this game is an underrated little masterpiece. But like anything that we call retro and is worth mentioning it will eventually return, and with SanctuaryRPG the first little path has been paved in a hopefully new rise of ASCII-art games. This game is the complete package you can possibly look for in a casual old-school game, the graphics, music and more than impressive storyline. Whilst on the topic of thing you might like in a game the replayability is worth mentioning and because of the character customization and world full of open choices you can explore the world hundreds of hours without a problem, there is a guarantee it's almost impossible to see and do everything possible.
Sanctuary RPG: Black Edition - Review

,