Follow
Genre: Animation, Comedy
Director: Brandon Vietti
Distributor: Warner Home Video
Scooby-Doo! WrestleMania Mystery (DVD) – Movie Review
Good: Great cast, Scooby-Doo meets modern times
Bad: Slow start
User Score
8.3
(6 votes)
Scooby-Doo, the loveable mystery solving dog is back in a more modern version of the old school cartoon with the likewise name. With stars such as John Cena on the cover, it's only natural to jump up and down on the sofa wearing your best spandex outfit. Right?
Just like in the original series, the movie starts off with showing us a mysterious event. In this case it's the appearance of a 'ghost bear' in and around WWE city, home of all the famous wrestling icons.
Scooby and Shaggy, our heroes on shaky legs happen to be great WWE fans and thus they own the latest video game. After immense battles on their sofas, Scooby turns out to be so good in a specific mini game, that involves a special dance, that they are invited to WWE city as VIP guests. Of course the loveable duo needs to convince Velma, Daphne and Fred in order to make the trip.
Upon arrival in the city, it seems the mood of the inhabitants is a bit on the down side, seeing the ghost bear seems to be pestering them for quite some time now. Scooby and Shaggy don't seem to care that much though, they seem to be enveloped by the world of wrestling a bit too much to occupy themselves too much with the ongoing mystery.
When Scooby gets accused of stealing the championship belt, it seems the posse has to go on a serious investigation if Scooby and Shaggy want to make it out of WWE city in one piece.
This movie presents the viewer with a lot more characters than what fans of the episode are used to. The story will contain a lot more important side-roles than the typical bad guy and the one or two victims. In the end this proves to be a great change of pace and you'll soon catch yourself speculating on who the bad guy could possibly be.
Overall the movie feels like a longer episode of the original series, which makes it immediately feel like a trip down memory lane. Whilst putting the characters in a more modern context might feel a bit awkward at times, the movie seems to direct itself more to an older audience and thus a certain amount of authenticity is kept intact. Certain jokes in the movie can be appreciated by all ages, yet others are clearly more for those who have reached a more mature age. You'll often see a reference to the older series, whilst trying to stay up to date as well.
With the modernization of the franchise, Shaggy will probably been seen as the ideal hipster but it seems our two scaredy-cat heroes with the munchies have received a serious dose of courage as well. Whilst they are still not superhero material, it seems they recently started drinking their coffee with two lumps of courage.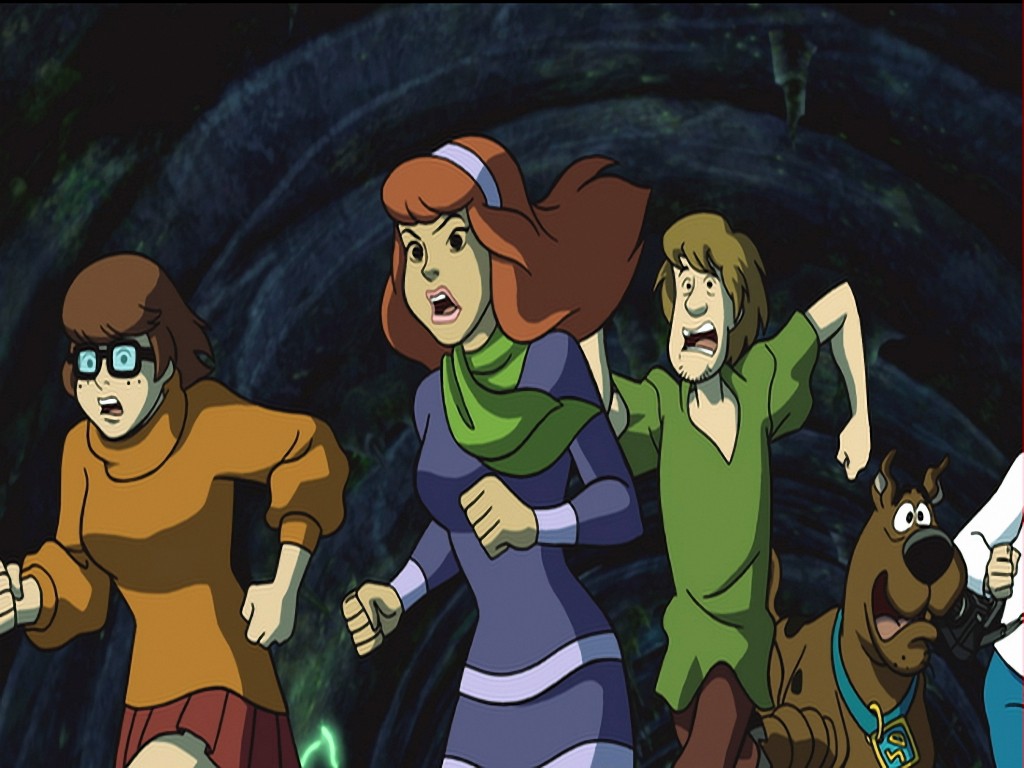 The flow of Scooby-Doo! WrestleMania Mystery goes from a fairly slow start to an action packed middle and ending. The build-up might prove a bit slower than what you're used to in the Scooby-Doo universe but in the end it all pays off.
Adding famous wrestlers to the original formula might seem a bit weird at first but ends up being surprisingly successful. Having wrestling superstars fight their battles in a cartoonish environment proves to be quite entertaining, especially knowing the characters were voiced over by the actual wrestlers.
Music wise the movie presents each situation with a fitting soundtrack. The chase scenes prove to be fairly old school, whilst the WWE events have their own solid beat to immediately get you in the mood to perform a ground slam on your favorite pillow.
Acting performances contain stars such as Frank Welker (Scooby-Doo, Fred), Matthew Lillard (Shaggy), Mindy Cohn (Velma), John Cena, A.J. Lee and many more. True wrestling fans will appreciate to see their favorite wrestlers in a completely different settings, whilst keeping their original wrestling persona intact.
When it comes to animations of the movie, it feels as if some scenes were taken from the older series, whilst some are modernized. Again this creates a certain authenticity for the older audience, whilst also servicing the younger viewers.
Conclusion
Scooby-Doo! WrestleMania Mystery proves to be great fun for the entire family, having humorous events for all ages, some subtle and some simple. Add a great cast of wrestling superstars to the equation and you're in for an action packed mystery adventure.
Scooby-Doo! WrestleMania Mystery (DVD) - Movie Review

,