Follow
Genre: Action, Arcade, Twin-Stick Shooter
Developer: hajo
Publisher: hajo
Platform: PC
Tested on: PC
Space Dance – Review
Good: Great music, Easy to learn, No-nonsense arcade shooter, Minimalistic design
Bad: No additional game modes, Rebinding of keys not possible, Leaderboard not complete
User Score
7.8
(4 votes)
Eons ago you had to visit the arcade hall if you wanted to compete with your friends at some quick twin-stick arcade shooters. Over the years, developers published great and unforgettable arcade shooters such as The Binding of Isaac, Hotline Miami and Helldivers and the market became saturated with the genre. Yet twin-stick shooters continue to be a popular genre and Space Dance got added to the ever-growing list. Is the game a delightful masterpiece like any of the aforementioned games or is it a basic arcade hall worthy shooter?
Story
If you were wondering if an arcade shooter has something that resembles a storyline, you haven't visited many arcade halls in your life. It makes us wonder if you have even played arcade shooters as arcade games are no-nonsense games. There are no storylines to unravel, no secrets to uncover. It's a simple play until your fingers bleed type of game. Or until you've knocked the leader of its throne in the leaderboards.
Graphics
Even visually Space Dance is a no-nonsense arcade game. The background is pitch black, your very own cruiser is pure white whilst the enemies are neon yellow, red and purple. The scores and multipliers are also neon yellow and can be found pretty much everywhere on the screen. Even though it is an arcade shooter, in which the goal is to achieve the highest score possible, visually the score doesn't pop as much as the rest does. It's a transparent white-grey number pushed all the way in the top right corner.
Sound
Music is an important feature in Space Dance, as the enemies spawn to the beat of the music. The best music to do this on is electro house or electronic dance music, and the game doesn't lack great upbeat songs that go from slow to fast in a matter of seconds. Surprisingly using the slow-motion mechanic also slows down the music, and even then, the songs sound good. Aside from that, there's a very heavy voice shouting out the usual phrases such as "Awaiting instructions", "Get ready" and "Game Over".
Gameplay
Space Dance is an old-school twin-stick arcade shooter in Early Access on Steam and thus there are two ways to play the game; with the traditional keyboard and with a controller. Both ways are flawed in some way. The keyboard is flawed simply because you cannot rebind the keys. WASD is not the nicest way to play if you are one of the few countries that use azerty keyboards unless you want to tinker in your own keyboard settings first. The arrow keys can be used to shoot, but it can be awkward to aim at a specific area if you need to aim diagonally. We cannot recommend this game with a keyboard.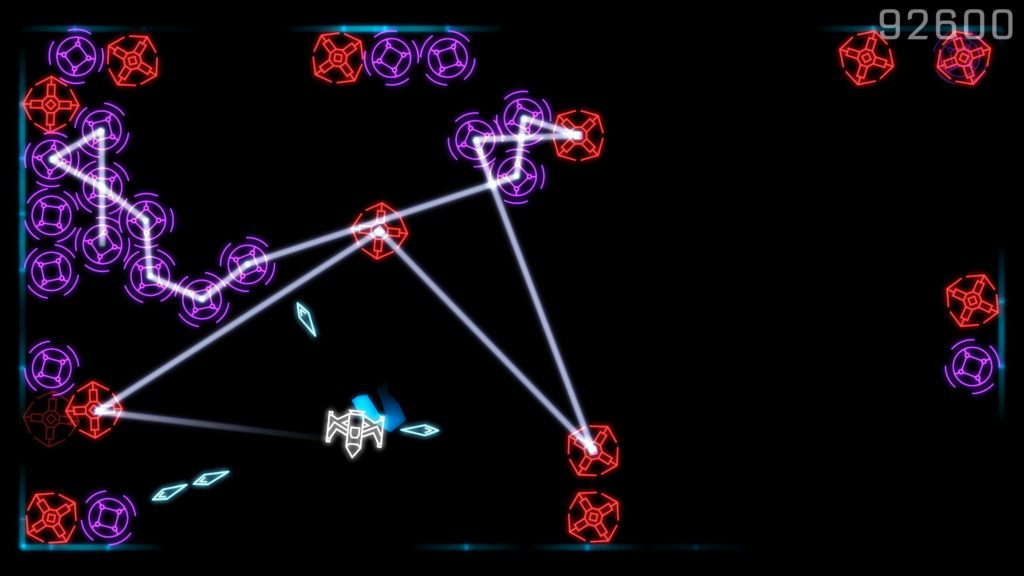 Technically, the controller isn't flawed as it is a twin-stick shooter but using the left stick to move around whilst using the right stick to shoot doesn't feel very natural in this case. The only way it works wonderfully is when you use the slow-motion button and you can aim more carefully. Personally, I feel like using slow-motion in an arcade game feels like cheating even if the mechanic proves to be the best strategy for achieving the highest score possible.
Other than that, there aren't any special mechanics in the game. The songs slow down when you use the slow-motion button, which also means that the enemies spawn at a much slower rate. If there are multiple enemies, they can link together which will result in better multipliers, but it will also be more difficult to avoid getting hit as one hit is an instant game over.
A lot of video games wouldn't be complete if it didn't have power-ups, especially when it comes to firepower or fire rate. The standard fire rate of your cruiser is slow but if you catch a neon yellow arrow-up power-up, you'll find that your fire rate has gone up. Catching it again is where the real fun begins as the combination of fast fire rate and rapidly spawning enemies is more than enough to get a good high score quickly.
Highscores are an amazing way to keep track of how well you are doing versus how well anyone else has been doing. Although this is a feature, it's still lacking some numbers. You can see the worldwide high score, but not how you place against it. The same applies to friends' high scores. There are also no other game modes available, something we're certain this game could use for its replayability value.
Conclusion
Space Dance is a great casual arcade shooter. It's easy to learn, with no-nonsense intros and campaigns, but extremely difficult to master. Although it's a great fast-paced twin-stick shooter, it does lack some features such as rebinding of keys, additional game modes, and a more in-depth high score leaderboard. Overall it's an arcade shooter that we can definitely see being played in arcade halls but if you do play this in the comfort of your own couch, we would suggest using a controller. As it's still in early access, time will tell if additional game modes will be added.
Space Dance – Review

,