Follow
Genre: side-scrolling racing game
Developer: DoubleDutch Games
Publisher: TinyBuild GAMES
Platform: Microsoft Windows, OS X, Linux and Xbox One TBA
SpeedRunners – Review
Good: Different things to unlock, fast gameplay, the speedrunners
Bad: difficult gameplay at the beginning, hard to beat enemies
User Score
7.7
(3 votes)
Play as the fastest man alive, Speedrunner! Compete against other players online or even your friends in a custom or local game. Keep up with the fastest runner or fall off screen and get eliminated. Its superhero characters and old superhero music remind the people of the classic superhero movies from the 90's. With thousand positive reviews since the beta release in 2013 until now after the official release in 2016, developer DoubleDutch Games and publisher TinyBuild GAMES have made a very successful game.
Story
New Rush City, a beautiful city which consists of superheroes who can run very fast: the speedrunners. They try to beat each other in a race through this metropolis throwing crates and other traps to each other so they fall behind and get eliminated. The story consists of four chapters with each its enemy to beat as Speedrunner. Everyone wants to beat this runner because he destroys their city and jobs with those silly races. First of all, Moonraker has been send from the future to save New Rush City from total destruction and it seems that you're playing a major part in it. The question rises if you'll actually be willing to listen, or not.
You'll certainly meet other opponents as well in this game. One other quite special character is Police Officer Gil, who gets really mad by the runners who destroy the crime scenes before he even gets there and for destroying the city. In the end, it provides a funny story, but not a profound one like Uncharted. The narrative is worth playing so you can find out the background story of the multiplayer on your own and become better with the controls and tactics of the game.
Graphics
The game is in 2D but that doesn't take away that the game rocks and that the flash-like graphics are great. They are a pleasure to see and remind superhero fans of the old comic books. New Rush City is like a comic world brought to live with its colorful backgrounds, characters, skins and traps. There are many flashy but simple backgrounds such as a disco, zoo or factory… The platforms where you run on are black, only the ones where you can wall jump on have white sharp points on them. The style from the comics you get when you complete a chapter are like the superhero style ruling over the game. Not very detailed, but it doesn't matter for this running game.
Sound
The fast, up-tempo music produced by SonicPicnic gives you the adrenaline to run harder than before through the dangerous streets of New Rush City. For every moment during the race there's a tune that gives you the vibe of what happens. A fast start, a trap that slows you down or a sudden death which asks you to run harder to eliminate your enemy are all guided by another track. Next to these tunes, there are also many sound effects. For instance, using your traps and firing your grappling hook are a few examples.There is no voice acting in this game. Everything that they want you to know, will be communicated with the beginning conversations and the comics.
Gameplay
SpeedRunners is a side-scrolling racing game. The gameplay is hard to learn at the first try. Moving is done by using the arrow keys, while "Z" is used for jumping, "X" triggers your grappling hook to swing above the crates and "C" will release a trap. In the beginning of a singleplayer race, Speedrunner and the enemy of that chapter have a short tormenting conversation. During the race you can find these traps in blue crates and they can give you some nice possibilities: a grappling hook to pull your enemy behind you, missiles, meteorites and a blue beam which you can freeze your enemies.
Another sort of trap are the switches you can activate when you run over them which will shorten or disrupt the racing route. You can also jump on certain walls, marked with sharp points, to get on a higher platform. Depending on which difficulty you play and what traps you tease the other runners with, you will receive a specific amount of XP. You level up if you reach the maximum amount of XP of that level. While going through one level, you will also receive new maps, characters and skins to play on/with. After completing one of the four chapters of the singleplayer mode, you receive a comic book that explains the background of this enemy and how he is involved in the story of Speedrunner.
When a player falls too far behind he will be eliminated or if you're racing too long, the game activates a sudden death mode that will trigger a time bomb to determine the winner. Before you can call yourself victorious, you need to win three times. Every time you finish first, you will see your hero do a personal taunt and you receive a blue kind of medal. If you want to play a ranked game, you need to reach level 5 first. Before you reach this cap, you can occupy yourself with a fast, local or adapted game.
There are 16 unique multiplayer maps to collect through leveling and playing the story. There are also thousands of user-generated levels to play on. Every month there will be new characters, maps, items and features added to the game. When your level is loading you will see tips for you and quotes from the speedrunners before heading into the race.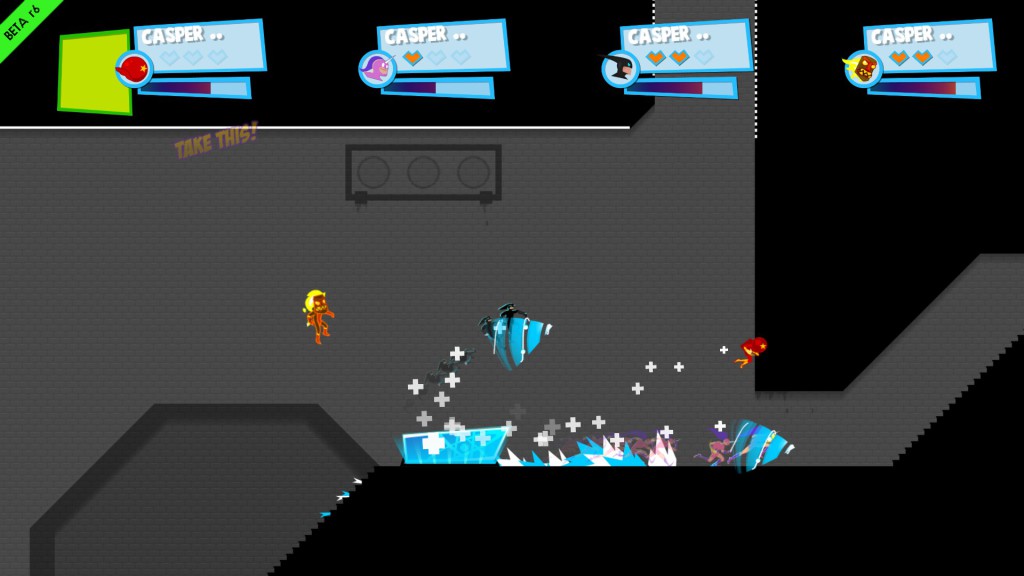 Conclusion
One of the best Indie games of 2016. SpeedRunners is very funny with all those traps, funny music and characters. The variety is doing well for this game and you see it with the special superheroes with their own specific characteristics and suits ready to beat you, the flashy design of the game, the story and the sound(effects. It is mainly for the multiplayer that you play the game. Everytime you play the game you have different opponents with their skills ready to beat you in this race with all the difficult to dodge traps. If you want to feel the adrenaline, run for your life and beat other players around the world, you need to try SpeedRunners.
SpeedRunners - Review

,