Follow
Genre: Animation, Action, Adventure
Director: Bob Persichetti, Peter Ramsey, Rodney Rothman
Distributor: Sony Pictures Home Entertainment
Duration: 117 minutes
Spider-Man: Into the Spider-Verse (Blu-ray) – Movie Review
Good: Animations, Story
Bad: Unfinished Alternate Universe Mode
User Score
10.0
(7 votes)
Spider-Man: Into the Spider-Verse may not be the biggest Marvel title in terms of promotion or anticipation by the mainstream Marvel fans. The physical edition has just been released and it does not only feature the cinematic version of the animated movie, but also the Alternate Universe Mode, which tells a rather different story than its cinematic counterpart. You'll be treated to a lot of content when purchasing this physical edition, and we were eager to see the differences between the original flick and the adapted version, and the many special features that came with it.
We've all come to know Spider-Man over the years, be it from the movies, the comics or even the videogames. We know that underneath the mask there's Peter Parker, a clever young man, who tries to balance his personal and professional life on top of being a superhero. In this movie we'll be taken to a universe where Peter Parker (Chris Pine) will soon meet his demise and a new Spider-Man will be born, namely Miles Morales (Shameik Moore). Miles is a teenager, who is accepted in a prestigious school, as he is also a clever young man. Before he knows it, during one of his graffiti sessions he is bit by a radioactive spider and develops the same powers as the 'original' Spider-Man. It doesn't take that long before the young Morales and Peter Parker cross each other's paths, but this will be the only time that Miles can talk to Spider-Man, as he is soon killed by Wilson Fisk (Liev Schreiber), also known as the Kingpin. The Kingpin is trying to open portals to other dimensions, hoping to bring back his beloved family who died in a tragic accident. Fisk does not care about the repercussions of opening such a portal, which might end up being devastating for our world.
It doesn't take long before visitors from the other dimensions appear, but Miles is definitely surprised when he is approached by a man that looks like an older version of Peter Parker. It soon ends up being Peter B. Parker (Jake Johnson), the Spider-Man from another universe, who is a bit grungier than the now deceased Peter Parker from Miles' universe. Miles promised that he would stop the Kingpin, but now he might actually stand a chance when he has a mentor.
You'll notice that the flow and pacing is perfect in both versions of the movie. In one movie, Miles hopes to become a superhero like the original Spider-Man, but in the other version, Miles ends up being a very reluctant superhero that would rather not have powers. In both versions the action and information are perfectly spread, making sure you can soak it all in, while enjoying impressive battles. The depiction of the other universes may be a bit on the bleak side at times, as you'll have to make do with a minimum of information, but this paves the way for more movies and/or productions surrounding the Spider-Verse. The only sad part about the Alternate Universe Mode is that many scenes haven't been finished, so you'll have to plow through unfinished scenes, sketches and voiced storyboards. The latter is not something unbearable, but it would have been nice if these scenes would have been polished a bit more.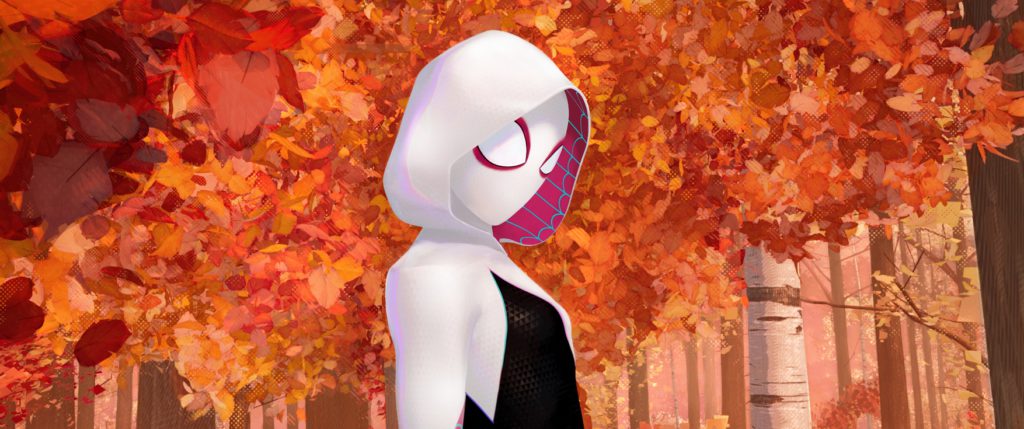 When watching the Alternate Universe Mode you'll notice that Miles' origin story changes a lot, as he is turned into his world's Spider-Man at a different location, with very different company. Not only this is different, but the way Miles interacts with certain people is also quite different. You'll see a character that isn't important in the cinematic version, but becomes more important in the Alternate Universe Mode. It's clear that both versions are very different in terms of how Miles evolves, but eventually things remain pretty much the same in terms of story related content.
The voices behind the animations were handled superbly and are also done by massive stars. In the movie you'll hear Nicholas Cage, Zoë Kravitz, Kimiko Glenn, Hailee Steinfeld, and many others. The voices have clearly been cast with care for the source material and every character comes with a very matching voice actor. There is not that much to say concerning stage presence, but the quality of the voices is just great.
On the Blu-ray version of Spider-Man: Into the Spider-Verse you'll find a lot of special features. Many of these features revolve around the creation of the character, and how Miles Morales' universe came to fruition. Other than that, there are also lyric music videos, a tribute to Stan Lee and Steve Ditko and of course commentaries. As described above, you can also view the Alternate Universe Mode of the movie, allowing for a different movie-viewing experience.
Conclusion
Spider-Man: Into the Spider-Verse is an amazing take on the Spider-Man multiverse and it introduces many well-known characters, all accompanied by a great storyline. If you're into the Spider-Man saga, then this movie is probably one of the best Marvel pieces that was released, and not by Marvel itself but by Sony. Sony is doing a great job in bringing the live action Spider-Man franchise to life, but they show they can do an amazing job with the animated side as well. We can wholeheartedly suggest this movie for your superheroes collection.
Spider-Man: Into the Spider-Verse (Blu-ray) - Movie Review

,