Follow
Genre: Puzzle Platformer
Developer: Double Fine productions
Publisher: Sega, Double Fine productions
Platform: PC, 360, PS3, Wii U
The Cave – Review
Good: Simply amazing in it's genre
Bad: Lucky number 7
User Score
9.8
(6 votes)
Ron Gilbert is a name that many of you will know and if you don't you will certainly remember his name after playing through 'The Cave'. The Cave is one of those rare puzzle platformer games that actually makes it to the surface, meaning you actually hear about it. What is it that makes this game so special?
Story:
The way you are offered a storyline is one of the most unique ways I have ever seen. You have the main storyline that revolves about this entity that is called 'The Cave' and his name is also pretty much what he is, a cave, which tends to be the storyteller throughout your playthrough and has a somewhat awkward sense of humor. The game's story revolves around the darkness that is in each human being and trying to achieve something with nothing more than greed, jealousy, and many other negative aspects as motivation.
At the beginning of the game you will be able to choose 3 characters out of 7 to create a travelling party. The cast of characters tends to be the most random one ever a game has ever seen, namely a hillbilly, a set of twins that fits more in a movie like 'The Omen', a monk, a knight, a scientist, an adventurer and last but not least a time traveller. When having selected your party the game really begins and sets everything in motion to learn more about the darkest secrets of the party you picked. The game has it's main storyline which will not change throughout each playthrough but the selection of your party members decides which specific levels you will have to find your way through. (Yes this is actually a part of gameplay too.) Each character has it's specific level that tells you more about your character and is only playable when that certain character is in your party. This will give you extra story value when playing through the game several times with different parties.
Note: Ingame you will be able to collect pictures that show the story of your characters.
Graphics:
The Cave offers us a great set of levels which simply look amazing and details are scattered all over the place. Each character has it's own personal level that simply looks like you're playing several small games in one. During your playtrough you will get to love the characters you're playing with, even with their secrets you will simply love each of their own personalities and the way they come to life on your screen. There isn't more to say except for – this game looks comical yet, oh so beautiful and simply nails what you'd expect of a game that opted for this style.
Sound:
'A pleasant voice to listen to' is probably one of the first things that will come to mind when 'The Cave' starts telling you about his story and you will keep this sense of pleasantness throughout the entire game. The music however isn't really that memorable, it's more subtle and will fly by pretty unnoticed during your playthrough. Then again having too much loud music or suspense music going on while you're thinking about solutions for your ingame problems might not be the best choice either.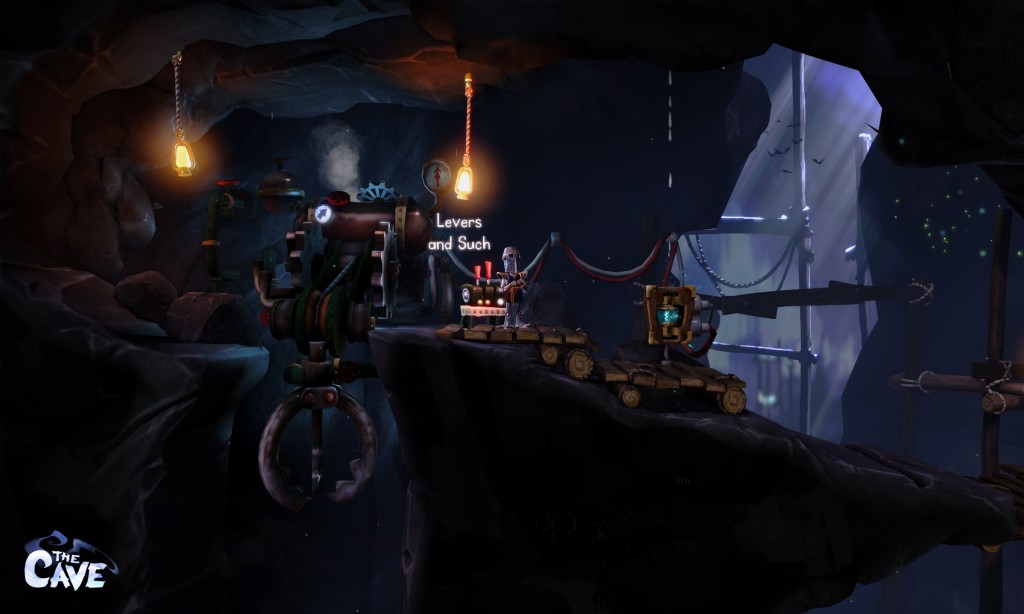 Gameplay:
As mentioned earlier at the beginning of the game you will have the chance to create your own party of 3 adventurers and you will have to stick with them during your playthrough. Each of these characters has its own 'special skill/ability' that will certainly have to used in the level that comes together with that specific characters. These skills are very basic to use and will nearly always point themselves out – be it after a little pause to think over how to complete a certain puzzle.
The game can be called a 'puzzle platformer' and might aswell be called 'the' puzzle platformer of the last few years. The controls and what not are very basic and will feel natural after only a few minutes and will stay like this for the total length of the game. You will be constantly confronted with obstacles that will hinder your progress, like pretty much every puzzle game does. The Cave however offers you puzzles that are difficult yet solveable at the same time. Ths means you can finish the game quite 'easily' without having to consult several guides because the problem you face doesn't either make sense or is simply too hard, like in many other puzzle games.
Replay value is one of the assets this game has to counter it's short game length. A playthrough will take you roughly around 4 hours and will actually leave you wanting more. The great part about playing through the game again is, is knowing if you pick other characters you will be confronted with a different set of specific character based levels and this will keep you going for another 3 hours. Doing the same 'main storyline' levels again might be a bother but you'll be able to run through them quite smoothly because after 1 playthrough you will pretty much know how the puzzles work. One sad part however is that your line-up of characters is the (un)lucky number 7, meaning you will have to do your last playthrough with 2 characters you've already played with.
Conclusion:
The cave is one of those puzzle platorming gems you'll come across once in every few years keeping the genre alive and shows you what a game in this genre can achieve. It's short game length is easily made up by it's replay value and it's fairly cheap price in the stores. If you're a fan of the genre, this game is pretty much a must have for your collection.
The Cave - Review

,