Follow
Genre: Point 'n click adventure
Developer: Spooky Doorway
Publisher: Spooky Doorway
Platform: PC, Mac, Linux, Switch
Tested on: Switch
The Darkside Detective (Switch) – Review
Good: Atmosphere, References, Overall mechanics
Bad: Way too short
User Score
8.0
(5 votes)
Back in August we already had our first encounter of the strange kind with The Darkside Detective when it was released on PC. The overall consensus was that the game was great, albeit a bit on the short side. Nonetheless, the countless witty references to movies, games and books were top notch and made the game ever so enjoyable, in combination with its unique pixilated art style. Now, the game has appeared on the Nintendo Switch, which is becoming a very indie friendly platform, and this release kind of proves that statement. We were wondering if this ghoulish experience would translate well onto Nintendo's hybrid handheld console. The Darkside did not contain that many secrets for us, but we were glad to revisit this game once more.
Story
The Darkside Detective revolves around detective McQueen and his not-so-bright deputy Dooley. Together they tackle cases of the supernatural kind, mostly revolving around the parallel universe called 'the Darkside'. This universe is pretty much a mirror of our world, albeit ghoulish and a bit more scary, making sure that those who cross over freak out the people on our side. The game currently has six cases, which aren't really tied together, each having their own tiny storyline. There is no bigger plot, or no grand picture in this game, only the six cases, which all have a lot of references to other movies, series, games and books, making them quite hilarious at times. Overall it's funny to see this struggling detective solve his cases with very limited resources, and working for a department that clearly doesn't appreciate his work, or his division.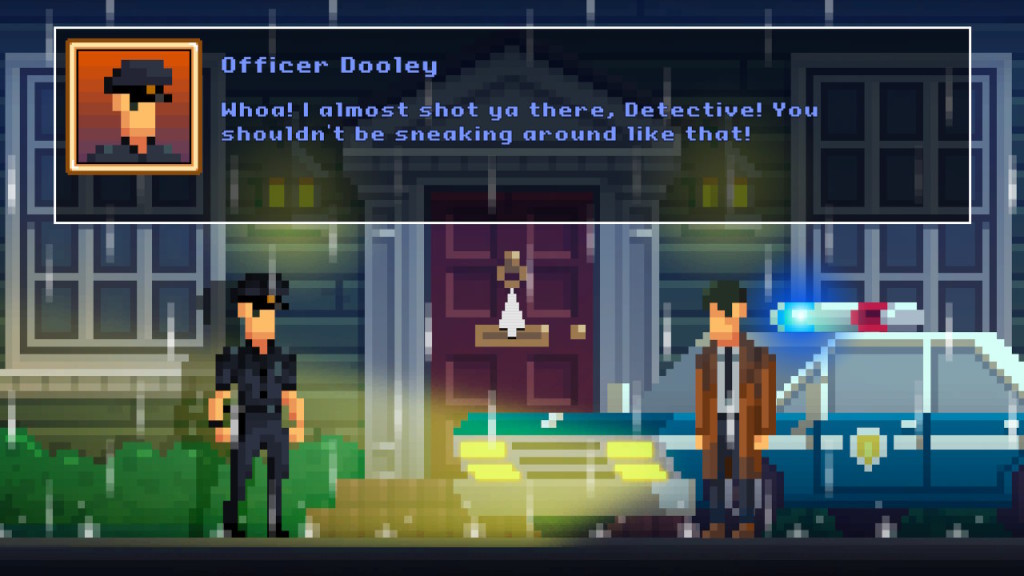 Graphics
Graphically The Darkside Detective is a pixilated treat. During the six cases you'll be treated to completely different settings, with their own detailed backgrounds and decors. While the characters in this world may be faceless, safe for some facial hair, you'll see a lot of different characters pass the revue, making this an interesting universe. Outside of the backgrounds and the characters, there is enough clutter and details to make the world come to life, be it thanks to the many items you can interact with, or the subtle movements of other items in the same room. There is no distinct difference between items that are just background material, or those you can interact with, so it's possible you'll sometimes miss something you'll need later during a case. Nonetheless, we can understand this design choice, as it would otherwise become rather intrusive when looking at the overall atmosphere of the game.
Sound
Even though the game is void of any voice acting, the atmospheric and somewhat spooky music fits the theme of the game perfectly. You'll be treated to a rather elaborate soundtrack, that changes quite often, depending on the scenery and the situation. Overall the music sets the proper tone and mood of the game, which is certainly a forte for a game that revolves around the supernatural.
Gameplay
The Darkside Detective is, safe for the spooky business, a very retro inspired point and click game, in which you'll be looking for clues and items to tackle the case at hand. You'll be able to play the game in two different ways, namely with the touchscreen controls when playing in the handheld mode, or via the controller when playing on your TV. The latter still works fairly well, even if you don't have a mouse like when playing the PC version. Nonetheless, it's great to see that this game was not simply ported without extra effort, but that the developer also took the touchscreen of the Switch into consideration, which is something many developers tend to miss, forget, or simply ignore.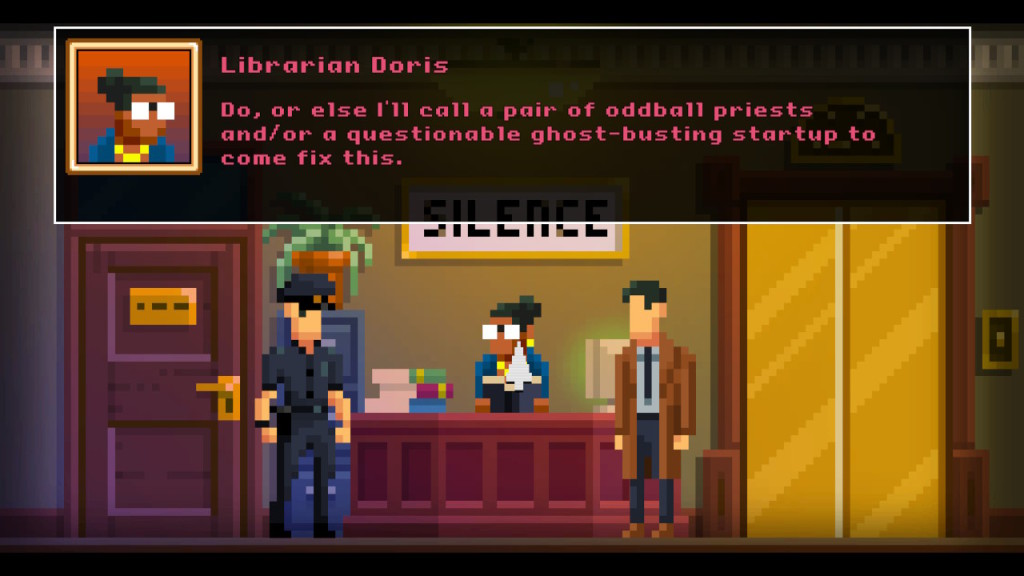 We have to be honest and state that the game in its current state may be incredibly enjoyable but it is also surprisingly short, as the six cases present only last between 20 to 40 minutes, with the sixth case being a tiny bit longer. Also, the puzzles are pretty manageable, even for newcomers to the genre, thus you won't be stuck for long when you can't find a certain item or puzzle. Backtracking is the key, and checking if you didn't forget to interact with an object is also fairly important if you find yourself stuck. That being said, the puzzles still provide enough challenge to remain interesting, and some solutions aren't as obvious as you'd think, making the game surprising and enjoyable enough. We noticed however that we could combine or solve a few items before they were even brought up, which means that a great explorer might be running ahead of schedule at times. Luckily you won't miss out on anything or even experience hindrance because of it.
Conclusion
Just like its PC counterpart, The Darkside Detective is a sublime title and a great addition to the Switch's growing indie library. While the game may be short, it's certainly a title to pick up if you love retro inspired point and click titles, and love a game that is well seasoned with humor and many pop culture references. We hope to see more cases added to the game in the future, or even a sequel with a deeper and more immersive story. We recommend this title wholeheartedly.
The Darkside Detective (Switch) – Review

,