Follow
Genre: Action, Adventure, Crime
Distributor: Warner Bros. Entertainment Inc.
Episodes: 19
Duration: 42 min (per episode)
The Flash: Season 6 (Blu-ray) – Series Review
Good: Second half of the season spices things up
Bad: Still long-winded, Losing its charm
User Score
5.0
(1 votes)
With the Arrowverse slowly retiring its iconic heroes, making room for new ones, The Flash has always remained in peak condition when it comes to its overall enjoyment factor. Nonetheless, last season we saw a dip in quality, when the story got dragged out, and some non-sensical choices were made plot-wise. Now, however, we have somewhat of an odd season ahead of us for its physical release, as one chapter ends in the middle of the season, with a new arc being told during the second part; all within the course of 19 episodes. We were also left with mixed feelings, but still enjoyed the experience as a whole.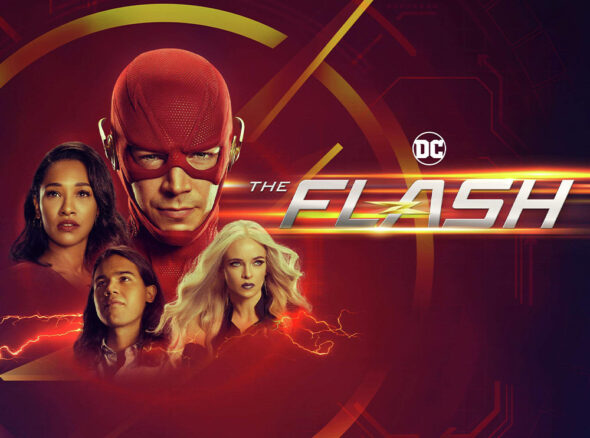 Without delving too deep into spoiler territory, this season will handle two arcs. Mainly, the few remaining days before Crisis, the event that could end life in the multiverse as we know it but also the life after Crisis, how it affected our Earth and everyone who lives in it. We realize this is a very simplistic fashion of telling the story, but by explaining too much, the little main story content of season 6 would be ruined. Nonetheless, there are still many episodes that deal with a specific case, while we also see other themes pop-up now, like Cisco's (Carlos Valdes) position in the team, Frost (Danielle Panabaker) adjusting to living a normal life, but also Barry (Grant Gustin) and Iris (Candice Patton) dealing with losing Nora (Jessica Parker Kennedy).
For us, this season was somewhat of a mixed bag. The first half of the season revolves around the short period before Crisis, in a very boring and bland fashion, where everyone needs to prepare themselves for a life without the Flash. This first part is overly artificially sentimental and more than often misses its mark to actually connect with the viewer. To add insult to injury, this season's crossover episodes are actually very important to the plot, yet we still only get the episode that aired for the Flash. This means we were actually missing four episodes of this crucial story, as you are basically forced to watch Batwoman, Arrow, Supergirl, and Legends of Tomorrow as well if you want the full picture. In the past, these crossover episodes were neatly bundled on physical releases, but now, we get a nice middle finger for loyal fans who spend their hard-earned money on a physical copy, who might not be interested in any of the other series. If you're only watching The Flash, you'll miss a huge story part here. That being said, after Crisis is dealt with, we do get a very exciting second half of the series, where the flow feels right. By themselves, these two portions could (and should) have been two separate seasons. We still believe that the Arrowverse series would be a lot better if they decreased the number of filler content (and episodes).
In many ways, the cast has been somewhat cemented, offering you the performance(s) you've come to love or hate. Most characters don't hold many surprises anymore, and we reckon this is why we constantly see a new version of 'Wells' appear, or why team Flash seems to grow at the speed of light. This season we welcome Kayla Compton and Brandon McKnight as new influences for team Flash, but also Efrat Dor, who will also play a huge role in the second part of the season. All three cast members put down a proper performance, and their characters still have the potential to grow over the coming seasons. That being said, we do hope the series ends before the entire world knows who the Flash is, as everyone seemingly just walks in and out of S.T.A.R. Labs.
Not completely unexpected when looking at the last few physical releases of the Arrowverse series, the special features are a bit disappointing on the Blu-ray version of the sixth season. We get to experience a few deleted scenes, a gag reel, a special commentary, and – once again – the best of the 2019 San Diego Comic-Con Panels. We would have loved to see a bit more meat on the bones of a physical copy such as this. Sadly, not all crossover episodes are included with this edition, forcing you to either watch the other episodes online or purchase every physical set of the other relevant DC series.
Conclusion
While the first half of the sixth season was a bit of a snoozefest, to say the least, the series does pick up the pace for its second half and actually turns things around quite well. We are still hoping for The Flash to have a graceful ending somewhere in the near future, especially now with main cast members calling it quits. Nonetheless, this CW series is pretty much the only one that has presented you with mostly quality content throughout its six seasons, making sure this is still a solid buy for fans of the Arrowverse. However, we once again plead and hope for shorter seasons, preventing the amount of filler content that does not contribute to the already slow pace of these series.
The Flash: Season 6 (Blu-ray) – Series Review

,