The Idea behind a Martian adventure, Dome City‏
Overon Station proudly introduced the four exceptional Hungarian sci-fi writers who founded the company. The idea of game development came alive 2 years ago, when they chose video game as a platform to publish their works. "As Hungary is a small country, the many great ideas and exceptional stories that are born here forced to stay due to the language barriers. Translation would be too risky, so when we were trying to think of alternatives, we ended up at game development." – revealed Csaba Királyházi, the managing director of Overon Station. "A good adventure game is based on a great story, so we chose to focus on this genre. Can't wait to share the wonderful Hungarian stories with the World!"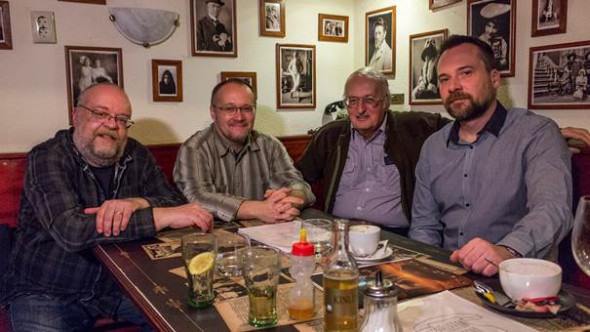 The 4 writer from left to right Tibor Fonyódi, Sándor Szélesi, István Nemere and Csaba Királyházi published over 1000 stories together and won numerous awards including multiple "The best European Sci-Fi Writer" title and "Zsoldos Péter"-awards. Their first game, Dome City is inspired by István Nemere's juvenile novel "The secret of the Dome City", which was released in comics format too. The team decided to change quite a few things – some examples are presented on the images below.
Dome City is a story-oriented sci-fi adventure game in first person view where choice actually matters. You're the leader of three young space cadets stuck in an abandoned yet haunted city on Mars. Guide the team through tough decisions, investigate the curious events, try to survive and escape!
The first person view single player escapade is developed under Unreal Engine 4, based on a Hungarian sci-fi novel. Release will first come to PC in Q2 2017, but planned to be ported to Xbox One and PS4 too later on.