Follow
Genre: Comedy, Drama, Mystery
Director: Evan Morgan
Distributor: Sony Pictures Home Entertainment
Duration: 100 minutes
The Kid Detective (VOD) – Movie Review
Good: Story, Atmosphere, Characters, Concept
Bad: Not every detective-movie enthusiast will enjoy this
User Score
10.0
(2 votes)
With the oversaturated market of 'detective films', it's often quite hard to find one that doesn't feel like it's been done a million times before. While fans of the genre can probably appreciate a movie that sticks to the basics and follows that same formula over and over, others may have the need to have something original. This brought us to The Kid Detective, which had an interesting synopsis of a grown man, still stuck doing cases he was doing when he was known as the town's kid detective. This time, however, he has to do more than just uncover where someone's milk money went.
While a nice introduction is given in the movie, the plot of the film is actually quite simple. We get to meet Abe (Adam Brody), who is a 32-year-old detective. Sadly, his detective status isn't taken seriously, as he is forever known as the 'kid detective' as he tackled a lot of tiny cases when he was a kid. Even though he was loved by the village as a sort of mascot, he has never grown into handling serious tasks, as everyone still sees him as a hopeless kid stuck in a fantasy. Abe, while wanting to do more serious cases, is still in a way enveloped in the disappearance of Gracie (Kaitlyn Chalmers-Rizzato), who disappeared when he was only at the beginning of his 'career'. Now, a new serious case washes up at his doorstep, as Caroline (Sophie Nélisse), a young local teenager, wants to hire him to solve the murder of her boyfriend. Eager to tackle the case, he gets no support from the locals.
The flow of the movie is actually near perfect. You get a proper introduction of Abe, and how he is stuck in a certain limbo when it comes to his life and career. It's clear that he still wants to pursue his dreams, but everyone else thinks of him as someone who fails to actually grow up. After a proper intro, you get presented with the case, and slowly bits and pieces will get uncovered. Abe will be grasping at straws at times, while at other moments he'll be right on the money. It's for the viewer to determine when he is correct and what is actually useful for the case at hand. The movie does a great job at leading you towards different people and that is also the charm of The Kid Detective. The overall setting is nicely handled, where a thriving backwater town has decayed over the years, since the disappearance of Gracie. Another honorable mention goes to the last scene of the movie, which was so simple and down to earth, that it left a lasting imprint.
Even though not that many cast members get that much time in the spotlight, this entire movie has a certain authentic 'close community' feel when it comes to the different characters. That being said, the main performance by Adam Brody steals the show from start to finish. Brody portrays Abe in a very interesting fashion, making it so you don't know if you have to feel sorry for him, root for him or even sometimes be annoyed with him. Sophie Nélisse plays Caroline, who is equally as hard to actually grasp. It's hard to see what makes Caroline tick, and her personality is somewhat draped in mystery from start to finish. You don't know what to expect, and this is perfectly handled by Nélisse. Side-characters, as mentioned above, are also handled with grace and have that nice stereotypical suburbia 'feeling' to them.
As we only saw the VOD version, we cannot discuss any special features that may (or may not) be included with a physical release. We have to be honest though, there is not that much the movie needs in terms of extras. It would be nice to hear a few cast opinions, have some commentaries, perhaps a small gag reel or the inclusion of deleted scenes, but it doesn't feel necessary.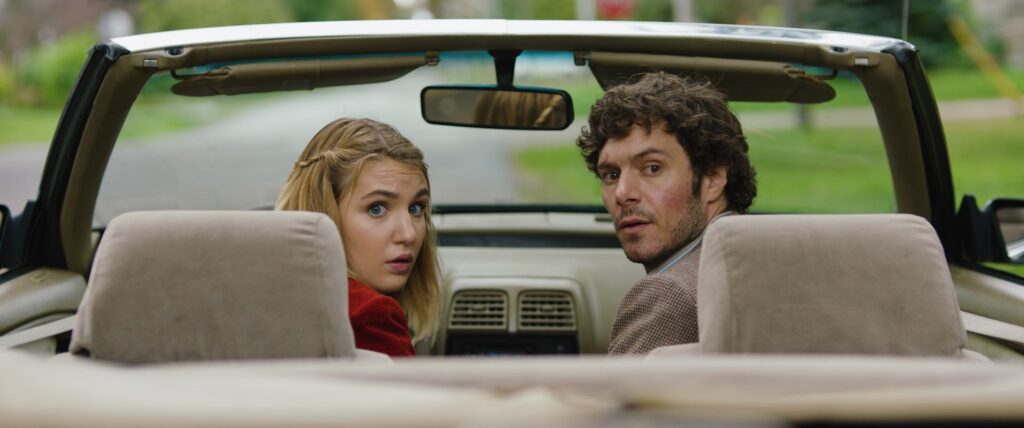 Conclusion
The Kid Detective is, surprisingly, a stellar experience for detective-film aficionados. It has an original concept, a great plot, proper acting and a whole lot of mystery that will have you on edge until the end. The overall clumsiness of the so-called detective also adds a certain charm to the entire experience. If you want a good mystery or whodunit movie to get through these wintery evenings, we cannot suggest a better new release.
The Kid Detective (VOD) – Movie Review

,