Follow
Genre: Action, mystery, sci-fi
Director: Wes Ball
Distributor: Fox
Duration: 113 minutes
The Maze Runner (DVD) – Movie Review
Good: Intense scenes
Bad: A lot of questions remain unanswered (as to be expected of a first part of a trilogy)
User Score
7.7
(6 votes)
Don't enter the maze, that's what you need to remember. Thomas and his new friends find themselves stuck in a stone labyrinth, that seemingly has no exit. They somehow need to find a way to escape because their last load of supplies were sent up in the elevator and it seems their time is running out. An indulging start of this enclosing trilogy.
Thomas finds himself waking up trapped in an enclosed elevator that's going up, surrounded by strange noises and supplies. When he reaches the top, the door opens and he is stared upon by a bunch of boys. Freaked out he tried to escape but almost immediately he comes to the realization that he can't escape due to the large walls surrounding the encampment of these unknown boys. Due to the hesitation in his escape attempt, he gets captured by the mysterious boys and thrown into a cage to calm down. A few hours later he gets a visit from Alby, the leader of the boys, who lets him out.
Alby explains to Thomas how life in the 'Glade' works and what the three main rules are. The first one is 'Everyone does their part. No slackers.', the second one is 'Never hurt another Glader. You have to trust each other.' and the third is 'Never go inside the maze, unless you're a Runner.' He also tells Thomas that the people who put them in there erased their memories. The only thing they remember after a few days is their name. At least a small part of their identity has remained intact.
That night there is a little party by the fire, where he little by little gets to know some people from the community. Sadly, his curiosity and his bravery brings him in a lot of conflicts with Gally. Gally likes to stick to the rules and thinks that Thomas will be the downfall of their poor but peaceful lives, with his reckless behavior.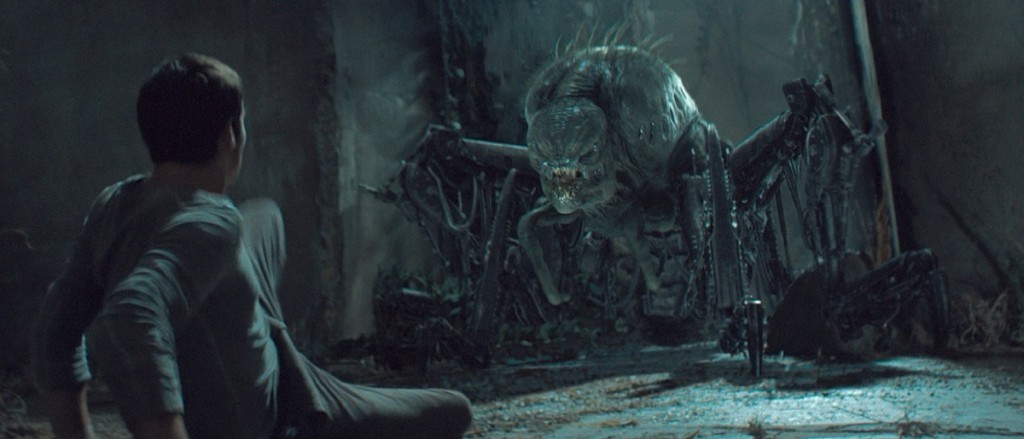 After a few days, Alby and Minho enter the maze and when is seems they won't get out on time, Thomas jumps in to rescue them. Sadly, his help was seeminly useless and due to his actions he was trapped himself. In this rather unpleasant place, he discovers that Alby got stung by one of the so called Grievers that creep in the maze, and that his life was coming to an end. Whilst this was already bad enough, his biggest worry is that no one ever survived a night in the maze, due to the monsters that lurk inside the maze. This means he needs to find a way to survive, and on top of that he needs to find a way to escape from this maze, where they were placed in by a mysterious organization called W.C.K.D. .
From the beginning of the movie you get clues and little pieces of information which you need to put together, to understand why they are captured and by who. Suspense, surprising twists and an interesting setting is what drive the movie. A good flow between information and action is certainly a plus.
The acting performances are terrific. Dylan O'Brien is one of the new top young-adult actors of 2014. This upcoming talent knew perfectly how to play the curious Thomas and managed to do a smashing acting performance. Alby (Aml Ameen) gives us a good view of how a great leader should be in the Glade. Minho (Ki Hong Lee), Newt (Thomas Brodie-Sangster) and Chuck (Blake Cooper) are playing a big part in learning Thomas everything. And you can't forget Gally (Will Poulter) the stubborn lad who does everything to bring Thomas down. Overall their teamwork lead to an amazing piece of film called 'The Maze Runner'.
Of course we can't forget that it's a sci-fi movie and what are sci-fi movies without any special effects. Well, this movie will provide you with nothing less than tremendous special effects. Especially the making of the maze, it looks fairly basic but still very beautiful. The mysterious creatures are depicted in a horrific fashion and this adds up to the eerie feeling of being trapped inside a maze.
Overall the extras prove to be quite common. You'll be presented with storyboards, deleted scenes and commentary by Wes Ball and T.S. Nowlin. Pretty much the usual, but some viewers might enjoy scrolling through the scenes that did not make the cut.
Conclusion
The Maze runner will take you to a place that might represent a possible future where you will be trapped for a certain cause, without too much protest from the big crowd. Also it will keep surprising you with its attention-grabbing storyline and certainly make you warm for the sequel. Whilst it's normal to have an open ending in a trilogy, a bit more information would have been nice at the ending of this first movie. All in all, certainly worth the watch.
The Maze Runner (DVD) - Movie Review

,