Follow
Genre: Indie, Point 'n' Click, Adventure, RPG
Developer: MistyMountainStudio
Publisher: Gamera Game
Platform: PC, Mac, Switch
Tested on: PC
The Rewinder – Review
Good: Easy gameplay and puzzles, Intriguing story and gives us a nice introduction to Ancient Chinese mythology/folklore/culture, Beautiful art style
Bad: Short, Puzzles can be too easy at times
User Score
0
(0 votes)
Travel back in time and immerse yourself in traditional Chinese folklore with The Rewinder, a 2D puzzle adventure game by developer MistyMountainStudio and publisher Gamera Game. The game has been released on Windows and MacOs just last month, and it will also be having its release on Switch later this year. According to Steam, the game has got 'Overwhelmingly Positive' reviews. Let's see for ourselves if this is actually true… or just a myth.
Story
The game starts off with a cutscene about how The Rewinders came about. After the devastating War of Apotheosis has ended, peace has not returned. Lives perished, and resentful spirits and monsters ran amok. That is why the Four Keepers descended to earth and built Shrines that could rewind time. Then, they chose a group of talented children and gifted them the Power of Rewind which can only be passed on through blood. Whenever evil wreaked havoc, a Rewinder could restore order. After centuries, evil has subsided, many Rewinders lost their lives, and their group dwindled. The Rewinders faded to the background.
After this cutscene, we meet Yun, our protagonist. Besides having the gift of Rewind, he can also communicate with spirits and even enter people's memories to influence their actions. Yun gets summoned to investigate a curious case at Reed River Village where dozens of souls are stuck and are not able to reach the Underworld. What on earth is going on there?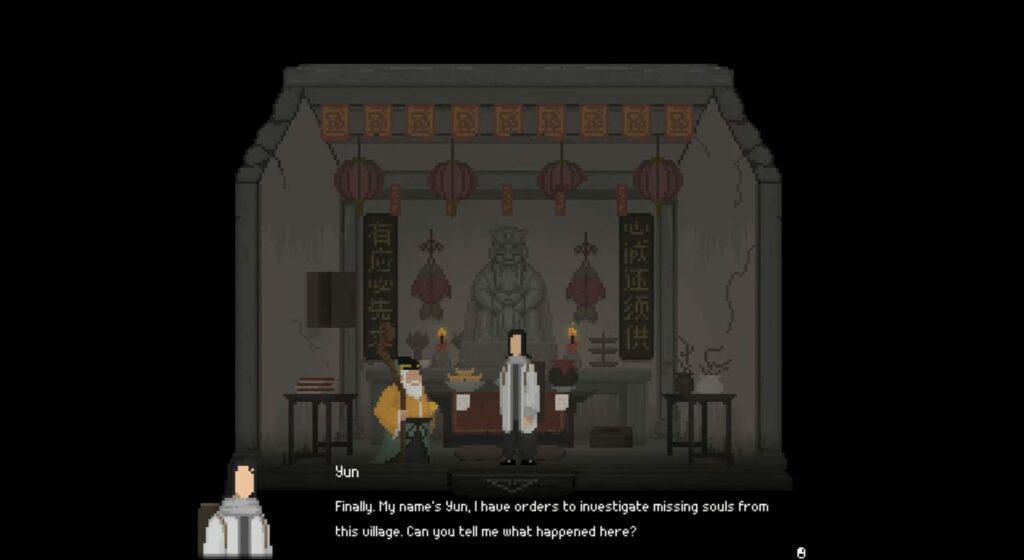 You uncover more of the mystery by talking to locals and solving puzzles you find along the way. The game involves a lot of reading and some focus for you to fully understand what is going on, but it's not that complicated to follow along. The story is intriguing and keeps our interest piqued. The story also immerses us into Ancient Chinese folklore which is just absolutely fascinating.
Graphics
The Rewinder's art style is something we're familiar with, yet it's still quite unique on its own. The game mimics Chinese ink paintings with their colors and visuals but adds some pixel-art characteristics to the mix. This is a combination we would never have guessed would blend together so perfectly. This art style represents the game just nicely.
Sound
As the praise goes for the graphics, it also goes for the sound. Nonetheless, it's not that heavy on the Chinese culture as it was with the visuals. This is something you'd expect this game to have. Then again, it's actually a positive thing, since it breaks expectations and perhaps even stereotypes. The game's atmosphere and graphics present the culture well enough on its own. Instead of some traditional East Asian music, we get a unique melancholic melody that is enjoyable and not intrusive during gameplay.
Gameplay
The Rewinder is a 2D adventure game that also combines point 'n' click with keyboard controls. This already makes the game stand out a little more than your usual point 'n' click game. The devs still kept it simple with the use of keys, so it's still a point 'n' click game at its core. You can even switch it up when you feel like it (e.g. holding down the left mouse button instead of using keys A and D to move).
Now, the game uses a few different mechanics throughout the gameplay which makes it stand out even more. Firstly, you have your typical point 'n' click gameplay where you pick up and store items (or memories) to use them later on, but then you also have to use your special abilities like manipulating time in certain levels. Here is where it gets a bit more complicated than your average clicking mechanics. Luckily, the game clearly explains to us how things work by showing a well-timed pop-up window.
Using your abilities to manipulate time and people's minds/actions can be a bit tricky at first, but you'll get the hang of it fairly quickly. Sadly to say, this is also the only challenge that the game brings us. The puzzle-solving here is easy and quite a breeze to walk through for veteran adventurers.
Conclusion
The Rewinder is definitely recommended for players who like a good mysterious point 'n' click adventure game that is wrapped in rich Ancient Chinese folklore. Not only is the story interesting, but so is the game's theme. The graphics here are stunning, and the soundtrack is pleasant to have in the background while playing. The gameplay has your usual point 'n' click characteristics, but it has a nice twist to it because of the keyboard action that is thrown in the mix. The Rewinder is a great game for new players who want to dip their toes into this genre. For the veterans, it's still a great game, it's just not as challenging as you might be used to. Don't worry, the story will make that up to you!