Follow
Genre: Animation, Adventure, Comedy
Director: Timothy Reckart
Distributor: Sony Pictures Home Entertainment
Duration: 86 minutes
The Star (Blu-ray) – Movie Review
Good: Loads of extras
Bad: Animations
User Score
8.0
(4 votes)
It's that time of year again where people love to cuddle up on the sofa with a nice cup of hot cocoa in their hands. For Christians, it's also the time of year to celebrate the birth of Christ, as that's what Christmas should be all about. This year, Sony released an animated film that tells us the Christmas story once more, be it not from the perspective of Mary or Joseph, but from the perspective of their donkey, Bo.
Bo (Steven Yeun) is a young donkey, working at a mill in Nazareth. He can only see the world outside through a peephole in the wall, but he would love so much to break free and go explore the world outside, and join the royal caravan. It's mostly his friend Dave (Keegan-Michael Key), a pigeon, who put the idea in his head, as he's the one who tells Bo about the world outside. Nonetheless, there's not much chance of Bo ever leaving the mill, as the miller makes damn sure there is no way of escaping. One day, Dave tells Bo that the royal caravan is passing through town, and Bo can't hide his excitement. Luck is on his side today, as he even manages to escape the mill. When the miller finds out, he is furious, and goes after Bo. Bo runs for his life, and finally manages to hide in the garden of a young couple, you guessed it, Mary (Gina Rodriguez) and Joseph (Zachary Levi). Mary takes good care of him and so, as he already missed the royal caravan anyway, Bo decides to stay with them.
Mary and Joseph are getting ready to go to Bethlehem, as kind Herod (Christopher Plummer) demanded a census. Mary is pregnant with what she believes is the son of God, but they have no choice but to go. Bo really cares for these people, and so he decides to go with them, to help where he can.
In the meantime, three wise men are coming from the east, following a star high up in the sky. When they are summoned to king Herod's palace, and the king finds out the purpose of their journey, he demands that all newborn boys must be killed, and even though Mary and Joseph don't know it yet, they are in danger…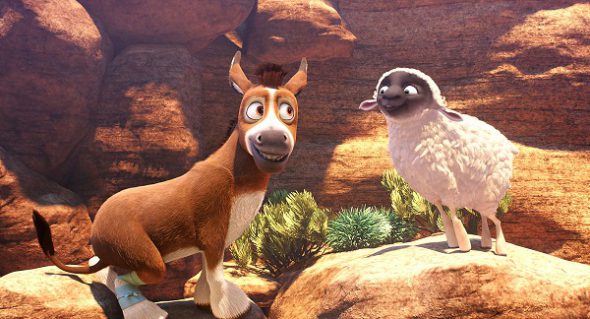 The Star actually just tells the Christmas story all over again, yet it was a fun idea to let the viewer experience it through the eyes of the donkey. This makes sure the story has a few nice twists, even though overall, the story is of course very predictable. The film is definitely more aiming for children, rather than adults. As the animals can all speak, a few fun characters, including the camels of the three wise men, are added, making the whole a bit more lighthearted. The animations look nice, but a bit less polished than what we're used to these days. A lot of songs are added to this film as well, and with names as Mariah Carey having worked on it, you know that you're in for a treat.
A bunch of American celebrities were cast for the voice acting of this movie, including Oprah, Kelly Clarkson, Christopher Plummer and Steven Yeun. This last one is probably the most notable one, as he gives a voice to Bo the donkey, and he does so in a fantastic way. Not only his voice acting was pretty nice, we must say all of his colleagues did a great job as well.
When looking at the extras of this blu-ray release, it's clear that the film is mostly aimed at children. They will be able to enjoy an 'Art and Craft', to make some nice Christmas decorations, there's a dance along, a sing along and lyric videos. Other than that, you can also opt to watch the film with commentary, or watch a clip about the cast and the characters, or one about how the backgrounds were created. Also a clip about 'Faith all Year Round', was inserted, where the Christian interpretation of the Christmas story is explained to children, so they know to carry out the Christmas message all year round, not just at Christmas time. Lastly, there's also a clip called 'Animated Nativity', which lasts for 21 hours and shows the same clip over and over, so we're not really sure what that is about. Apart from this last weird issue, the extras are actually pretty decent, and plenty, which we certainly do appreciate.
Conclusion
The Star is basically a new take on the Christmas story, and we must say we did enjoy it. The animations are, though not completely at the level we're used to, look decent, and the story manages to be surprising at times. There is a whole load of extras on this release, which should definitely win you over if you are on the fence about buying this film. In the end, it's of course 'only' the Christmas story being told once again, but the way it was done and the message the crew tries to send to everyone watching the film, make it really worth your while.
The Star (Blu-ray) - Movie Review

,