Follow
Genre: Episodic graphic adventure
Developer: Telltale Games
Publisher: Telltale Games
Platform: Xbox One, PS4, PC
Tested on: Xbox One
The Walking Dead: The Telltale Series – A New Frontier – Episode 1 & 2 – Review
Good: Story, Enthralling
Bad: Frame drops
User Score
7.7
(3 votes)
It has only been one month since we reviewed the last episodes of Telltale Games' interpretation of Batman's story. Telltale has acquired a lot of popularity over the years thanks to their story driven titles, and more and more famous franchises are passing their revue, with The Walking Dead perhaps being the most represented one. Even Game of Thrones received the Telltale treatment not that long ago, but once again we find ourselves wading through the many 'Walkers' in the world of The Walking Dead. We were certain that a great story, interesting choices and probably a lot of sadness awaited around the corner.
Story
As the story is shaped by whatever you choose after the beginning, we can't really dive into the specifics too much, as it may contain spoilers. Nonetheless, in this iteration of Telltale's interpretation of an original The Walking Dead story, you'll play as Javi(er), a young man who seemingly is a typical 'screw-up', and didn't even make it in time to visit his father who was lying on his deathbed. When he finally did make it, he got into a scuffle with his brother, David, but after making things up, a new development occurs. Your little niece states that her grandfather is awake, and she decides to refill his cup of water. Upon closer inspection, the family finds a seemingly rabid old man, who wants to bite them, thus they have to take him down by force. Soon after, we get thrown into the story that takes place four years after that event, namely after the outbreak of the zombie apocalypse.
The story is, as expected of the Telltale Series, brought in a great and enthralling fashion. You'll be kept in suspense the entire time, and this game truly feels like a The Walking Dead experience. Be wary, emotional scenes lie ahead.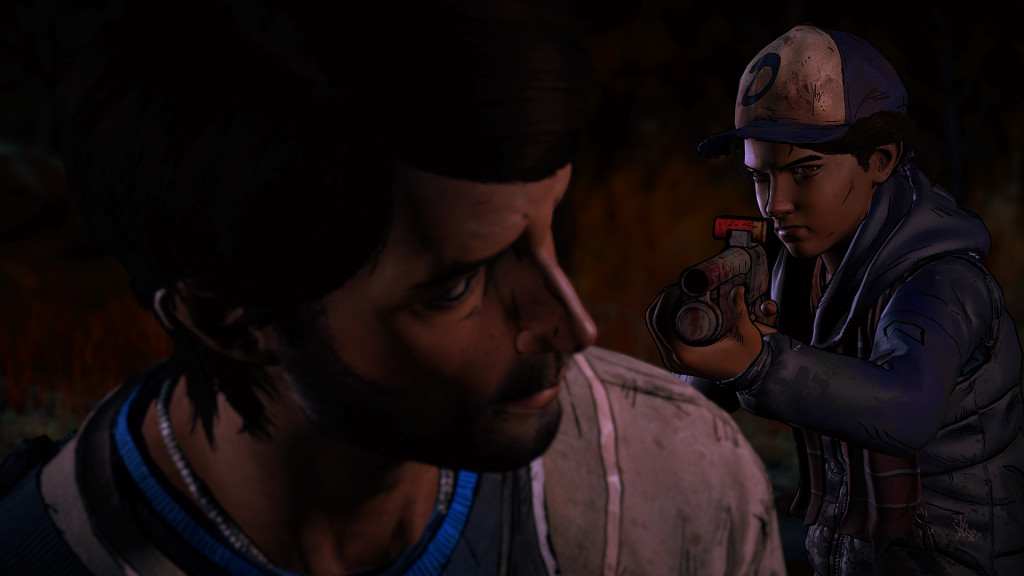 Graphics
Graphically A New Frontier is very much akin to the other titles from Telltale Games, as they keep using a cel shaded appearance for nearly everything. Nonetheless, compared to Batman, things felt slightly smoother, less buggy and many items had a lot more detail to them, at least within the capabilities of the chosen style. Perhaps this is due to the fact that Batman released on the older generation of consoles as well, while this one went for Xbox One, PlayStation 4 and PC alone, with the possibility of having versions for the last generation as well. Nonetheless, while this title looks pretty and respects the source material, it's clear that this new The Walking Dead game should not stress your next-gen device. Sadly, it does, and it results in a reasonable amount of frame drops, as was the case with Batman. These frame rate issues could have been prevented with a bit more attention to optimization, instead of trying to squeeze out one game after another, how good their stories may be.
Sound
The soundtrack is atmospheric, rather than in your face, which helps set the mood. Even though the music may be subtle, it does a lot to help you immerse, and it also puts an emphasis on things that are unfolding onscreen. That being said, it's the superb voice acting that steals the show in this title, like it does in many of Telltale Games' titles. There's more than enough dialogue to go around, in every possible scenario of the game.
Gameplay
As expected, A New Frontier is an episodic story driven game, where you'll shape the game depending on the choices you make. This means that you'll constantly be bombarded with possible  replies in conversations, and courses of action on where to go, who to trust, who to join and so on. Things remain relatively simple mechanics wise, but they will truly test your moral compass, as well as weigh heavily on you if you can't make up your mind easily.
Overall the game is all about the conversations and the combat sequences, which are all glorified quick time events. In both cases you'll only have a limited time to choose your input, if not your conversations will continue, with you seeming like a mute, and in case of no input during combat portions, you'll just be munched to death by the walkers. Adding a time limit to the conversations creates a certain (fun) stress, that forces you to choose, without granting you too much time to overly think about your options.
Outside of the plethora of conversations and short combat sequences, you'll also be subjected to basic puzzle solving. This often involves moving around, looking at things, finding a few clues and so on. Overall this part of the game is kept rather simple, but true explorers can pick up an extra item or two if they have a vigilant eye.
Conclusion
The Walking Dead: The Telltale Series – A New Frontier is hard to properly capture in a few lines of text, as it will either make you smile, sit on the edge of your seat in suspense, startle you or simply make you sad. The first two episodes do capture the typical The Walking Dead feeling, where you bond with characters and at a moment's notice have to say your goodbyes to them, knowing they will never be back. If you're a fan of the original series, love a great story about survival, family and friendship, and mechanics that allow you to shape the story, A New Frontier will truly open borders.
The Walking Dead: The Telltale Series - A New Frontier - Episode 1 & 2 - Review

,