The Warlords of Draenor are unleashed!
It's time to take the fight to the Iron Horde on their home turf. Warlords of Draenor™, the fifth expansion to Blizzard Entertainment's acclaimed massively multiplayer online role-playing game, World of Warcraft®, is now live!
Warlords of Draenor sends Azeroth's heroes beyond the Dark Portal on a desperate mission to save their world from the vicious Iron Horde—a formidable army of the most infamous orc clans from Warcraft's battle-scarred history. As players explore the savage alien world of Draenor, they'll encounter fierce new foes, befriend unlikely new allies, oversee the construction of a mighty base to withstand the orc onslaught, and forge their own legend from the raw materials of the past.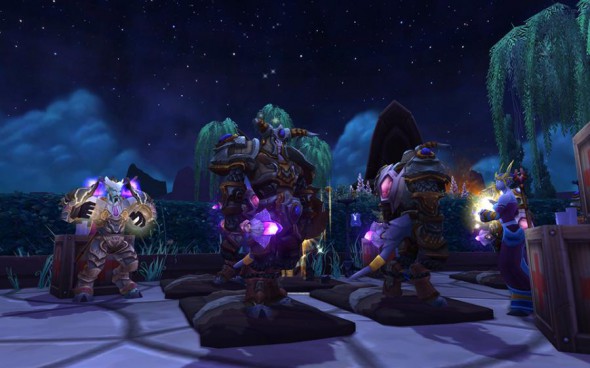 "With the 20th anniversary of Warcraft and the 10th anniversary of World of Warcraft taking place this month, now is the perfect time to re-explore the series' roots—and to reinvent one of its greatest conflicts for a whole new generation of players," said Mike Morhaime, CEO and cofounder of Blizzard Entertainment. "Warlords of Draenor contains some of the most epic and thrilling content we've ever created, and the included level 90 character boost makes it easier than ever for anyone to jump right into the action."
Warlords of Draenor adds new features and a world's worth of exciting new content for World of Warcraft players:
Explore a Savage World: Explore the hostile world of Draenor, home of the orc and draenei races, as it once existed, and adventure in all-new zones alongside characters central to Warcraft history.
Build Your Garrison: Establish and expand your own customizable stronghold on Draenor, and gather NPC followers to collect resources and embark on missions under your command.
Jump to Level 90: Boost one character of your choosing to be instantly ready to explore the wilds of Draenor, making it easier than ever to enjoy the latest content with your friends.
Adventure to Level 100: Reach new heights of power and unlock bonuses to further enhance your abilities on your way to the new level cap of 100.
More information can be found: here.