Follow
Genre: /
Developer: Thrustmaster
Publisher: Thrustmaster
Platform: Xbox One
Thrustmaster Y-300X – Hardware Review
Good: Easy to use, Affordable
Bad: No control box, Short cable
User Score
9.8
(12 votes)
Many of Thrustmaster's products have passed our revue and we hope many will still come. Whilst the company tends to focus on racing  and flight peripherals, they also have a line of headsets, which we were lucky enough to try out ever since they began producing them. Of course, with the new generation of consoles, new headsets are being released and this brings us at the Y-300X, their Xbox One model. Even though this one looks pretty much the same as all of their other headsets, we were still curious to try this one out, as all of the previous ones were already great. Perhaps this is one of those cases of: Why change something that is already fine-tuned.
Design
Just like the earlier models we get treated to a rather bulky pilot headset, with enough small details that show a lot of effort has been put into designing this piece of hardware. Once again the big ear pads are present, but the exterior of the earpieces is slightly different as the gridded design now makes way for a more 'fanned' out appearance.
The headband itself is still plastic covered for the most part, except for the padding on the inside. The lines on the headband, even though they are as pitch black as most of the device, break the overall appearance and add a sleek and elegant touch to the equation. Add the small touches of light green, which correspond with Microsoft's Xbox One, and you'll have a good looking piece of hardware.
Comfort
Ample padding and soft-feeling ears pads are still an important feature of Thrustmaster's line of headsets. You'll notice that the ear pads have a rather thick padding, providing enough comfort, especially in combination with the padding of the headband. The ear pads themselves will envelop most ears, except those with slightly bigger ears. Nonetheless, things will remain quite comfortable, as the soft leathery materials used for the padding are pleasant against the skin.
The only thing that seems to be a bit more rough compared to the previous models is adjusting the headband, to fit the shape of your head. Nonetheless, the fact that it's a bit sturdier might also be seen as a positive note.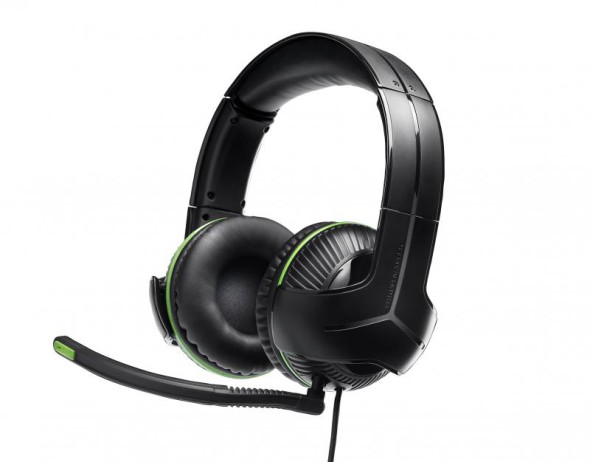 Specs
Compatible with Xbox One, and limited functionality for other platforms
60mm drivers
Detachable and adjustable microphone
Overview
Those who still have an old Xbox One controller and have no connection piece for a standard jack will have to either consider upgrading their controller or buying a small extension piece, as the Y-300X uses a standard jack. Nonetheless, this means the headset itself is actually a lot easier to connect than it was on consoles such as the Xbox 360, where a lot of extra cables came into play. This time it's just plug, play and enjoy.
The Y-300X has a removable microphone, which is useful, if you're only in the mood to listen to some music, as the headset itself can also be connected to other devices with the standard jack, even though it will be a tad better for use with your Xbox One console, as the cable is rather short, but still a comfortable length for when you have it plugged into your controller. That being said, the mic itself is adjustable and very sturdy, making sure it will survive for quite some time. The only sad part is that when removing the microphone, there is no small plug to cover up the open hole it leaves behind. Nonetheless, this is just a small issue.
Of course, the sound quality is crystal clear, creating a better gaming experience if you're a gamer who loves to play with a headset on. As always, this department is perfectly covered by Thrustmaster.
Only one slight disadvantage was found with this model, namely the lack of a control box or buttons on the actual headset, which allows you to mess around with several different settings. For this you'll need the extra piece for your Xbox One controller. Again, only a small flaw, but it would have been great if something extra was provided to solve this 'issue'.
Conclusion
Thrustmaster's Y-300X is a great asset for Xbox One gamers who are still looking for a headset for their gaming system. The limited functionality for other platforms is a fun extra for those who love to listen some music from time to time, but overall the comfortable and sturdy experience this device offers is topnotch.
Thrustmaster Y-300X - Hardware Review

,