Follow
Genre: /
Developer: Toshiba
Publisher: Toshiba
Platform: PC, PS4, PS5, Xbox One, Xbox Series X/S
Tested on: PC, PS5, Xbox Series X/S
Toshiba Canvio Gaming – Hardware Review
Good: Small size, Overall easy to use
Bad: Nothing worth mentioning
User Score
0
(0 votes)
Storing all our favorite games seems to be an ever-increasing issue for console gamers. In the past, you'd simply insert the disc and start playing your game. Now, however, even physical copies on PlayStation 4, PlayStation 5, Xbox One, and Xbox Series X/S require the game to be installed on the console, quickly depleting the storage space you have for all your prized titles. If we single one console out, it's mainly the PS5 we are struggling with to have more than a handful of games installed on it. With exclusives already taking up around 100GB of the available 667.2GB (excluding system data which reduces that number even more), there is not that much leeway when it comes to having a big library of games pre-installed.
As the device came in a very small box, we were not surprised when we saw the very tiny external hard drive. You'll be treated to a sleek and small device, which only has an LED indicator to show you if it's actively doing something or not. Other than that, the device comes with no real noticeable design features.
Our main focus of the review will be our experience when it comes to gaming consoles. External hard drives for PC have been around for quite some time, and for the most part, you often cannot go wrong when purchasing a device from a premium brand. If you're looking for a solid external drive for PC, then we can already tell you that this one is worth looking into. If you're looking for a device for your PlayStation 5, then there are a few aspects we should clarify before you order this device.
It's good to know that, even though you can use an external hard drive for your next-gen PlayStation 5, you can only do so to store PlayStation 4 titles. External drives are slower than the internal one of the PS5, and thus, to ensure your next-gen titles work without a hitch, you currently cannot store them on an external device. Of course, many gamers still use the PS5 to also play PS4 games, and some PS5 digital games also come with the option to download the PS4 version. With these options, you'll be able to divide some space evenly and keep the console's internal drive for PS5 titles only.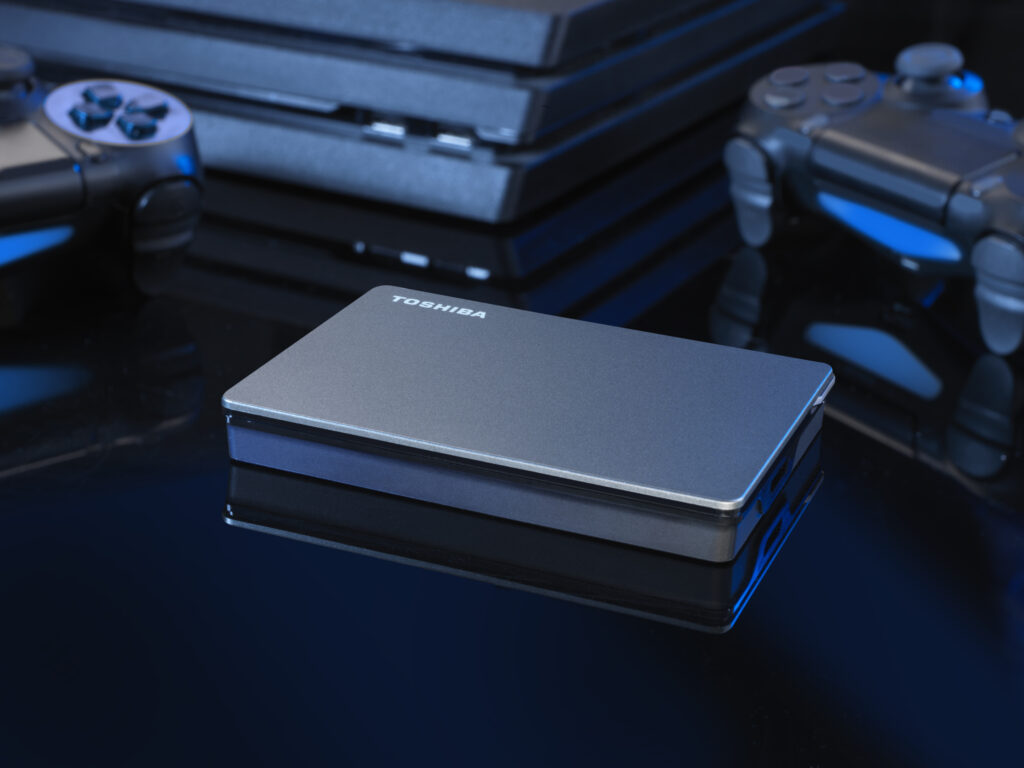 In terms of performance, Toshiba's Canvio Gaming performs rather well. The drive has no issues running all backward-compatible PS4 games, and it does so with no noticeable delay. Games play smoothly, and we didn't encounter any hiccups during our gaming sessions. Keep in mind, you can only use a drive such as this by using the USB ports at the back of your PS5 console. The front USB port does not have a high enough output to do so. Actual reading and writing speeds are hard to test on the PS5, also because installing digital PS4 copies will depend on your download speed as well.
Conclusion
Even though we mainly focused on PS5 usage for this tiny little drive, we were quite pleased with the overall quality and the additional storage room for our older PS4 titles. This allowed us to reserve our internal PlayStation 5 hard drive for actual PS5 titles. Toshiba's Canvio Gaming hard drive comes at a very affordable price, and you'll be able to choose between a 1TB, 2TB, and 4TB model. We suggest investing in a 2TB or 4TB model if you have quite a few games you wish to download and install.