Follow
Genre: Card game
Developer: Ubisoft
Publisher: Ubisoft
Platform: Switch
Tested on: Switch
UNO – Review
Good: Feels like the real deal, Online features
Bad: No way to play locally against one another on the same console
User Score
8.0
(3 votes)
Even though UNO has been around since 1971, it has only properly reached the store shelves in 1992 by the hands of Mattel. Over the years many households have seen many different iterations of this beloved card game, be it themed decks, or sets that came with extra trinkets, spicing up the gameplay of the original game. This time we get to try our hands at the latest digital version on Nintendo's Switch, which comes with a co-op mode, themed decks with some fun new mechanics, online play, and of course, the original gameplay that made this game so popular.
Story
If you were expecting a story in a game that revolves around UNO, then you either haven't heard about the game yet, or you were having an off-day with weird fantasies twirling inside your brain. Nonetheless, this game has no story value, nothing that remotely looks like a plot, and it basically just throws you in the game after choosing one of the different modes.
Graphics
The graphical qualities are sufficient, as they resemble the actual card game when you opt to play with the classic deck. If you happen to play with one of the themed decks, you'll have a different, more colorful playing field, and you'll also get treated to some animations, depending on what themed deck you're currently using. You'll get to see small snippets from the Raving Rabbids, Rayman or the Just Dance franchises. Things remain simple, yet clear enough to make the game authentic and entertaining.
Sound
Again things remain quite simple in the sound department, ranging from the somewhat tranquil music, that sometimes speeds up a bit, depending on what card has been played when using the themed decks, but overall it's clear that the game tries to keep the annoyance factor at a low key. The sound effects are equally as simple as the rest, ranging from simple 'card' sounds that resemble the real deal to more franchise related sounds such as the Raving Rabbids or Just Dance.
Gameplay
UNO is just like the physical edition, a simplistic card game where it's all about getting rid of the cards in your hand first. The player who gets rid of their cards first will get a point score, which either wins the game if you're playing a single round, or contributes to the whole, if you're playing with a specific cap you have to reach.
While you have different modes you can choose from, the game remains the same, albeit with minor variations, which include tweaking the base rules like people do in real life, or when playing with the themed decks, you'll have small variations when it comes to the cards with abilities. Overall the latter makes the game fun, as it gives you different decks to try out, sometimes adding a bit more luck to the equation.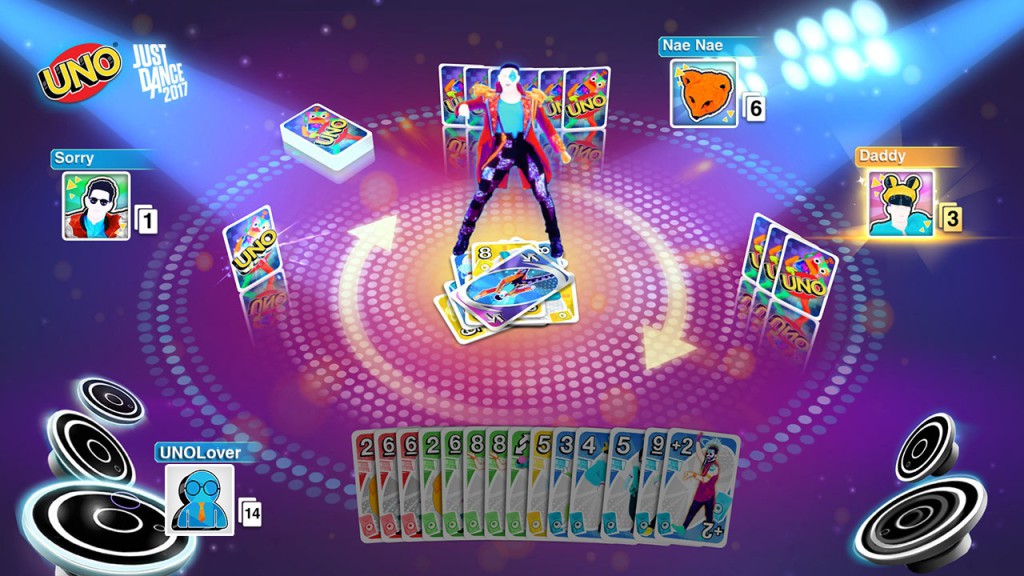 It's clear that the game tries to involve other players by offering an online mode, a co-op mode or a wireless local play mode. The only sad part is that local play on one device is limited to the co-op mode, so there is no option to pass the console around, to create a true four player experience. Then again, too many accidents would occur where one player would 'accidentally' see the other players' cards. The co-op mode is quite fun, as it's a 2 vs 2 mode, which creates a fun original UNO vibe.
The themed decks are fun to spice things up, as each deck has a few extra cards with different effects that cause people to draw more cards, to pass around their cards, to cut everyone's decks to the same size and so on. Overall Ubisoft did its best to create a fun atmosphere, while remaining inside the authentic UNO experience.
Conclusion
Ubisoft's digital rendition of UNO is rather fun, even in all its simplicity. It would have been nice if there was a four player mode in which you could pass the Switch around, but the themed decks, the co-op mode and  the online features make up for a lot. If you're a fan of the game, but can't find enough players in your vicinity or you just want some new themes to plow through, then this digital UNO is a great way to get your dose of the card game on the go, online or in the comfort of your sofa.
UNO - Review

,